Flipagram lets you easily create short videos with your Instagram and Camera Roll images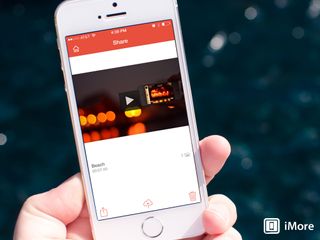 Most of us have tons of photos in both our Camera Roll and on Instagram. Why not combine all those photos into one video slideshow we can share with friends and family? That's exactly what Flipagram for iPhone does.
Flipagram is a sharing app that has one sole purpose, to help you make short movies out of your images. You can link up your Instagram account and pull directly from it, which makes for a neat way to rediscover old pictures you may have already forgotten about. If you plan on uploading the short video to Instagram, you can even have Flipagram time the video for you and evenly space all slides. Or you can manually choose the length of each.
Once you're done, you can choose music from your music library to go along with your Flipagram movie. From there, all you have left to do is share it. Flipagram supports native sharing to YouTube, Instagram, Facebook, email, and export to Camera Roll. The only option I see missing is Twitter, which is odd, but not a deal breaker as you can always upload it directly from your Camera Roll.
All your Flipagram creations show up on the main menu of Flipagram underneath where you would tap to begin a new project. This way you can tap into any of your older projects and access them whenever you'd like to share them again.
I've found Flipagram to be a neat way to rediscover and interact with old Instagram photos I've forgotten about. If you've tried Flipagram, let us know what you think in the comments!
iMore senior editor from 2011 to 2015.
Everyone is creating a feature for the main apps. Sent from the iMore App

I would get this if it was free. I don't like paying for apps. Free is for me. Sent from the iMore App

I agree Sent from the iMore App

I should go to android and not with iPhone, because the best App are the pay one without Ads and it bring more stuff for you to enjoy!!! Sent from the iMore App

You* Sent from the iMore App

This seems like a pretty neat app i will have to give it a go Sent from the iMore App

i try so much app but this one look nice ! the graphic really good and easy to use ! Sent from the iMore App

This looks pretty fun. It was worth the $0.99 to grab and try. I've spent worse on a bad latte. Sent from the iMore App

I used iMovie. Had to play around to get everything to display properly on Instagram. But at the end it turned out well. I downloaded PicFlow, it works well, only thing is that it has a small watermark on the bottom right hand corner. It can be removed if you upgrade for .99 / it's limited but works great. Sent from the iMore App

VideoStory is free and has video transitions!
https://itunes.apple.com/app/id728309357?ls=1&mt=8&at=10l3Vy

After spending an hour looking for the perfect app to make a musical slideshow of my 2013 adventures I finally found Flipagram. I was so happy! It turned out extremely well. Also, it's now free for iPhones!

Why video from Flipagram share to Instagram doesn't have song?

I know this is great we can add music to the pics

how i delete a link from the web ?
Get the best of iMore in in your inbox, every day!
Thank you for signing up to iMore. You will receive a verification email shortly.
There was a problem. Please refresh the page and try again.