Focus on Focos: The latest and greatest portrait app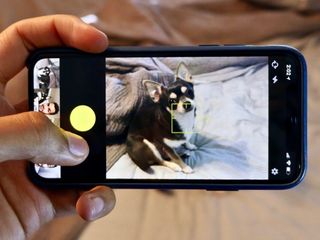 (Image credit: iMore)
When the iPhone 7 Plus launched last year, one feature that people were so absolutely gaga over was Portrait Mode: and for good reason.
The newest camera feature essentially turned your iPhone into a DSLR, allowing you to capture stunning portraits of people, animals, food, and whatever else around you. By slightly blurring the background and bringing the foreground into crisp, clean focus, you transformed your phone to a top-of-the-line photography beast.
Now that Portrait Mode has gotten more and more attention, it's obvious that people want a bit more variety with their photography/Portrait Mode-capable apps; which is where Focos comes into play.
Simply put, the app does everything Portrait Mode on your iPhone does, plus a little bit more.
Through the apps settings, you can add a grid, to your photo, apply the app for your front-facing camera (if you have an iPhone 8 Plus or an iPhone X), the chance to save your original photo automatically, and a slew of EXIF data options like the ability to svae your GPS location, the photographer's name, and copyright info.
Focos also lets users save their photos in 1536 x 2048, 2160 x 2880, and 3024 x 2032 sizes, and gives users access to in-app purchases like Max Curve which is a professional photo editor which works mainly with the curve edit function, and ColorBurn which gives you access to 1,000 filters for your portrait photography.
Once you have your settings in order, it's as simple as shooting with Portrait Mode on your camera app — but the real magic doesn't happen until after your portrait photo is taken.
Using Focos, you can adjust the final photos aperture and diaphragm (to make sure that blur is juuust right), adjust highlights, saturation, softness, and so, so much more. You can even select and isolate the back bokeh and front bokeh of your Focos portrait and adjust individual color levels, sharpness, and blurring effects to tweak into perfection.
When you're done with editing your final portrait photo, save it to your camera roll and post it on your social media like the true iPhoneography pro you are!
What do you think?
Do you prefer to use third-party camera apps or sticking to the standard on your iPhone? Is there a portrait app that you've fallen head-over-heels in love with and won't use anything else? Or are you one of those people who thinks Portrait Mode is a silly flash in the pan?
Let us know what your thoughts are in the comments below!
Get more iMore in your inbox!
Our news, reviews, opinions, and easy to follow guides can turn any iPhone owner into an Apple aficionado
Cella writes for iMore on social and photography. She's a true crime enthusiast, bestselling horror author, lipstick collector, buzzkill, and Sicilian. Follow her on Twitter and Instagram: @hellorousseau