FolderEnhancer for Jailbreak takes iPhone folders to the next level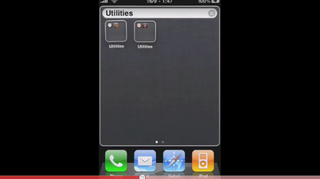 FolderEnhancer for Jailbreak will allow your iPhone to have sub-folders, multi-icon moving, more then 12 apps per folder and these are just some of the features. Soon you will have the ability to have even more then 2000+ apps on your phone. Because more is always better right?
If you think iOS 4 folders solved the problem of having too many pages of apps, you haven't seen anything yet. Check out the video below for a preview of what's to come.
Will Apple take a note from this and add it in a future iOS update? Or will this make you want to jailbreak? Sound off below in the comments and let us know what you think.
This is an official entry by Freiteez in TiPb's next top blogger contest. Think you have what it takes to join Team TiPb? Bring it!
Get the best of iMore in your inbox, every day!
Your source for all things Apple
now that is one awesome feature! lets wait for all the nerd bombers put their two sense in and disagree and state their stupid reason why its not

I dont like the folder animation, hence why I chose to stay with just infinifolders.

how do you get back to a folder when in a sub-folder? Pretty neat. Not worth a JB for me though.

Sub-folder based navigation on the iPhone! Steve Jobs head may explode at this abomination!

Good set of features but complicates stuff. I would rather stay with the default 12 apps per folder only!!

@Ken "Expect FolderEnhancer to go live on Cydia 'by the end of this month', according to ashikase."

Are there sub-sub-folders, though?

Looks cool. Im curious as well to see how navigation out of subfolders will work. Swipe left perhaps?

Actually that looks pretty sweet.

I would get it just for the multi-icon moving in and out of folders! That's the one thing that kills me about "Multi-Icon Mover".

Awe to the Some! Can't wait!

OR you could download and use Categories and Categories SB, much much much better. You can have several pages worth of apps in one folder alone. You can also change the icons.

How many Apps can you keep track of? Seems like overkill to me.
If I were to jailbreak, it wouldn't be for this. It would be to tether.

Would be nice if there was some mention of already released alternatives like Catagories, infinifolders, or foldersINfolders. I dont see the need for multiple levels of folders when you can just get infinifolders which is already out...