Follow @iMore and retweet for your chance to win an iPad Air! #iMoreAir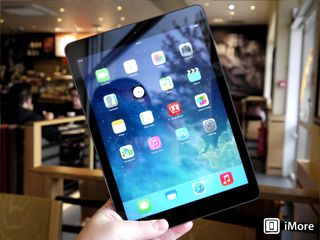 Apple has just launched the iPad Air and iMore is going to be the absolute best place to keep up-to-date with all the news, review, and how-tos views. Seriously, have you seen our iOS 7 review? Well, we've got tons more to come, and we don't want you to miss out on any of it. So to help encourage you to follow us, be it on App Store, RSS, Twitter, App.net, Facebook, Google+iMore, YouTube, or iTunes, we're going to do some giveaways!
This time, we're giving away a brand new iPad Air! (Technically a $500 gift certificate to put towards the iPad Air of your dreams!) All you have to do to enter is follow us on Twitter, retweet the link to this post, and include the special hashtag so we can find it. Here's an example:
Retweet and follow @iMore for your chance to win an iPad Air! #iMoreAir http://www.imore.com/follow-imore-and-retweet-your-chance-win-ipad-air-imoreair
That's it! It couldn't be any easier! If you don't use Twitter, don't worry, there'll be lots of other contests. Now make sure you're following @iMore so we can DM you if you win!.
Usual iMore contest rules apply, contest ends Sunday November 10, 2013 at 11:59pm PDT.
Ready? Set? TWEET TO ENTER!
Get more iMore in your inbox!
Our news, reviews, opinions, and easy to follow guides can turn any iPhone owner into an Apple aficionado
Senior Editor at iMore and a practicing therapist specializing in stress and anxiety. She speaks everywhere from conferences to corporations, co-host of Vector and Isometric podcasts, follow her on Twitter @Georgia_Dow and check out her series at anxiety-videos.com.