Fortnite for Nintendo Switch: The Ultimate Guide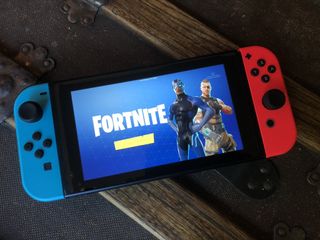 (Image credit: iMore)
Fortnite has dominated the videogame world since its release in 2017. What seemed like an afterthought of a game, cashing in on the budding battle royale craze, has now become one of the biggest games in the world and the defining game of its genre. It's made its way to almost every platform imaginable, including the Nintendo Switch.
The sheer madness of its gameplay combined with the guest characters has made it a frenetic cross-over that rivals even Super Smash Bros. Ultimate, and its constantly evolving gameplay keeps Fortnite fresh, years after its release. It's easy to see why Fortnite is one of the best free-to-play games on the Nintendo Switch.
So what's different about the Switch version of Fortnite? Not too much, but that's very much a good thing. Here's everything you need to know about Fortnite on the Nintendo Switch.
What is Fortnite?
Fortnite is a battle royal game that pits you against 99 other players as you compete to be the last man, woman, or banana person standing. The whole lobby is thrown into the Battle Bus and is ferried across an island. It's up to you to dive down into the world below and quickly scavenge for resources, like ammo, guns, health, and building materials as the storm pushes players closer and closer together.
Fortnite sets itself apart from other battle royal games by allowing players to build. Each player has a pickaxe, which can be used to mine resources like wood, stone, and metal from trees, rocks, and buildings. Using these materials, players can build structures like walls and ramps and use the materials to upgrade weapons and complete challenges. There's nothing quite like roaming the island, taking in all of these structures built during the heat of combat — it's almost like a bizarre art installation.
One of the features that has kept Fortnite fresh and exciting since its launch has been its constantly changing map and surprising crossovers. Fortnite is made up of Seasons, and each season lasts about ten weeks. This usually introduces a crop of new characters from all types of media. Characters from Street Fighter, Marvel & DC Comics, John Wick, Alien, Tomb Raider, Halo, God of War, The Walking Dead, and Horizon Zero Dawn have all made an appearance in Fortnite.
What game modes are in Fortnite?
In addition to solo battle royal, you can join up with friends in teams of two, three, and four. There's also Team Rumble, a game type that pits two teams of 25 against each other. In addition, there's a Creative Mode, for those who would rather build bridges and not burn them, featured community-made modes, an Arena Mode for more serious players, and Party Royale, where players can enjoy some downtime and even participate in music concerts and movie screenings.
Is Fortnite free?
Yes, Fortnite is still free-to-play with in-app purchases.
What's a Battle Pass?
Fortnite may be free, but to get all of the cool swag, you'll have to invest in a Battle Pass. The Battle Pass awards the player with a new exclusive cosmetic or emotes for every level they gain, with special variant skins waiting for players who press on beyond the level 100 cap. The Battle Pass is where the good stuff is, and you'll permanently keep everything you unlock even if you don't participate for the whole season or don't make it to level 100.
A Battle Pass costs $10 to buy, but it actually gives you about 1500 V-bucks, which is the equivalent of about $15. Use those V-Bucks to buy the next season's battle pass or an item from the item shop. Keep in mind, you can level up and even unlock cosmetics and emotes without buying a Battle Pass, but the unlocks are fewer and farther between, and you won't have access to Battle Pass challenges which help you level up faster.
What's Fortnite Crew?
Fortnite Crew is a monthly subscription to Fortnite that offers some exclusive swag for dedicated fans. In addition to getting the season's Battle Pass, you'll also get 1,000 V-Bucks every month that you can save or spend in the store. You'll also receive an exclusive outfit bundle that's yours to keep.
Is there cross-play in Fortnite?
Yes, there is! One of Fortnite's best features is cross-play, which means you can party up with players on the Xbox, PlayStation, PC, and even mobile devices. All you have to do is create an Epic Account and link your Nintendo Switch ID to play. From the lobby menu, you'll be able to message players from other platforms by using the Epic Friends List.
What about cross-progression?
That's also a yes! Cross-progression means that, so long as your console accounts are linked with your Epic Account, whatever progress you make or cosmetics you buy will be available no matter what version of Fortnite you play. This should be a relief for those who have already sunk hours and money into Fortnite on other platforms.
What's different in the Switch version?
The Switch version is like other versions of Fortnite found on other platforms; however, it should be noted that the Switch version runs at a lower resolution and a lower FPS when compared to other versions. However, the Switch features gyro support, something other console versions don't have. Gyro allows Switch players to use their controllers to control their X and Y axis, offering more precise shooting for those willing to take advantage of it.
Master your iPhone in minutes
iMore offers spot-on advice and guidance from our team of experts, with decades of Apple device experience to lean on. Learn more with iMore!
Zackery Cuevas is a writer for Windows Central, Android Central, and iMore. He likes playing video games, talking about video games, writing about video games, and most importantly, complaining about video games. If you're cool, you can follow me on Twitter @Zackzackzackery.