Honkai: Star Rail — Characters, plot, beta, release date, and everything you need to know
From the company that brought us Genshin Impact.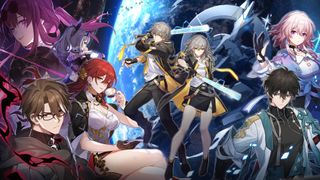 (Image credit: miHoYo)
After the rousing success of Genshin Impact, gamers all over the world are interested in the next project from miHoYo. This time, it's a sci-fi adventure that has players exploring space and unraveling mysteries that surround a number of different characters. Although the art style and animation look very similar to Genshin Impact, Honkai: Star Rail offers some key gameplay differences for players to look forward to when it releases.
Honkai: Star Rail story
This sci-fi story starts off in space as the Astral Express and its crew makes its way to the Herta Space Station for a delivery. However, Voidrangers from the Antimatter Legion attack and so characters from both the Astral Express and the station have to fight them off. During the skirmish, some new bonds are formed and characters determine to go exploring to different worlds in order to get answers on an object known as Stellaron.
Honkai: Star Rail Characters
Image 1 of 23
Swipe to scroll horizontally
Honkai: Star Rail characters
Character
Element
Description
Trailblazer (player character)
Physical
This character can be male of female. They awoke on the Herta Space Station after Silver Wolf activated their receptacle.
Dan Heng
Wind
A young man who wields a spear called Cloud-Piercer. He joined the Express's guard on its long expedition to escape his past.