GE to sell Link LED lightbulbs controlled by Wink iPhone app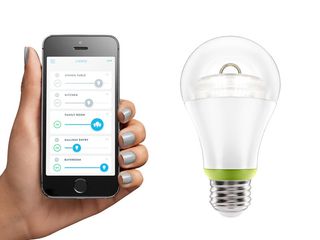 General Electric has announced plans to sell a new family of LED lightbulbs, the Link, that can be controlled remotely anywhere in the world by the new Wink app as part of their connected home efforts.
Combined with the app, which is available for download for the iPhone, GE states, "Link eliminates the need for expensive add-ons typically associated with connected devices, making it an easy and cost-effective way for consumers to light up their smart homes." Users with the app will be able to remotely access their Link lights in their home from anywhere in the world, along with ways to dim or increase the lighting and a method to schedule when lights can be turned on and off.
GE says it will begin pre-orders for its Links bulbs on Monday, June 30th. They will go on sale at Home Depot stores later this fall. Prices for the bulbs will begin at less than $15. What do you think of this new effort by GE to offer app-controlled lighting products?
Download: Free Wink app (opens in new tab)
Source: GE
I have been writing professionally about technology and gaming news for 14 years.
What's the typical life span of these smart bulbs?

If they are LED, they typically never burn out Sent from the iMore App

You need the $50 starter kit (2 bulbs and a network link) before you can start adding the individual bulbs. Still a much better price point than Hue

I was interested in the Hue till I saw the price point, now these are more like it!

I would buy this over the hue, much more cost effective

I'm interested Sent from the iMore App

Cost effective LED bulbs? Connected ones, no less? What is this madness! It even looks like they'll have the small "floodlight" type which is awesome, because "normal" bulbs of that type have terrible lifespan and are expensive to keep replacing several times per year.

Glad to see the positive feedback on the product announcement. Thanks iMore for promoting it! Sent from the iMore App
Thank you for signing up to iMore. You will receive a verification email shortly.
There was a problem. Please refresh the page and try again.