The Nintendo Switch was recently upgraded with improvements to its screen, battery life, and its flash storage, and Amazon's now offering one of the first deals to ever hit the latest model of this popular handheld hybrid console. Though still at its regular price of $299.99, Amazon is tossing in a free $25 Amazon gift card with purchases which can be spent on Nintendo Switch video games, accessories, or nearly anything else you want to buy that's available at Amazon.
Today's deal is available on both editions of this new Nintendo Switch, so you can choose between either Gray Joy-Con controllers or Neon Red and Blue ones, though you'll want to be aware that there is a slight shipping delay of one to two weeks on the version with Neon Red and Blue Joy-Cons. The gift card will be shipped inside the package inside of a gift envelope so you can add it to your own Amazon account or give it away as a gift during this holiday season.
New and Improved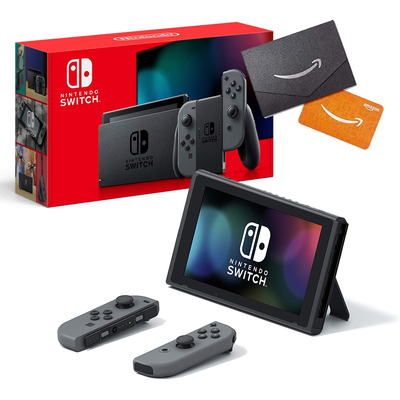 New Nintendo Switch console with $25 Amazon gift card
Just a few months ago, an enhanced Nintendo Switch was released featuring improved battery life and a few other upgrades. Now you can snag one of the first deals to ever reach this new edition as Amazon includes a $25 gift card with purchase.
$299.99 $324.99 $25 off
Side by side, you can barely tell there's a difference between the first Nintendo Switch and this latest, enhanced model. Improvements to the screen and battery life make it essential to ensure you're buying a new Nintendo Switch these days rather than the older model. Luckily, there's different product packaging to separate the two; the new Switch consoles feature packaging with a primarily red background, while the original consoles' packaging features a primarily white background.
If you're planning on keeping the gift card for yourself, why not pick up a Nintendo Switch game with it? All the best picks are available at Amazon, from Super Smash Bros Ultimate to The Legend of Zelda: The Breath of the Wild. Another essential item some people forget to pick up is a memory card. The Nintendo Switch can hold a maximum of 32GB on its own, yet you can actually use that up pretty quick with all the awesome digital games the eShop has available for purchase. You can remedy the situation with a 128GB microSD card for just $20 right now.
We may earn a commission for purchases using our links. Learn more.