Getting ready for Valentines Day: How to take the cutest couple photos!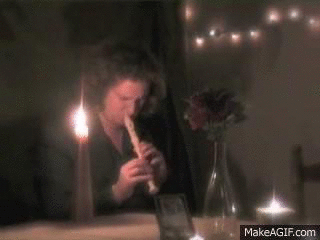 With #ValentinesDay coming up, it's important to have a nice stack of adorable couple photos at the ready so you can throw one up on social media! (Be prepared for "EWWW" and "AWHHH" comments).
But Valentine's isn't just about cute couple pics: it's about cute pics in general! Whether you're puckering up with your sweetheart, posing with your pooch, or snapping a fabulous family photo with your mom, dad, or siblings, there are a number of tips and tricks out there that are key to taking a great 'couple photo'.
Here's how you can get sappy and mushy this Valentine's Day by taking the perfect power-couple photo!
Boomerang ur luv
Boomerangs are a really great way to capture a moment without recording a long, dull video, or a boring, regular photograph. They're kind of like if a GIF/photo/video had a 3-way (hey: this is a Valentine's Day article. Let me get saucy).
By Boomeranging a little kiss, a hug, or even just the two of you looking longingly at each other, you instantly elevate that romance on your Instagram feed or Facebook page. Plus, Boomerangs are way more fun to look at than your standard photo or video, you just need to get creative!
Pro-tip: Don't try to Boomerang yourselves/do a selfie-rang: they tend to turn out super shaky. Your best best for a solid romantic Boomerang would be to get a pal or someone else to take it!
Romantic filters/apps FTW!
Go ahead and type in 'Valentine's Photo' in the app store. Now start scrolling through the dozens and dozens of romantic, gushy apps that are ready to turn your cute couple pic into a romantic pile of adorable-ness!
Romantic filters and apps are a really great way to play around, experiment, and get weird and creative with your photos (and even videos). Even if you have apps like VSCO or just like to use the standard IG filters, there are bound to be a few that give off a more romantic vibe – like Moon, Slumber, Aden, Amaro, Hudson, Inkwell, 1977, Ginza, Helena, and Charmes in Instagram.
Because editing is so subjective and based on personal taste, it's important to experiment and play around with what you like. Maybe you're a big fan of heart stickers and cupid decals everywhere, or maybe you'd prefer a soft, simple filter.
The choice is yours, so what are you waiting for? Go get creative!
Lighting is key (but don't go crazy)
If you were looking to take a selfie, you would typically find the best window to pose in front of for that ideal light. If you were snapping photos at a dimly-lit party, you would flick on your flash for the perfect shot. But if you're taking cute couple pics? Well, lighting becomes a bit more of a balancing act.
Romantic lighting can be a bit tricky to nail in the sense that you want to clearly show the image/what's happening in the photograph, but without giving too much away. This could mean snapping a photo by candlelight, or basking in the glow of a sunset, or posing for a snapshot by the roaring fireplace, or kissing under the glow of a streetlamp.
Essentially, just look for non-traditional, unique lighting sources to play with! Not only will your couple photo be more romantic, but it'll also be more interesting to look at.
#locationlocationlocation: Pick the perfect setting
For us seasoned selfie-takers, it's crucial to have a perfect selfie-spot for the best lighting, backdrop, etc., and for pro photographers, having a couple of ideal locations under your belt for photoshoot options is necessary, but if you're looking for a perfect photo for Valentine's Day, then start exploring and get out of your comfort zone (and hey! You can even turn it into a little romantic/fun adventure!)
Unfortunately, not every single one of us gets to live in picturesque Paris, or mysterious New York, or beautiful Brazil, so finding the ultimate photo location might be a bit trickier than you think, but luckily for you, this wonderful thing called Instagram exists!
All you have to do is search #yourcityphotography. So for example, mine would be #winnipegphotography. Then start creeping through the hashtag! All the photographers have done the work for you.
You can pick our particular fields and forests, modern and funky urban locations, unique outdoor structures, run-down buildings with old mystique and charm, and so, so much more. Then all you need to do is pack a lunch, grab your pup/sweetheart/BFF, and head off on your photography adventure!
Self-timer/selfie sticks are your BFFs
While selfies are great for capturing quick moments, kisses, canoodling, and more "posed" photos, there's something quite intimate and candid about using a self-timer or even a selfie-stick to take a photo from a distance.
Having a bit of space between you and your iPhone as you're shooting your V-Day photos can make things feel a bit more natural on camera. While selfie-sticks aren't suuuuper ideal, there are a few that can double-down as a tripod, making it perfect for capturing photos from afar on a timer.
The other great thing about putting your iPhone on a timer and shooting from a distance? Your iPhone will take rapid shots, meaning you'll have a chance to move and pose as the camera is doing its thang, so by the end, you have a number of different shots and positions to edit and choose from!
How do you take your best couple photos?
Do you have the ultimate super-secret for taking the best couple photo? Let us know your tips and tricks in the comments below!
Master your iPhone in minutes
iMore offers spot-on advice and guidance from our team of experts, with decades of Apple device experience to lean on. Learn more with iMore!
Cella writes for iMore on social and photography. She's a true crime enthusiast, bestselling horror author, lipstick collector, buzzkill, and Sicilian. Follow her on Twitter and Instagram: @hellorousseau