Grow Mobile launches a universal mobile app marketing platform for iOS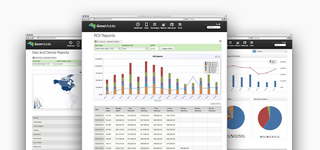 We don't normally cover this sort of thing here, but following up on Talk Mobile Gaming, and our discussion on how to market apps, we thought we'd take a look at closer look at third-party options. Game and app developers have a lot to consider when choosing to market their products through in-game/app advertising. Which advertising networks reach the most users? Who gives developers the best deal? If a developer decides to use multiple ad networks, tracking and comparing the results of each network becomes a time consuming task of its own.
San Francisco-based startup Grow Mobile seeks to reduce all those headaches with the launch of their new mobile app marketing platform. Grow Mobile's platform has just completed a successful closed beta, and today it becomes publicly available to iOS and Android developers. By providing a single cohesive dashboard and single integration for developers' apps, Grow believes that developers who sign on will be able to market their products more effectively and with fewer resources than before.
Grow Mobile platform features:
Media Planner: Create the most optimal media plans, leveraging Grow Mobile's proprietary algorithm and historical performance data to select the best mix of traffic sources for your marketing objectives.
Campaign Wizard: The self-serve feature makes it easy to syndicate campaigns live and change existing campaigns in minutes, without human interaction or signing multiple insertion orders.
Traffic Intelligence Directory: Make sense of the traffic sources available to promote your app. From pricing information to volume estimates, the Intelligence Directory allows users to quickly navigate through the complex mobile traffic ecosystem.
User Retention and Monetization Reporting: Understand users' retention and revenue attribution by traffic source. View the complete monetization picture.
Expected Life Time Value Reporting: Predict the eLTV of your users by channel, using Grow Mobile's proprietary eLTV algorithm.
Event Reporting: Tag in-app events like registrations and bookings to differentiate and track users' behaviors and milestones.
App Rankings Reporting: Track an app's movement in the app store rankings on the App Store or Google Play. Compare the ratio between install volume and app store ranking movement.
Geography, Device and Operating System Reporting: Breakdown users by geographic location, device and operating system.
Cohort ROI Reporting: Compare ad spending versus returned revenue by cohort and install channel.
Consolidated Data Reporting: Consolidate cost, performance, retention, monetization and life time value data in one place. Break down the reporting by app, campaign and traffic source to better understand results and to optimize faster.
Pictured from left to right, the Grow Mobile founders consist of A.J. Yeakel (formerly of Zynga), Brendan Lyall, and Minglei Xu. The trio started their company in 2012.
Grow Mobile already has three major clients: GREE, KLab, and Zynga. Noby Ota, Chief Executive Officer of KLab America describes his company's experience: "Grow Mobile has been a valuable partner... Their industry experience and technology has provided us excellent results through their platform." KLab is a Japan-based social games maker who has published Gigabot Wars and Lord of the Dragons on iOS.
Grow Mobile's platform sounds like it could be a good fit for app and game developers looking for these types of tools. Grow's lightweight SDK and API are available for iOS and Android right now.
More: GrowMobile.com
Master your iPhone in minutes
iMore offers spot-on advice and guidance from our team of experts, with decades of Apple device experience to lean on. Learn more with iMore!
Paul started writing about games in 2003 with his first strategy guide (Bomberman Land 2) for GameFAQs. He continued writing guides while earning his B.A. in Literature. When Windows Phone launched in late 2010, the Xbox integration lead our hero to jump on board the platform. He joined Windows Phone Central as Games Editor at the beginning of 2011, going on to review over 125 mobile Xbox titles over the years. He now leads Windows Central's Xbox One coverage, personally specializing in developer interviews, indie games, controllers and accessories, and Twitch broadcasts. Paul loves games on all platforms; he goes where the games are. Although very busy with console coverage, he sometimes contributes gaming articles to iMore and Android Central.