Hands-on with Audeze's SINE Lightning-compatible planar magnetic headphones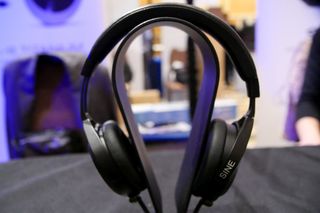 CES 2016 usually has a lot of the same iPhone accessories you've come to expect, but audio company Audeze did show off an impressive looking headset, the Audeze SINE planar magnetic headphones. We got a chance to check out at the show, and see how iPhone users can connect to this headset with Audeze's optional Lightning cable.
Audeze says the SINE is their lightest headphone they have made so far. The exclusive Lightning cable option can stream a complete 24-bit digital signal through a high quality DSP and DAC to offer better sound quality directly from the iPhone. The SINE will go on sale in late January for the price of $499.
What do you think of the Audeze SINE planar magnetic headphones? Let us know in the comments!
Get the best of iMore in your inbox, every day!
I have been writing professionally about technology and gaming news for 14 years.
Just another sign the headphone jack is going away.

I hope the cable is detachable for a regular analog one, because that thing's gonna end up a $499 doorstopper when Apple switches from lightning to something else.

For the Audeze EL-8 open or closed-back cans, you can choose from multiple cable options when buying them from Audeze's site. Including cables for devices from Apple, Astell and Kern, PONO players, and Sony's PHA-3.

Woot! My headphones are Audeze ones as I deeply love the planar magnetic sound signature... So I'm very excited to see those as a possible travel or outdoors solution.

What is the planar magnetic sound signature? Don't you want your speakers to NOT have a sound signature of any kind?

This is great but it will be a year before we see pricing and a market that has good options. I feel the 499 is the tax that is there cause they just can.

$499 is actually cheap for Audeze.

Yeah, the upper end for Audeze tops out at $3,995 for their LCD-4's....
https://www.audeze.com/products/lcd-collection/lcd-4
$499 isn't exactly pocket change, but it sure as heck isn't $4k either.