Hands on with Minecraft for Apple TV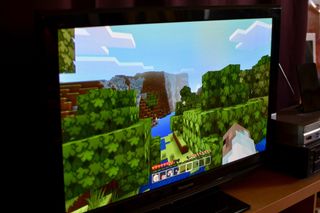 Apple announced in October that Minecraft would appear on Apple TV by the end of the year, and Mojang made good on their promise (opens in new tab) this week. It costs $20 and requires a separate controller (opens in new tab) (you can't play it with the Siri Remote), but it does come with a bunch of cool skins and textures just in time for the holidays.
You get free stuff!
After the initial download, head over to the Store to grab three skins (Holiday pack 2015, City Folk, and Town Folk), three texture packs (Cartoon, Natural, Plastic), and the Festival Mash-up 2016 pack, which is a holly jolly amalgamation of a bunch of holiday-related content. All of this is only available for free for a limited time, so don't dilly-dally after you've installed Minecraft on your Apple TV.
There are additional skins and textures to unlock for prices ranging from $1.99 to $2.99, but you can easily enjoy hours of entertainment from the free content you can unlock for a limited time.
Yeah, but how does it play on Apple TV?
Well, it pretty much plays the same as it does on all of the other platforms it is available on.
If you've played Minecraft before, you'll be right at home on Apple TV. There are cute pink little pigs running around, Creepers that creep up on you, and an ever-changing night and day.
Similar to Minecraft on iOS, you can create a new world that is either Survival or Creative. You can adjust the difficulty and change the point of view. It is basically the same game as the one available on all other platforms – except it doesn't support Minecraft Realms and Xbox Live, but support for that is coming soon.
I love that it is just like the versions I've played on other devices. It feels very familiar. Except, of course, for the new Festival content, which is exciting.
I found the controls to be really awkward. There is no clear indication of what each control does. They are labeled "Button 1" or "Trigger 2" and such. From trial-and-error, I was able to get a basic grasp of the controls, but still have a difficult time setting up worlds and accessing the Settings section. You have to use different controls to get to sub-sections of the settings, which throws me off.
I like to play Minecraft from the third-person perspective, but for some reason was completely fuddled when playing with that mode. I found myself lost in holes I'd created or unable to see what I was doing. I eventually switched to first-person perspective, which made gameplay easier, but is not my comfort zone, visually.
I also found myself caught in frame freezes on the regular. As I wander through the Festival landscape, opening Christmas presents, I'd be stuck, unmoving for about a second before the game caught up with itself. It's nothing too bad, and will likely be fixed soon enough, but it's something to mention.
The holiday pack
When you unlock the Festival Mash-up 2016 pack, you can explore a world filled with holiday magic. There are cathedrals, castles, and winter cabins, all complete with light switches and packages under the tree. There is a giant, decorated Christmas tree, right in the middle of it all. It's quite epic, and definitely my favorite scene in the Festival pack. It also includes 21 outfits for your "Steve". You can dress up as Mr. or Mrs. Claus, a Yuletide Yeti, one of the eight tiny reindeer (no Rudolph, sorry), an elf, a dressed up festival-goer, "Cool Claus," which is Santa or the Mrs. dressed in blue, Mistletoes the Bigfoot, and even Krampus.
I could spend most of my time exploring the Festival pack world, especially around the holidays. It's truly a winter wonderland.
The bottom line
Should you pay $20 to have Minecraft on your big screen? It depends. How much do you love Minecraft? If the answer is "A whole, dang lot!" then, you're probably already playing it on Apple TV right now and you don't need my advice.
If you don't already own four different versions of Minecraft, this version is a good place to start. I love having it right on my Apple TV where I can load it up and play at any time.
Minecraft is already available on more than a dozen platforms, including Xbox and Playstation consoles. So, if you are playing on one of those TV-supported platforms, you won't be getting any exclusive content on Apple TV.
Keep in mind that it requires a game controller. So, if you don't already own something like the SteelSeries Nimbus (opens in new tab), you're going to have to invest in a game pad, too.
In all, I recommend Minecraft on Apple TV for:
People that love Minecraft so much they want to play it on all available devices.
People that only have Minecraft on a smaller device, like an iPhone or iPad.
People that have played the game a few times on a friend's device, know they really like it, but don't already own it.
I don't recommend Minecraft on Apple TV for:
People that don't own a game controller for Apple TV and don't plan on buying one in the foreseeable future.
People that didn't like playing it on iOS – or another small-screen platform.
People that already own it on a console device connected to their TV set.
Get it on your Apple TV (opens in new tab)
The future of Apple TV is games
One thing I really like about Minecraft on Apple TV is the fact that it's a full game. It's not limited by Siri Remote restrictions. This is something that I've been looking forward to – and so far, been disappointed by – on Apple TV. I hope it does really well, so that other game developers will see the value in porting their own games to Apple TV (Super Mario Bros., amiright?).
Your thoughts?
Have you played Minecraft on Apple TV? If so, what do you think? Let everyone know in the comments.
Get the best of iMore in your inbox, every day!
Lory is a renaissance woman, writing news, reviews, and how-to guides for iMore. She also fancies herself a bit of a rock star in her town and spends too much time reading comic books. If she's not typing away at her keyboard, you can probably find her at Disneyland or watching Star Wars (or both).
Lory, did you try playing it with a Nimbus controller?

That's exactly what I was using to play it.

What about using game controller mode with the iOS Remote app? Will that work in place of a dedicated MFi game controller like a Nimbus?