Having trouble with Apple Music search? You're not alone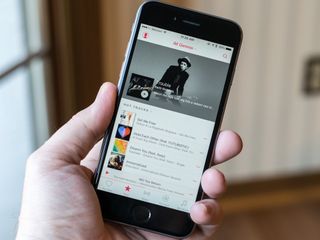 If you're having trouble searching on Apple Music, you're not alone. Users from around the world are reporting that they are unable to search the service, with some saying that typing in the search bar does not return results. Others are noting that while they do receive results, they get a blank screen after selecting an artist or track.
Several users have taken to Twitter, asking the official Apple Music Help account for support:
@_benphilips We'd like to take a look at this with you. DM us which device you're using and we'll go from there.@_benphilips We'd like to take a look at this with you. DM us which device you're using and we'll go from there.— Apple Music Help (@AppleMusicHelp) February 1, 2016
Some of us here at iMore have encountered the problem as well. At the moment, there does not seem to be a fix or workaround for the issue, though it should be noted that it only appears to be affecting iOS users, with iTunes on Mac and PCs still returning expected results.
Source: Apple Music Help (Twitter)
Joseph Keller is the former Editor in Chief of iMore. An Apple user for almost 20 years, he spends his time learning the ins and outs of iOS and macOS, always finding ways of getting the most out of his iPhone, iPad, Apple Watch, and Mac.
I've had this happen to me. Seems that most of the time I have this problem is in spotty data service areas. I don't think the app handles slower data speeds well. Sent from the iMore App

Agree....the connection does not seem very reliable to the Apple servers even when my wireless is strong.

My wife can't search and I can. We use the same Mac. Also we share a family subscription. Not sure what the difference is. Sent from the iMore App

Search no problems, but "For You" page shows error occurred. Been that way for a for three days now. Sent from the iMore App

it started for me last night.

Yea, I resubbed for another month just to see if things have improved, but I'm not going to continue. I give up. This service just isn't that intuitive (or even easy) to use and the interface both in iTunes and especially on iDevice is way too messy and cluttered. I've been getting a lot of errors on the "For You" Page and the Search is practically worthless because it doesn't seem to let you search for "Parts" of an Album and an Artist Name in the field and get accurate results, like what you would expect from an actual Search Engine. For example, searching for "je suis lara fabian" (without the quotes) brings up a lot of entries for the song ("Je Suis Malade") as top results, but absolutely none from the actual artist (Lara Fabian) whose name is spelled out in the query. This seems completely backwards to me, and it makes looking for specific songs impossible. If you listen to Classical Music (where there are about 1,000 composers with "<Instrument> Concerto <#>" you have to resort to Google to find a lot of the music you intend to find and hope they have an iTunes link in the Google/YouTube info. It's just an absolutely freaking horrible user experience. I wonder if any of these people working on this at Apple have ever tried to find anything but a top hit with a relatively distinct name on this service. I don't consider it usable. It's extremely frustrating overtime I open up Music.app (on iPhone) or iTunes (on iMac) and try to find something. Also, I just tried the Microsoft Music Store on my Windows Notebook with the same query (je suis lara fabian) and the top song hit is... "Je Suis Malade" by Lara Fabian from Carpe Diem Album (1994)... Google Play surfaces the same song as the top hit if you search from their web interface using the same string... So Apple is apparently the only one (that I've tried) that seems to have a completely useless search function in their product. And for me, that's makes it unusable... No use having access to so much content, if you cannot adequately search for anything in the service... I can't depend on recommendations, they are too biased to specific music genres and artists.

I just fixed mine by going to settings > music then turned off Show Apple Music. Then launched music, then quit music then turned show Apple Music back on. But Apple Music is an absolute mess. I find it so hard to use and it completely has no idea what music I like despite me liking songs and having iTunes Match AND a long history of Apple Music purchases. Plus the music categories are so limited, Alternative is not a catch all for everything with a guitar.

These steps fixed mine just now, thank you so muchhh!!!

Isn't this when Steve Jobs would throw something at someone? I agree with N8ter. The current Apple Music situation is bad. The interface is awful and it takes me a minute to remember how to get anywhere even though I use the app everyday. It seemed to get this way in iOS 9 maybe. In any case I just subbed to Sirius. Their app is not that intuitive but I can at least use the search to type in my channel and get to my station quickly. Sent from the iMore App

I am able to search on iPhone 6s+/9.2.1, but my PC iTunes is not searching or even loading the For You page..... I prefer Apple Music over the other services, but its not without flaws. Still happy with my subscription.

I tried by closing the app by swiping up first and then refreshing the phone's RAM (apparently) by holding power button but instead of swiping to turn off, I press and hold the home button (got that tip from CNET). And it worked again...

I have the same trouble with my Apple TV. It only happens sometimes, though. Most often the search works, even accurately predicting my search objective well before I finish entering characters. It is disappointing when nothing at all happens, however.

I resubscribed twice to give Apple music time to correct its problems. I went back to Spotify.
Get the best of iMore in in your inbox, every day!
Thank you for signing up to iMore. You will receive a verification email shortly.
There was a problem. Please refresh the page and try again.