Getting error code -54 in iTunes on Windows 10? Here's your fix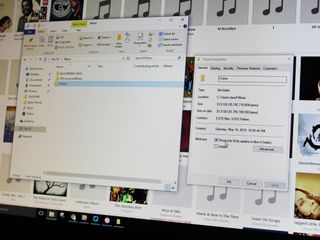 If you are having trouble syncing your iPhone, iPod, or iPad after the Windows 10 update, don't worry. With just a few clicks you will be back up and running, and able to sync your device with your computer again. It appears as though the Windows 10 update is marking the iTunes folder as Read Only, meaning that your computer won't allow it to sync with the device you have plugged in. So, how do you fix this -54 error? Simple.
Open Windows Explorer
Head to the Music folder
Right click on your iTunes folder
Go to Properties
Uncheck the Read Only option under Atrributes
You will notice another pop up window as it applies the changes to all the sub-folders. If the problem still persists, verify that you have full control over the iTunes folder. To do this, right click the folder again, go to properties, then security, and finally click edit and then full control and apply. Once this is done, you should be able to head back into iTunes and sync your device again without an issue.
Thanks for the tip, Darran!
Jared started off writing about mobile phones back when BlackBerry ruled the market, and Windows Mobile was kinda cool. Now, with a family, mortgage and other responsibilities he has no choice but to look for the best deals, and he's here to share them with you.
Thanks. Worked perfectly for me. Sent from the iMore App

If it were RENE's article, "Here is how you fix itunes on windows 10........ Get a MAC why would you buy a windows 10 laptop" :P

I don't recall him saying anything like that Sent from the iMore App

So the good old AARD code technique- https://en.wikipedia.org/wiki/AARD_code - is still very much alive at Microsoft.. They may be singing a different tune these days, but their actions are the same.

Hey guys, even though it was me that highlighted this workaround and thanks to imore for the credit it's worth noting that all this does by removing the read only attribute on the itunes folder and sub folders is effective cause the folder structure to refresh and therefore remove whatever file or folder is currently locked by itunes or windows. You will get the error -54 from time to time with the current version of itunes and windows 10 for times when you try to sync whilst another process is taking place and that process has taken charge of a file or folder that sync needs. If you wait for 10 seconds then try again it should complete the sync sucessfully. I'm not sure if this is itunes not being compatible with windows 10 or windows doing something stupid in their handling or permissions but hopefully it gets resolved soon and we don't end up with these errors.

i've had issues since returning to iphone and windows 8. i have the 6 + and now on windows 10 and did what the instructions to us what to do and still have this error. aarrgghh!

I just posted with a lengthy workaround, I hope this works for you. This workaround was for Windows 10, but I would imagine that it should work just as well for you with Windows 8 because this problem seems to have begun with Windows 8/8.1 upgrades.

well i didnt have an issue that much on windows 8/8.1 except that my artwork would go missing. windows 10 stopped uploading to my device at around 7000 songs out of 9300. with your workaround it did finish the remainder however alot of artwork is still missing....double aarrgghh! lol

I've encountered this error as well after restarting my desktop PC, 3 days after upgrading to Windows 10. I followed all instructions given by various forums (properties, grant full access, etc.) and I too, did not find this to work. After granting full control to my user profile(s), I tried running iTunes as administrator....AND THAT WORKED. Kinda sucks, but it works as it should. Because I tried it out and verified that this became a workaround/fixed the issue, until iTunes or Windows 10 runs an update to fix this, I would advise this as a fix. The only thing you have to debate is either always having to right mouse click\run as admin, or, change the properties of iTunes.exe file to left mouse click, and allow it to prompt to run as admin. You do this by right mouse click the icon on your desktop, choose Troubleshoot Compatibility, and after it runs the Detecting Issues, select the 2nd option, "Troubleshoot program", choose "The program requires additional permission". Once you choose this and click next, choose "test the program". This will test opening the program, and you will get a dialog box prompting admin rights permission. Click yes, and once you verify that it worked for you, click next. Final step is to select "Yes, save these settings for this program". It will then check for further compatibility issues, and then say "incompatible program - fixed" as a final dialog box. Click close, then try running the program. Be prepared for the "do you want to run this program" box that comes up, click yes, and you should be in iTunes like nothing ever happened again. This worked for me. I hope it works for others. I have not seen this posted in any other forum, so I thought I'd do others a favor as many have done for me and many more in the past.

Thanks - yes is the only thing that works (tried all other proposed solutions)!

i really don't what happen i got this message could not install but ran it again like it said it installed then i git the -53 error message and then i did some updates on everything still nothing then i whent throw playlist and transferd music that way the onlything i did was did the update that it asked for
Get the best of iMore in in your inbox, every day!
Thank you for signing up to iMore. You will receive a verification email shortly.
There was a problem. Please refresh the page and try again.