Apple Watch X: Everything you need to know
The Apple Watch X could be quite impressive.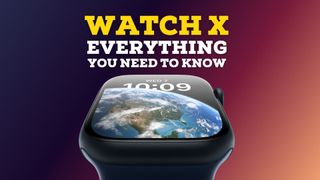 (Image credit: Apple / iMore)
Release Date Rumors
Price Expectations
Design
Features
Size
Battery Life
watchOS 11
Rumors
Q&A
With it being potentially more than a year out, the Apple Watch X has already managed to make a bit of a splash. Apple has a reputation for making their tenth version of a product quite special and the Watch X seems to be no different. Fitting in between a new SE and new Ultra watch, there's still quite a lot we don't know.
With rumors of thinner bezels, a new OS, health features, and a brand new watch band system, there's quite a lot to get fans excited for Apple's next line of wearables. Here is everything you need to know about the Apple Watch X.
Apple Watch X: Release Date Rumors
As reported by Bloomberg, the Apple Watch X is set to launch around the 10 year anniversary of the iconic wearable. If all goes ahead as planned, this means we could see a release date of April 2025 or perhaps an unveiling in April 2024 with a release in September 2024.
The Apple Watch officially launched on April 24, 2015, after an announcement a year prior in 2014. Though Apple could plan to launch the watch on April 24, 2025, the month is probably a more important anniversary than the specific day. Every Apple Watch since the first one has launched around September and October so there's also a chance the Apple Watch X will be announced in April 2024/2025 for a launch in September that year.
"I love what Apple did with the iPhone X, so I'm really excited to see how the company celebrates the tenth anniversary of the Apple Watch."
Apple Watch X: Price Expectations
For the last five years, Apple has stayed steadfast in launching its flagship watches at a base price of $399, with the ability to pay more for a bigger display, extra features, and different band types. For this reason, we imagine the Watch X will come in at a similar price.
However, the Apple Watch X is being set up to be a big upgrade over the previous generation so there's a chance it could bridge the gap between the standard series watches and the Ultras in price.
Apple Watch X: Design
Mark Gurman from Bloomberg states that Apple designers are currently working on a thinner watch case and want to change how bands are attached. Wrapping around your arm, then sliding into a small bracket and locking in place, this has previously worked quite well as it makes some old bands compatible with new watches. Apple is exploring a new magnetic band to free up more space which allows them to experiment with size a little more.
To accompany this, the Watch X is reported to have a thinner design with smaller bezels and watch case. This seems like a conscious move to place it in between the SE and the Ultra. Where the SE comes in smaller sizes and does away with extra features like the blood oxygen sensor and fast charging, the Ultra is bigger with a more durable frame and brighter screen. The X seems like it will place in between these in both size and features.
Apple Watch X: Features
Top analyst Ross Young previously reported that the Apple Watch will get a microLED display in 2025 or even as late as 2026, skipping out on the upcoming Apple Watch Series 9. Though consumers will miss out this year, this does leave room for its integration into the Apple Watch X. But Apple may skip it entirely and opt to use it exclusively in the next generation of Apple Watch Ultra.
Though this has been a rumor for years, it seems possible we could finally get blood pressure monitoring as part of the suite of health features. This would sit alongside blood oxygen and heart beat monitoring to give more accurate health reading. This would be reliant on FDA certification.
Apple Watch X: Size
As of right now, we have no reason to believe the base size of the Apple Watch will be very different. The Series 8 came in 41mm and 45mm. The Series 7 and SE were available in 40mm and 44mm. Though there are minor differences, we can't imagine the Apple Watch X will change sizes any more than a few mm.
Despite this, changing the watch band and frame will make the Watch X seem smaller even if the display is the same basic size. There have been no official reports either way here yet.
Apple Watch X: Battery Life
The Apple Watch Series 7, Series 8, and SE all claimed 18 hours of battery life, meaning that you should get a full day out of it if you charge it every night. The Ultra, on the other hand, manages to get 36 hours per charge — a step above the competition. It seems unlikely the Watch X will match this and the charge of the 7,8, and SE have been untouched in years. Though there have been no reports here yet, we expect a similar charge from the Watch X.
watchOS 11
Like clockwork, the latest watchOS update has arrived alongside the next major batch of Watches. Here is the release date of all previous watchOSes:
watchOS 2 released on September 21, 2015
watchOS 3 released on September 13, 2016
watchOS 4 released on September 19, 2017
watchOS 5 released on September 17, 2018
watchOS 6 released on September 19, 2019
watchOS 7 released on September 16, 2020
watchOS 8 released on September 20, 2021
watchOS 9 released on September 12, 2022
For this reason, we anticipate that watchOS11 will come out in September 2024. Though we don't have any concrete information here, we anticipate it will be unveiled at WWDC 2024 and will come with upgrades to apps, UI, and some extra services like health resources.
Apple Watch X: Rumors
Apple has been working on blood glucose monitoring for Apple devices for a decade now. Though it seems unlikely it will be ready in time for the launch of the Apple Watch X, we still have some time until launch. Being in development for some time, this is likely part of a push for more health features in future Apple wearables.
With a push towards wireless charging over the last few years, the Apple Watch X could come with easier and more efficient wireless charging. It could work with other Apple wireless charging devices so you don't have to bring more than one wire out with you. This could also be tied in with a better battery life. Though the Apple Watch has a decent battery life, the Watch X could be a little better alongside that new design.
Apple Watch X: Q&A
How big is the Apple Watch X?
Though we don't have the full details just yet, we anticipate the Apple Watch X will have somewhat customizable sizes like previous watches. This could be 40mm and 44mm like the Series 7 or 41mm and 45mm like the Series 8. When you combine this with different band types, there's quite a lot you can change around.
Is the Apple Watch X waterproof?
All recent Apple Watches are considered water-resistant, with particular attention payed to how far you can swim with them. For light swimming, showering, and walking in the rain, we anticipate the Apple Watch X will be absolutely fine. If you want to go very deep, you may be better off with an Ultra.
Master your iPhone in minutes
iMore offers spot-on advice and guidance from our team of experts, with decades of Apple device experience to lean on. Learn more with iMore!
James is a staff writer and general Jack of all trades at iMore. With news, features, reviews, and guides under his belt, he has always liked Apple for its unique branding and distinctive style. Originally buying a Macbook for music and video production, he has since gone on to join the Apple ecosystem with as many devices as he can fit on his person.
With a degree in Law and Media and being a little too young to move onto the next step of his law career, James started writing from his bedroom about games, movies, tech, and anything else he could think of. Within months, this turned into a fully-fledged career as a freelance journalist. Before joining iMore, he was a staff writer at Gfinity and saw himself published at sites like TechRadar, NME, and Eurogamer.
As his extensive portfolio implies, James was predominantly a games journalist before joining iMore and brings with him a unique perspective on Apple itself. When not working, he is trying to catch up with the movies and albums of the year, as well as finally finishing the Yakuza series. If you like Midwest emo music or pretentious indie games that will make you cry, he'll talk your ear off.