What the Apple Watch Series 9 can learn from the Ultra
Fitness, Camera, Action... button.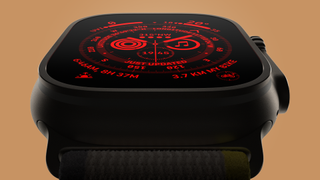 (Image credit: iMore)
The Apple Watch has changed very little since it made its debut eight years ago. In fact, up until very recently, whether you picked up an expensive titanium model or the cheaper aluminum "sport" version, it was still very much a rounded square display with a Digital Crown and side button.
That might be why the reveal of the Apple Watch Ultra was met with so much enthusiasm, as the first real shakeup of the product line since its inception in 2015. While that excitement may have taken some of the wind out of the Series 8's metaphorical sails, it's worth noting that as good as the latest "standard" Apple Watch is, its improvements are relatively small in scope.
A temperature sensor and car crash detection were the two headline features from Series 8, but neither jumps off the store page. Both also found their way into the Ultra, but not every feature made the jump.
We think there's plenty that the Apple Watch Ultra can teach the upcoming Series 9, without necessarily eating into its own, hardcore fitness enthusiast demographic. Here's what the Apple Watch Series 9 can learn from the Apple Watch Ultra.
A magic button
In a world where phones, tablets, and even computers seem to be trimming down the number of physical buttons they have in the pursuit of ever-sleeker designs, the Apple Watch Ultra bucked that trend with an Action Button.
Situated on the opposite side of the chassis from the Digital Crown and side button, the Apple Watch Ultra button is used to do, well, pretty much anything.
While Apple showcases it as being a handy workout tool for logging lap times or switching between triathlon events, its true potential is unlocked through the use of the Shortcuts app.
With Apple's automation suite, you can trigger the Action Button to do all sorts of things, including home automation, launch a ChatGPT shortcut, or just set up a bunch of options to be able to select a specific app or function from a menu.
Here's hoping the Action Button makes the jump to the standard Apple Watch with the Series 9, as it's not strictly the kind of feature you can only find uses for if you're an Ultra Marathon runner.
A Brighter Display
The magic of the Apple Watch Ultra is that after a few hours or so, it doesn't feel considerably bigger than my Apple Watch Series 7 in Stainless Steel. It's not a lot heavier, it's got a similar footprint, and yet it packs a 49mm display – comparatively huge when you consider where the Apple Watch started (40mm display), and significantly larger than the 41/45mm you'll find on the Series 8.
Still, it's not the size of the display that's the most impressive thing but more the brightness of the OLED panel.
If you've ever used an Apple Watch, you'll know that the black background on watchOS makes the UI easy to read in most lighting conditions thanks to impressive contrast, but in the most direct sunlight, it can still be a little bit of a challenge.
The Apple Watch Ultra's 2,000 nits of brightness is double that of the Series 8, and it's obvious as soon as you take your first glance at it. Once you adjust, it's impossible to go back, so here's hoping for a brighter OLED on the Apple Watch Series 9.
Battery Life
A big draw of the OLED display is to help manage power draw on a small device with a relatively small battery, and it's here that the Apple Watch Series 9 can learn the most from the Apple Watch Ultra.
The Series 8 (and Series 7) battery may charge more quickly, and we'd recommend turning off the Always-On display to save some juice day-to-day, but you'll find yourself needing a charger within a day and a half for the most part (especially if you're tracking a workout).
It remains the Apple Watch's Achilles heel, even with the Low Power Mode rolled out in watchOS 9, but the Ultra makes big strides in usability thanks to its vastly improved battery life.
Being able to charge every few days, rather than every day or so, is transformative, allowing for the Apple Watch Ultra to remain on the wrist for sleep tracking and heart rate tracking at all hours. At the moment, the Apple Watch, particularly in older models with smaller batteries, is great at keeping an eye on a user's health through the day but drops the ball somewhat overnight outside of a "charge before bed" warning. We look forward to seeing if the Series 9 can step up its stamina.
There's no expectation that the Series 9 will be anything other than an excellent smartwatch and fitness tracker, but Apple can definitely learn from its Ultra variant without diminishing what makes that particular Apple Watch special.
Even with the Series 9 getting a better battery, brighter screen, and action button, the Apple Watch Ultra can still offer a titanium chassis, bigger display, and improved GPS functionality.
Get more iMore in your inbox!
Our news, reviews, opinions, and easy to follow guides can turn any iPhone owner into an Apple aficionado
Lloyd Coombes is a freelance writer with a specialism in Apple tech. From his first, hand-me-down iMac, he's been working with Apple products for over a decade, and while he loves his iPhone and Mac, the iPad will always have his heart for reasons he still can't quite fathom.

Since moving from blogging to writing professionally, Lloyd's work can be found at TechRadar, Macworld, TechAdvisor and plenty more.

He's also the Editor in Chief at GGRecon.com, and on the rare occasion he's not writing you'll find him spending time with his son, or working hard at the gym (while wearing an Apple Watch, naturally). You can find him on Twitter @lloydcoombes.