Here is everything that's new in iOS 13.2 beta 2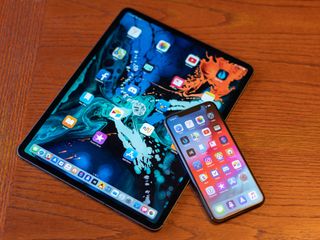 (Image credit: Joseph Keller/iMore)
Apple has slowly been releasing developer betas for iOS 13 and iPadOS 13 throughout the summer. Most of the time this means minor changes to the new features Apple introduced along with performance and stability improvements, but here and there it introduces some delayed features that it hasn't really talked about.
We're making it our mission to find these new features. The latest developer beta is no different. Here's everything new that Apple added with the latest developer beta of iOS 13, iPadOS 13 and their subsequent updates.
What's new with iOS 13.2 and iPadOS 13.2 beta 2?
Today Apple released the second developer and public betas for iOS 13.2. The update adds new privacy features for Siri, including an opt-out for helping Apple improve Siri and Dictation using select voice snippets. Apple is also making some user experience tweaks to the Home screen, including new wording for rearranging apps using the haptic pop-up menu, as well as a new option for deleting apps. Crucially, there are also 200 new emoji in iOS and iPadOS 13.2, and new video options in the Camera app.
Here are the notable changes with iOS 13.2 beta 2.
Siri privacy settings: You can now opt-out of sharing audio recordings of your Siri and dictation sessions. This is found in Settings > Privacy > Analytics & Improvements. You can also now delete your Siri and Dictation history in Settings > Siri & Search > Siri & Dictation History.
Home screen tweaks: The pop-up menu that appears on your Home screen when you long-press or 3D Touch an app icon has seen a terminology change to one of its options. Instead of "Rearrange apps," it now says "Edit Home screen." There is now also a button to delete your selected app.
New emoji: There are over 200 new emoji in iOS 13.2, including the Yawning Face, Waffel, and Otter.
Video recording controls: You can now change the resolution and frame rate at which videos record from directly within the Camera app. Tap the numbers in the top-right corner of the app to cycle through the avaialble resolutions and frame rates.
As we continue finding new features in the developer beta updates, we'll continue updating this post.
What's new with iOS 13.2 and iPadOS 13.2 beta 1?
Today Apple released the first developer and public beta for iOS 13.2. The update adds a bevy of new features that did not show up with earlier iOS 13 updates like Deep Fusion. Besides the new features, not much changed with the design of iOS 13 aside from Apple fixing some of the annoying bugs plaguing it so far. This update seems to be geared towards launching the new features.
Here are the notable changes with iOS 13.2 beta 1.
Deep Fusion: The long-awaited camera feature is now available. The feature uses the A13 Bionic's Neural Engine to take multiple shots to create detailed images.
Announce Messages with Siri: The voice dictation feature makes its debut with iOS 13.2 beta 1. It allows Siri to read out messages through AirPods. It is not turned on by default. If you want to turn it on, go to Settings > Siri & Search > turn on the Announce Messages toggle.
Research App: The Research app now has a section within the Settings. It will help academic and research institutions conduct researches.
AirPlay & Handoff: The Handoff section found within General is now labeled AirPlay & Handoff. It also adds new options to "Transfer to HomePod" and "Automatic AirPlay to TVs."
Volume Control within Control Center: Now when you have AirPods or Beats headphones, their icon will appear within the Volume Control. This feature is carried over from the new volume control on the home screen.
What's new with iOS 13.1 and iPadOS 13.1 beta 3?
Following its September 10 event, Apple released the third developer and public beta for iOS 13.1. Like the second beta, Apple didn't make any noticeable changes aside from refining the new features it added with the first beta for iOS 13.1 (which you can see down below).
Additionally, Apple rolled out the gold master version for iOS 13.0. This too doesn't offer any major updates aside from last-minute bug fixes and refinements ahead of its public release on September 19. That will be followed shortly by the public release of iOS 13.1 on September 30.
What's new with iOS 13.1 and iPadOS 13.1 beta 2?
Apple has released the second developer beta for iOS 13.1. Unlike the first beta, this one is short on changes. There seems to be no major changes or tweaks to the software. We'll continue to keep an eye to see if any noticeable changes pop up.
If you want a rundown of all the new features that were available with the first beta, just keep on reading.
What's new with iOS 13.1 and iPadOS 13.1 beta 1?
Apple has released the first developer beta for iOS 13.1. The beta offers many changes that we will cover with the post-13.0 update, including many features that had previously been removed from betas. This was in part due to Apple refining some of these features, but they will eventually make their way into users' hands.
Here are some of the notable changes with iOS 13.1 beta 1.
Shortcut Automations: Automations were removed from the iOS 13 beta but seem to make a return in iOS 13.1.
AirPods Volume Indicator: When you connect a pair of AirPods, you will now see an AirPods icon inside the volume toggles whenever you adjust it.
Improved Mouse support: The mouse function with the iPad now supports the right-click functionality.
HEVC changes: Apple added new HEVC encoding with alpha channels.
Apple Maps collections: There will now be a prompt warning you when you try to delete Apple Map collections.
New HomeKit Icons: The icons in the Home app have been redone with more detailed finishes.
TestFlight Indicator: The TestFlight indicator is now a much brighter yellow dot next to the app name.
Apple Watch app: Within the Apple Watch app in the iPhone, the Display and Text Size has been renamed to Display & Brightness.
Shared ETA: The ability to share ETAs, or estimated time of arrival, has returned to iOS 13.1. This was another one of the features that was removed in the beta process.
Dynamic Wallpapers: Apple has tweaked the look of the dynamic wallpapers. They now look differently with new color gradients, and, additionally, are now available to all iPhones, not just post-iPhone X devices.
Fonts: There is now a section in the App Store for the font functionality that Apple promised with iOS 13.
Reading Goals: There is a new toggle in iOS 13 that lets you set reading goals for Books.
Nike Run Club app: The "Nike+ Run Club" app has been renamed "Nike Run Club."
What's new with iOS 13 and iPadOS 13 beta 8?
Apple has released the eighth developer and public betas of iOS 13. Not much has changed from the last beta as most of the improvements seem to have been made to the overall performance of the software.
Apple is only weeks away from releasing the final version to public users in September, meaning it is now in the final stages of the beta process. Don't expect many major changes from here on out.
What's new with iOS 13 and iPadOS 13 beta 7?
Apple today released the seventh developer beta for iOS 13 that continues to tweak the software changes as the official release nears. Here are some of the notable changes.
Dark Mode: The wording for the Dark Mode toggle within Control Center has been changed slightly. Instead of Light Appearance and Dark Appearance, it now says Light Mode and Dark Mode.
Folder Design: After changing the gradient of Folders to match the wallpaper better in the last beta, Apple reversed course to the standard lighter gradient that provides more contrast.
Deleting Media in Messages: Apple returned the function that lets users delete media attachments within the Info section in Messages.
Do Not Disturb: The Do Not Disturb mode now syncs between an iPhone and Apple Watch. When it is enabled on one device, it'll automatically turn on for the other.
All Photos: An All Photos view has been added to the revamped Photos app in iOS 13. Previously, only Years, Months and Days sections were available.
Blocked Senders Options: Beta 7 adds more options for the blocked sensors Mail feature. You now have the options to "Move to Trash" and "Mark as Blocked, Leave in Inbox."
Silence Unknown Callers: When turning on Silence Unknown Callers, there is a new text that alerts you that "Incoming calls will continue to ring from people in your contacts, recent outgoing calls, and Siri Suggestions."
Find My: The Notify When Found function is now working in the Find My app. Apple also introduced a new "Help a Friend" feature with this new beta.
What's new with iOS 13 and iPadOS 13 beta 6?
Apple today released the sixth beta for iOS 13 introducing a few under the radar tweaks to the overall UI along with the usual bug fixes. Here are some of the major changes.
Dark mode Control Center toggle: There is now a new Dark Mode toggle within Control Center making it super easy to turn the mode on.
Hidden Links: A new 3D Touch option now lets you disable link previews depending on the site.
Folders: The new beta has a slight change in the transparency of the folders. It now matches the wallpapers better, leading to a better and cleaner look. Folders within the dock will now contrast more as well.
Three Finger controls: Apple is bringing the three-finger controls from the iPad to the iPhone. Tapping on the screen with three fingers now brings up controls for undo, redo, copy, paste.
Background Location warning: iOS 13 beta 6 now warns users in more detail when an app is using background location tracking.
Bluetooth Device warning: Whenever you sync a device, it will now warn you that the app could use Bluetooth when it is nearby.
Splash Screens: The Photos and Apple Arcade now have formal splash screens that announce everything that is new with the app with recent updates.
Privacy Policy: There are new privacy policies for the Analytics, Apple Pay and Location pages that pop up.
Volume adjuster: The Volume toggle is back down to 16 points of volume. Beta 5 introduced 34 points of adjusting but Apple has gone back to the original format.
Network icon: The LTE or 5GE icon has returned to its original size. Beta 5 introduced icons that were slightly bigger, matching the signal bar and battery icon more closely.
What's new with iOS 13 and iPadOS 13 beta 5?
Apple just released the fifth developer betas for iOS 13 and iPadOS 13, bringing forth many new features that seem quite interesting. Most of the major changes affect the iPad.
iPad icon customization: You can now adjust the number icons you have on the iPad home screen. You can either go for the denser, 6x5 layout with smaller icons and more right icons, or 4x5 layout with spaced out and bigger icons.
Cursor customization: Apple introduced more customization over the cursor for the iPad. You can now adjust the size of it to tend different points, along with the already available color and auto-hide options.
Dark Mode switcher: Apple now asks you if you want to enable Dark Mode when users download iOS 13. The transition between Light and Dark mode has also been refined.
CarPlay album art: You now have the option to turn on or off album artwork in CarPlay.
Volume adjuster: You now have 34 different points on which to adjust the volume level. The volume slider also offers taptic feedback.
Reopen closed window: For app exposé on the iPad, you now have the ability to reopen a window you have previously closed.
Home app wallpapers: The Home app now offers more wallpapers to select from. They include various colors with a minimalist finish.
Siri for Everyone setup: Siri for Everyone now understands multiple voices. However, you will need HomePodOS 13 to enable the new feature.
Share sheet: The share sheet on the iPad has been changed up. It now looks cleaner with different typography icons.
Automations tab in Shortcuts: The "Automations" tabs in the Shortcuts app has been temporarily removed. No word on if it'll appear with a minor upgrade or the next developer beta update.
Larger network icon: The carrier icon in the corner of the iPhone has been made slightly larger. It night fits more snuggly between the signal bar and battery icons.
Achievement Move icons: The achievement goals in the Activity app have been expanded. You are now rewarded with a badge after hitting goals all the way up to 2,000 times.
What's new with iOS 13 as a whole?
Apple added a ton of new features in iOS 13 like Dark Mode, performance upgrades and many more features that are sure to make your iPhone feel like a new device. If you want to know more about these new features, check out our iOS 13 guide.
Master your iPhone in minutes
iMore offers spot-on advice and guidance from our team of experts, with decades of Apple device experience to lean on. Learn more with iMore!