Best holiday gifts for your Apple gamer!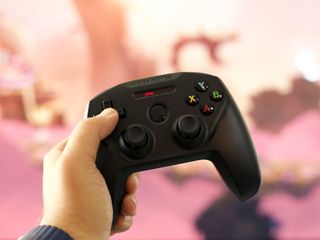 Gaming is no longer the TV-tethered experience that it once was. Now mobile gaming and the latest gen consoles rock amazing technology and high-end graphics to gawk at. Even the new Apple TV has stepped up to offer a better gaming experience. This year there are plenty of exciting gaming gifts worth checking out for that special someone, so go ahead and dive right in to see what's hot this holiday season.
Check out our 2015 Ultimate Holiday Gift Guide
Apple TV (2015)
The new Apple TV brings all the mobile apps you love to the big screen, whether it's Netflix, Hulu, or your favorite games. The Siri Remote features a built-in mic, touch surface, Bluetooth 4.0, accelerometer, and gyroscope that makes finding what you want to watch easier than ever. Apple TV is also a great way to share all your photos and video via iCloud conveniently and easily. You can grab either the 32GB version for $149 or opt for the larger 64GB for $199.
SteelSeries Nimbus Wireless Controller
If you're going to game on your Apple TV, iPhone, iPad, or even your iPad Touch you can't pass up the Nimbus Controller from SteelSeries. This wireless controller uses Bluetooth 4.1 to connect to your devices and let's you dive into hundreds of controller-supported games on the App store. The ergonomic design is comfortable to use for long gaming sessions and having 40+ hours of battery life after a quick charge from any Lightning connector is an awesome addition. At the top of the controller are 4 LEDs next to color-coded action buttons. If you want precision gaming with any of your Apple devices, the SteelSeries Nimbus is a home run.
PlayStation 4
The PS4 has been on the shelves for 2 years now, but is still a top-tier console that's fun for all ages. Even with today's latest titles the PS4 pushes spectacular graphics with a smooth performance to back it up. The included DualShock 4 Wireless Controller features a capacitive touch pad that adds a unique gameplay experience, too. The PS4 isn't just a gaming machine, it's also a media hub where you can access some of the most popular video, sports, and music streaming apps right at your fingertips. With the capability to capture and share your best gaming moments, there's no end to your rein over the battlefield!
Beats Solo2 Wireless On-Ear Headphones
If you want the Beats name, the Solo2 Bluetooth Headphones are a great pair to roll with. You can expect amazing audio quality for games, music, and movies with a comfortable, flexible headband. The 12 hour battery life is perfect for those long days on the couch and the illuminated LED provides a clear indication of when it's time to recharge. The soft ear cups are designed to block outside noise and pivot for a natural fit. The Solo2 Headphones also have a built-in mic for chatting with your friends online.
Star Wars: Battlefront
Let's face it: there's no better way to stay pumped about The Force Awakens hitting theaters in December than picking up Star Wars: Battlefront. Whether you've been following gameplay videos online or you had the opportunity to dive into the open beta while it was happening, it's hard to not appreciate how great this game looks. Jump into your own X-wing, TIE fighter, or even pilot the Millennium Falcon — Battlefront brings the action and realism of the original Star Wars trilogy straight to your console or PC. Its recent release just before the holidays makes it a great gift for any Star Wars fanatic.
VIZIO 42-inch 5.1 Sound Bar
Another option to get amazing audio out of your games is a sweet sound bar. This 42-inch 5.1 channel sound bar from VIZIO will certainly kick things up, adding advanced audio technology to your favorite games, movies, and music. This setup includes a 3-channel sound bar, wireless subwoofer, 2 rear satellite speakers, and a remote to easily manage it all. The built-in Bluetooth technology also makes it easy to stream your favorite playlists from your smartphone, tablet, or PC. Just be mindful of the rest of those under your roof before you start cranking up the volume.
ION iCade Core Arcade Game Controller
Do you ever miss gaming at an arcade, smashing those big buttons and jamming the joystick in all different directions? The ION iCade brings the experience back offering a way to dock your iPad and connect over Bluetooth to give you control of classic Arcade games like Asteroids and Centipede. With full-sized controls and a pass-through charging feature, you can geek out while your iPad gets a boost in battery life.
Fallout 4
Nothing says the perfect gift like a virtual post-apocalyptic experience, and the latest launch from Bethesda absolutely nails it. Fallout 4 expands upon a world destroyed by nuclear war, giving you, the sole survivor of Vault 111 a chance to rebuild and determine the fate of this wasteland. The incredible amount of detail, immersive gameplay, and next-gen graphics Fallout 4 brings makes it a no-brainer for any gamer that hasn't already jumped the gun on purchasing their own copy.
Guitar Hero Live
Become a guitar legend amongst your family and friends! Well, sort of. The newest edition of Guitar Hero is out, bringing with it new gameplay modes and a sweet new guitar controller. The new first-person view takes you center stage like never before in a variety of new venues ranging from indoor dive bars to massive outdoor festivals. The new guitar controller has been redesigned for optimal gameplay for every skill level, too. Choose between the standard bundle or a 2-pack bundle for instant guitar battles with your friends.
PlayStation 4 Xbox One PlayStation 3 Xbox 360
Apple Store Gift Cards
Whether you need a last minute gift or you simply can't decide on what to give this holiday season, an Apple Gift Card is an easy solution that let's them decide on the games they want. They're not limited to just games, either — books, music, TV shows, and more are available by using one of these Apple Gift Cards.
Master your iPhone in minutes
iMore offers spot-on advice and guidance from our team of experts, with decades of Apple device experience to lean on. Learn more with iMore!
Your friendly neighborhood accessories guru