HomeKit News: Everything you need to know!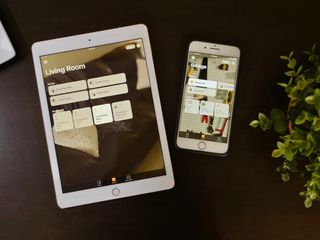 (Image credit: iMore)
Thanks to Apple's HomeKit framework, dozens of companies can create smart home products that work together in a secure, user friendly way. From the HomeKit pairing process to the use of iPads and Apple TVs as HomeKit hubs within the home, Apple has crafted an elegant way to control your smart home products. The framework's popularity means news about HomeKit and HomeKit-enabled devices breaks all the time; bookmark this page and check back regularly for the latest, greatest, or most outrageous smart home news.
What's new with HomeKit?
Check back here for the latest updates in HomeKit news.
July 30, 2018 - ecobee is testing out a new thermostat feature to help you save money on utility bills
According to a report by CNET, HomeKit-compatible smart technology company ecobee is currently trialing a new feature intended to help you save money on your utility bills. Called Peak Relief, the feature automatically uses AI and temperature readings to cut down on automatically on your heating and cooling use when energy rates are higher, and use more when rates are lower (because, as anyone who pays bills knows, keeping track of time-of-use rates is a pain). According to the company, this results in knocking 10 percent off your heating and cooling bills on top of the up to 23 percent Ecobee thermostats save you already for a total of up to 33 percent in savings. Here's how it works, from CNET:
Peak Relief is officially rolling out today, but will only be available for select customers in California, Arizona, and Ontario, Canada who use time-of-use utility rates. Also, you need an electric heating and cooling system for it to work, which means if you're hoping to utilize it to cut down on your gas bill, that unfortunately isn't an option. Peak Relief is slated to be more widely available in early 2019.
July 23, 2018 - Philips Hue unveils full-color, waterproof outdoor LightStrips
According to HomeKit News, Philips has unveiled yet another outdoor smart lighting option to its ever-expanding Hue line. Called the Hue Outdoor LightStrip, the product was first announced at CES 2018 back in January, and is essentially a waterproof version of its indoor twin of the same name.
Currently, these outdoor versions of the company's LED LightStrip are only showing on its Netherlands website, and are not yet available for purchase. However, they're expected to roll out officially soon, leaving you plenty of time to utilize them during outdoor summer hangouts.
In addition, the company also released a slough of indoor lights, many meant specifically for use in bathrooms, including illuminated mirrors and mirror lamps. These are from its Adore series of products.
May 29, 2018 - Nanoleaf Rhythm gains motion sensor support with Motion beta
Nanoleaf, manufacturer of visually captivating smart lighting panels, has updated its app today with a beta feature called Nanoleaf Motion. Now, your Nanoleaf Rhythm's built-in motion sensor can actually be put to use, allowing you to configure your light panels to react to motion. You can opt into the beta feature within the newly updated Nanoleaf app's settings. Once opted-in, you can configure the motion sensor by tapping the brightness icon from the Dashboard for the Light Panels that have the Nanoleaf Rhythm. According to Nanoleaf's dedicated support page, this will bring up a configuration page with sensitivity, timeout times, and brightness settings.
With Nanoleaf Motion set up, users should be able to trigger preset scenes on their Nanoleaf Rhythm panels. In even more layman's terms, that means when you walk past the sensor, your light will ramp up to a brightness you've decided on beforehand. Then, when the sensor senses that there is no motion for a set amount of time (which you can also customize), it will ramp down to whatever low brightness setting you've designated within the app. However, Nanoleaf Motion does prioritize manual settings over automated settings, so for instance if you turn your panels off completely, no reaction to motion will be displayed across the panels until you turn them back on yourself.
In addition to announcing the beta, Nanoleaf noted that the feature can interfere with with certain 5GHz networks, and provided some troubleshooting information for individuals who encounter that issue:
The Nanoleaf app update also includes a few smaller improvments and bug fixes, such as minor UI changes and a redesigned scene creator.
May 29, 2018 - Water your lawn the smart way with Elgato's Eve Aqua
Today, smart home accessory company Elgato announced the newest addition to its Eve line of smarthome products. Called the Eve Aqua, the device allows you to effortlessly manage and control your sprinkler system from your phone, just in time for the warmer months.
Eve Aqua is waterproof, and seems to install with very little fuss. All you need to do is connect it to your water spigot on one side, and your hose on the other. Once installed and set up via HomeKit, you're good to go! With Eve Aqua, you can activate your sprinklers at any time using Siri, the Eve app, or the activation button on the device's surface. And you don't even need to worry about paying attention to the time to make sure your garden doesn't get over-watered — Eve Aqua will automatically shut the water off for you, allowing you to go about the rest of your day confident that your outdoor chore has been done correctly. If you prefer to water at the same time every day, you can set Eve Aqua to rehydrate your lawn at specific times so you literally don't even need to lift a finger to press the button. You don't need to stress about your garden when you go on your much-needed summer vacation, either — when connected to a home hub, you can manage your sprinkler schedule from whatever beachside lounge chair you happen to be laying in with whatever hand isn't holding a margarita.
What's more, Eve Aqua isn't just about controlling your sprinklers from anywhere. The device also has the ability to track how much water you're using as well as estimate your water consumption over a period of time based on your irrigation system's flow rate, which is a really cool feature for the environmentally conscious among us (or the individuals who'd like to save a few bucks on their water bill).
If you're interested in giving Eve Aqua a try to see if it changes how you feel about your gardening tasks, you can pre-order one starting today on the Elgato website for $99.95. The device will be widely released on June 25.
In addition to the Eve Aqua, Elgato also announced a really cool portable, IP65 water-resistant LED lamp called the Eve Flare that is definitely what summer evening dreams are made of. It's shaped like a beautiful mystical orb, and its ambient light can be changed in color via a low-energy Bluetooth connection to best suit your desired atmosphere. Plus, it's totally wireless, and can be used for up to six hours on a single charge. Though I want one of these so, so badly (I know you feel me, fellow suckers for colorful, glowy lights) it's only available for pre-order in Europe for €99,95. No word yet on whether it'll be released elsewhere or not.
May 29, 2018 - Philips Hue is rolling out a major update for its iOS app starting today
Remember all the way back in January when Philips Hue announced it was going to update its iOS app at CES? Today, the company is making good on that promise with version 3.0, the biggest overhaul to the connected lighting app since 2.0 was released in April of 2016.
According to the release notes, the company's goal with this update is to "make it more intuitive and enjoyable for everyday use." This, first and foremost, means a pretty noticeable revamp of the app's UI, making navigation easier and faster than ever before. Users can now control the brightness levels and colors of individual lights as opposed to entire rooms, and access their favorite scenes and colors with literally two taps. And, if you don't have any favorite scenes or colors just yet, Hue's got your back. The app offers new, redesigned color pickers, as well as 30 new present scenes based on pleasant images of starry nights and warm, golden bokeh. You can also quickly set each light to its last-used color, and — possibly the coolest feature, in my opinion — use the app's new picture-to-light algorithm to actually use your own photos to generate multicolor scenes, translating those cool beach sunsets and nights out at your favorite bar into ambient light. You can literally bask in the colors of your memories. How wild is that?
In addition to all the big things, the Philips Hue app also boasts additional shortcuts for most commonly used configuration settings and improvements to the features you're already used to, like location awareness so your lights turn on automatically when you return home.
If you're already a Philips Hue user, an update should be coming to you shortly if it hasn't already. If you're not a Philips Hue user but would like to jump on the bandwagon ASAP now that the app has really been beefed up, you can purchase the Philips Hue White and Color Ambiance starter kit and download the newest version of Philips Hue for iOS by tapping the links below.
See Philips Hue White and Color Ambiance Starter Kit on Amazon
May 9, 2018 - Fibaro's scene controller button is now compatible with HomeKit
Today, smart home accessory manufacturer Fibaro announced that its one-touch scene controller — which is somewhat ominously referred to as the Button — is now compatible with HomeKit, and is available for purchase via Apple and Amazon. The device was announced a few months ago at CES 2018, and allows users to activate HomeKit scenes with a single press.
Aesthetically, the Button just screams "button." It comes in three colors — black, white, and bright red — and looks like a retro cartoon of a button you aren't supposed to press, which absolutely makes you want to use it that much more. It's less than two inches in size so it's pretty versatile space-wise, and it can be mounted anywhere you like as it's 100% wireless and doesn't require a gateway, hub, or bridge of any kind. The simplicity of its design also makes it extremely accessible for children, seniors, or those with disabilities who may struggle to operate more complicated controllers.
Functionally, each Button recognizes three distinct actions that work with other smart devices in your home. Depending on your individual needs, it can be programmed to "turn off the lights with one click, lock a smart door lock with two clicks, or trigger a customized scene by holding it down." Or, if you prefer, you can just do three separate scenes — for instance, a good morning that turns on the lights, radio, and coffee maker; a goodnight scene that dims the lights, turns on nightlights, and activates white noises on your favorite smart speaker; and a goodbye scene that turns of select electronic devices, closes the blinds, and locks the door. According to Fibaro, the Button is also equipped with a confirmation feature that causes it to buzz audibly depending on the type of click you use to let you know you've done it correctly. And if you don't feel like that's something you need, you can also choose to turn it off.
Rich Bira, Managing Director at Fibaro US, shared his enthusiasm for the marriage of Fibaro devices and HomeKit in a statement:
If you'd like to get your hands on a Button (or a few?) to add to your smart home setup, you can do so by visiting the links below. Each button is priced at $59.95.
April 23, 2018 - Keep your home cool with GE's HomeKit-enabled air conditioner
Attention, HomeKit lovers: the summer months are quickly approaching, which means the summer heat is also coming fast. If you're in the market for a smart cooling solution to add to your setup, GE has got you covered. Today, the company officially launched the latest product in their connected home lineup: a HomeKit-compatibile air conditioner. Called the GE® ENERGY STAR® 115 Volt Electronic Room Air Conditioner, the appliance can be effortlessly installed in a window of your choice, allowing you to conveniently manage the temperature of your home from your mobile device.
According to GE, the air conditioner boasts an 8,000 BTU cooling capacity (which will cool down a medium-sized room — that's about 350 sq ft — pretty effectively) and offers a ton of other impressive features, for example:
24-hour timer: This feature allows you to program your unit to turn on or off between 1 and 24 hours, giving you better control over your cooling.
Filter reminder light: This little light gives you a heads-up when the filter needs cleaning, so you can keep your unit running at peak efficiency.
Wi-Fi connectivity: The GE smart air conditioner connects to your home's Wi-Fi, making it compatible with Apple HomeKit, Amazon Alexa, Google Assistant, and the GE Appliances Comfort app.
Electronic remote: However, if you don't want to use your phone to control the unit, you don't have to — it also comes with a fully functioning electronic remote that allows you to adjust the fan speed, temperature and mode options from anywhere in the room.
Flexible cooling temperatures: The GE smart air conditioner allows you to select up to 3 different options of cooling and heating modes and up to 3 different options of fan speeds to ensure you have fine-tuned control over your room's temperature, which is great if you're an individual who has trouble regulating your body's temperature and feel uncomfortable with cut-and-dry unit settings.
Super easy installation: Each unit comes with an EZ Mount window kit, which includes insulated side panels that minimize air leaks and ensure that cool air remains in the room, saving you even more on energy costs.
In addition, the GE® ENERGY STAR® 115 Volt Electronic Room Air Conditioner is, as the name suggests, Energy Star certified, meaning that it requires less energy to function and thus is great for the environment and will save you some cash (as compared to other air conditioners).
If you'd like to cool off the connected way, you can grab the new GE smart conditioner exclusively at Lowes for $319. However, GE's product page curiously states that the MSRP for the device is $269, so you may want to wait to see if that price drops.
March 13, 2018 - ecobee Switch+ with built-in Alexa launching March 26 for $99
After making a name for itself in the smart thermostat space, ecobee's now stepping into the world of smart light switches with its new Switch+. The Switch+ can be installed in your house for easy control and automation of any lights throughout your space, but it also kicks things up a notch with built-in Alexa.
Thanks to its built-in speaker and microphone, you can issue Alexa commands to the ecobee Switch+ just like you would an Echo speaker. This means you can ask it about the weather, your commute to work, change your thermostat, and a ton more. ecobee did something similar with the Ecobee4 Thermostat, and it's nice to see this feature make a return on the Switch+.
In addition to Alexa, you can also use other smart-home services to connect to and control the Switch+, including Google Assistant, Samsung's SmartThings, IFTTT, and Apple HomeKit.
Other goodies include daylight sensors that'll automatically trigger your lights to turn on when the sun goes down and a motion sensor that toggles a night-light on the Switch+ so you can easily control it in the dark.
Pre-orders for the ecobee Switch+ are open now with shipping expected to begin March 26. The $99 and $119 price tags for the U.S. and Canada, respectively, are a bit higher compared to other smart switches, but when you consider that you're basically getting that and an Echo speaker that lives on your wall, it's not a bad value by any means.
February 16, 2018 - Control your smart home in a whole new way with iDevices' Instant Switch
Today tech company iDevices officially launched the latest product in their connected home lineup: a new HomeKit-compatible wall switch. Called the Instant Switch, the controller was first announced at CES 2017 in Las Vegas and adheres directly to any wall with no complex installation required. The Instant Switch was designed to add even more flexibility to your smart home, allowing you to control difficult-to-reach lighting and other connected devices wirelessly with the push of a button.
The switch itself is powered by a long-lasting coin cell battery, and can be used regularly for up to two years or more without needing a battery replacement. It uses Bluetooth to connect to all your favorite smart home devices, and is compatible with with iOS devices running iOS 8.1 or higher as well as Apple HomeKit, Google Assistant, and Amazon Alexa. It also, of course, perfectly coexists with iDevices' entire smart home ecosystem, including hard-wired iDevices products like the Dimmer Switch. This way, users can combine switches to create multiple custom control configurations.
Stylistically, the Instant Switch is minimal and discreet, and because it can be placed anywhere using its Command adhesive backing, you can either hide it away, place it wherever you would a normal light switch, or even get creative and attach it to furniture. Each switch includes a custom faceplate, but if you already have a specific style in mind (or if you don't like using adhesives on your walls) it also fits any standard rocker faceplate.
If you'd like to add the Instant Switch to your smart home system, its priced at $34.95 and can be purchased through the iDevices shop or on Amazon.
January 2, 2018 - GE's C by GE smart bulbs will be getting HomeKit support soon
After announcing it'd be adding HomeKit support for its C by GE smart lighting collection back in May of 2017, GE is finally making good on its promise (after two delays, that is). First reported by Rob LeFebvre over at Engaget, HomeKit compatibility will be added to the C-Reach hub for two C by GE bulbs: the white C-Life and the temperature-shifting C-Sleep. As the names suggest, C-Life bulbs are for general use, while C-Sleep bulbs adjust their warmth based on the time of day in order to help you wind down for sleep and wake up refreshed.
Though Engaget's article strongly suggests the update is basically here, the C by GE website has yet to list HomeKit support under the list of features the bulbs boast — currently, you can only officially control the bulbs via the C by GE app or through Amazon Alexa. However, Android Headlines speculates that HomeKit compatibility will be arriving within the first quarter of 2018.
If you're interested in jumping on the C by GE bandwagon, you can grab the C by GE starter pack that includes the C-Reach hub, two C-Sleep bulbs, and two C-Life bulbs for $74.99.
December 19, 2017 - LEDVANCE just introduced a trendy HomeKit-enabled filament bulb
Love the hip, vintage look of exposed filaments in your bulbs but desire all the modern-day convenience of smart lighting? Lighting company LEDVANCE's newly announced HomeKit-enabled Sylvania Smart+ Filament bulbs may be just the thing your home needs. Combining retro style with smart home functionality, these bulbs offer up to 650 lumens of 2700K light — that's equivalent to a 40W bulb — and are dimmable, so you can achieve the perfect brightness level for any occasion.
Because the Sylvania Smart+ Filament Bulb is HomeKit-enabled, users can control it from within Apple's Home app as well as integrate it with other HomeKit-enabled products. In addition, the bulb can be added to scenes controlling multiple smart home devices and will respond to Siri commands, meaning you can do things like start your coffee maker, play music, and turn on your bulbs all at once by greeting Siri in the morning.
Though the Sylvania Smart+ Filament Bulb isn't available for immediate purchase, you can pre-order it for $31.99 starting today. Bulbs will begin shipping in spring of 2018.
December 7, 2017 - Honeywell just rolled out the HomeKit support update for its Lyric security system controller
After announcing it'd be adding HomeKit support for its Lyric security system back in January of this year, connected home tech company Honeywell has finally rolled out the update, and it's now available for all Lyric system product users. The update is 100% free, and will come through Lyric Controller — the hub that manages the system's other components, like cameras and door sensors.
According to the company's press release, Honeywell's Lyric system is the first professionally installed and monitored security system to offer Apple HomeKit support. Scott Harkins, VP and General Manager of Connected Home at Honeywell, spoke about the advantages — for both dealers and consumers — of adding HomeKit support Lyric products in a statement:
With the update to the Lyric system, users can now more effortlessly control their home's lights, doors, thermostats, and security cameras from any of their Apple devices with either the Home app or Siri. In addition, the Lyric system can now be integrated into a user's automated scenes, allowing them to affect multiple smart home components with a single command. Lyric users will also be able to gain access to their security system by authenticating their identity using either their device's passcode, Touch ID, and/or Face ID.
If you don't already own a Lyric security system but are interested in purchasing one now that it's supported by HomeKit, you can find a professional retailer and installer in your area by visiting Honeywell's Lyric page here.
November 16, 2017 - iHome has released a HomeKit-enabled outdoor plug just in time for holiday decorating
Today, tech accessory company iHome launched the iSP100 Outdoor Smart Plug — a tough, water-resistant HomeKit-enabled plug meant for outdoor use. It's perfect for outdoor holiday decorations up to 1800 watts, and can be controlled via both Siri and the Home app. This means it can be added to scenes as well, so you can, for instance, turn on your lights, your giant inflatable snowman, and Mariah Carey's "All I Want For Christmas Is You" simultaneously. The plug also works with Amazon's Alexa-enabled devices, Google's Assistant, Wink, and Nest, so if you're not an Apple user, you'll still have tons of options for managing your decor situation.
In addition to the smart plug, iHome also released three new indoor sensors for monitoring your doors and windows and detecting water leaks. However, these unfortunately aren't HomeKit-enabled and are instead only controllable through the official iHome app.
The iSP100 is priced at $39.99. Though it is temporarily out of stock on Amazon, you can still order it now and they'll deliver it whenever it's available. If you don't want to wait, you can also grab it from iHome's website.
November 1, 2017 - IKEA finally launches HomeKit support for its TRÅDFRI smart lighting system
After a ton of delays and a couple of false starts, IKEA announced today on its TRÅDFRI smart lighting app that it is finally rolling out HomeKit support for the TRÅDFRI smart lighting system. According to German Apple-focused news site Macerkopf, users who already own the TRÅDFRI lighting system will need to generate an eight-digit code in the IKEA app in order to manually add their bulbs to the Apple Home app. However, if you get a newer version of the system, there will be a code on the underside of the gateway that you can input. After that, you can use the Home app, Siri, and the TRÅDFRI app to control your lights. You'll also be able to add them to scenes.
IKEA first announced that it would be adding HomeKit support for TRÅDFRI lights back in May. The company attempted to launch HomeKit capabilities in August and then again in October, but neither attempt was successful due to issues with the software update. Hopefully, third time's the charm! If you'd like to try IKEA's smart lighting, you can purchase both color and white bulbs as well as the necessary hub on the IKEA website. You can get the TRÅDFRI companion app here:
October 19, 2017 - Smart speaker Triby IO doubles as a HomeKit switch
First spotted by MacRumors, French tech company Invoxia's new Triby IO smart speaker offers full HomeKit integration and can be used as a HomeKit switch, meaning you can add pre-programmed scenes to the five buttons on the device.
Triby IO also supports Amazon's Alexa and Spotify and functions as a radio, a phone, a workout buddy, and a home intercom system (if you have other Triby speakers). You can set its buttons to control everything from your lights to your thermostat to your coffee maker, giving you full control over your connected home.
The Triby IO is priced at $199 and is available for preorder now.
See at Invoxia
October 16, 2017 - Sylvania is adding two new HomeKit-enabled bulbs to its Smart+ smart lighting lineup
Lighting brand Sylvania has expanded its Smart+ lighting collection with two new lighting solutions that offer HomeKit support. This brings the total of HomeKit-enabled lighting products up to three, as the company also recently released a HomeKit-compatible color A19 bulb. All three can be controlled via the Home app or by simply voicing commands to Siri, and can also be added to preexisting "scenes." The best part is like LIFX HomeKit-enabled lights, none of Sylvania's lights require a hub in order to function — you just need a smartphone and the lighting itself.
The first of the new products is the Full Color LED Flex Strip. This is a strip of dimmable, color-changing LED lights that can be affixed to whatever surface you like. Its brightness maxes out at 400 lumens — definitely less than a bulb, but pretty good for a light strip. The Full Color LED Flex Strip is priced at $60.
The second newly released smart light is a simple A19 soft white LED bulb. This bulb has a brightness of 800 lumens and fits in most "normal" light sockets. The most cost-effective of Sylvania's smart lights, the Smart + A19 Soft White will only set you back $26.
Sylvania's HomeKit-enabled smart lights are priced at are available for preorder now. Delivery is expected at the beginning of November.
October 12, 2017 - Yale brings HomeKit support to its smart locks
Smart lock company Yale will soon be releasing its iM1 Network Module, a new add-on module that makes Yale's Assure Lock SL and Assure Lock Key Free Touchscreen Deadbolt compatible with HomeKit. With the module, users will be able to lock and unlock their home by using the Home app or asking Siri. You'll also be able to add the locks to scenes — for instance, "Siri, I'm going out" may turn your lights off and lock your doors. The locks can also be controlled by the Yale Secure app, which allows users to check the battery and current status of their locks, manage up to 25 PIN codes, customize lock settings, and add and name new locks.
The iM1 Network Module will be available for purchase Monday, October 16 and will cost $49.99 on its own. If you don't already own Yale devices, you can also grab the module in a bundle with either of the aforementioned smart locks for around $250.
October 3, 2017 - IKEA adds color smart bulb to its HomeKit-compatible lighting collection
IKEA, which already released its white smart bulbs back in August, is now adding some color to its HomeKit-enabled collection with a new E27 bulb called TRÅDFRI. Unfortunately, you won't be able to buy the color bulbs on their own — each comes bundled with a easy-to-understand hardware remote so users can control them without a smart device. Though they're not yet available online, stores across the US are well-stocked with them, so if you want one ASAP getting your hands on them shouldn't be difficult.
IKEA seems to be all aboard the Apple train at this point, as the company also recently launched a new ad campaign alerting Apple users to its Qi wireless charging products in the wake of the iPhone 8 and iPhone X announcements.
October 3, 2017 - Philips adds HomeKit support to Hue tap, dimmer switch and motion sensor
Philips has retroactively extended HomeKit support from just its [Hue bulbs] to Hue accessories. Hue tap, Hue dimmer switch and Hue motion sensor are now all HomeKit-enabled, and can be used to control other smart home products and Home app scenes in iOS 10 or later. Previously these devices could only control Hue lights alone.
Further changes will come in an update to the Phillips Hue app, such as improved software updates and the ability to reset your devices. The latest (second generation) Hue Bridge is required for the Hue tap, dimmer and motion sensor to be used with Home.
September 21, 2017 - LIFX lights are now HomeKit-enabled
Many of LIFX's smart lighting solutions now offer HomeKit support. If you already own LIFX lights but have yet to connect them to HomeKit, here's how:
Download the LIFX app if you haven't already (it's free on the App Store).
Open it up.
Click on the notification icon (shaped like a tiny bell) within the app.
Tap "Update firmware."
Follow all the in-app prompts to finish the upgrade.
"Tap HomeKit setup" and then "get code" to acquire your HomeKit code.
Use that code to pair with HomeKit within the LIFX app or the Home app.
After that, you can use HomeKit to control your LIFX lights or ask Siri to do it for you! If you don't already have LIFX lights in your smart home setup, you can choose from these options:
LIFX A19: A bright LED color smart bulb that goes in pretty much any light fixture (given that it doesn't have a metal shade). The A19 has 16 million colors to choose from and is compatible with LIFX app effects like Music Visualizer and Candle Flicker. Has an output of 1100 lumens.
LIFX Downlight: A 100mm color smart bulb and fixture combo. Has an output of 800 lumens. Priced at $69.99 a piece.
LIFX GU10: A compact, non-LED color smart bulb that goes in existing downlight fixtures. Has an output of 400 lumens. Priced at $59.99 a piece.
LIFX Tile: LIFX Tile is essentially a square tile you place on your wall that you can control with Alexa, Google Assistant, HomeKit, or the LIFX app. You can change its color (there are 16 million to choose from) and play out groovy multicolor scenes across its 64 individual light zones. It's basically a light-based art installation for your wall. The LIFX Tile Kit comes with 5 Tiles and power pack, and is priced at $249.99.
LIFX +: The LIFX + smart bulbs are almost exactly like the aforementioned LIFX A19, but with one key difference: LIFX + bulbs are the only LIFX bulbs that use 950nm infrared light to help enhance the night vision of infrared security cameras. Priced at $79.99 a piece.
LIFX Beam: LIFX Beam, much like LIFX Tile, is artistic feature lighting. Instead of being in square tile form, though, it's in long slender beam form. Each beam is full-color (again, 16 million to choose from) and has 10 blended light zones so the different colors blend seamlessly into one another. The LIFX Beam Kit, which includes 6 straight beams, 1 corner beam, and a power pack, is priced at $199.99.
See at LIFX
September 7, 2017 - Logitech Circle 2 wired cameras gain HomeKit support
If you've been looking for more options for HomeKit-enabled cameras, the wired model of Logitech's Circle 2 just got HomeKit support.
Note: Although Logitech's wireless Circle 2 camera doesn't offer HomeKit support, the camera — when attached to the Plug Mount or Window Mount — works with Apple HomeKit.
The weatherproof, indoor and outdoor camera with 1080p HD footage now works with Siri and the Home app for iOS.
Logitech says you can also use the Circle 2's motion sensor to activate scenes and trigger automations.
Existing Circle 2 owners can update their wired camera to take advantage of the new HomeKit integration. The Circle 2 is available for purchase on Amazon for about $180.
September 1, 2017 - Netatmo's Presence and Welcome security cameras are now HomeKit-enabled
Smart home company Netatmo announced that its security cameras, Welcome and Presence, will be compatible with Apple HomeKit through a new software upgrade beginning later this fall. The update will be automatic and will apply to both Netatmo cameras, including those already purchased, so fear not - if you already own Welcome or Presence, you don't have to buy a new one to get the upgrade.
Presence is a sleek outdoor security camera complete with weatherproofing, night vision and a smart floodlight. It's able to detect the presence of people, cars and animals, and sends you reports in real time if you're not currently viewing your property with live stream. Its indoor counterpart, Welcome, boasts facial recognition capabilities and notifies you when any of the alarms (smoke alarm, CO alarm, et cetera) in your home sound.
With new HomeKit compatibility, users will be able to have even more control over the security of their living space. You can:
Create custom "profiles" that work together with other HomeKit-enabled technology for certain situations - for instance, "Leave home" might lock doors and turn on Presence's floodlight sensor
Ask Siri to see specific areas in an around your home ("Siri, show me the backyard")
View the live stream from any of your cameras
Receive screenshots of visitors and notifications of movement in real time
Turn Presence's flood light on and off
Dim or brighten Presence's flood light
If you've yet to add security cameras to your collection of HomeKit-enabled tech, Presence and Welcome are available for purchase on Netatmo's website.
August 9, 2017 - Chamberlain's HomeKit-enabled MyQ Home Bridge is now available!
If you've been itchin' to get a HomeKit-enabled garage door opener, Chamberlain's updated MyQ Home Bridge might be what you're after! The MyQ Home Bridge will add HomeKit compatibility to any of the following MyQ-enabled garage door openers:
Chamberlain and LiftMaster MyQ-enabled garage door openers
Chamberlain and LiftMaster Wi-Fi enabled garage door openers (MyQ Home Bridge adds HomeKit compatibility, smartphone control already included with Wi-Fi openers)
Chamberlain and LiftMaster MyQ Garage
Chamberlain and LiftMaster MyQ Lighting Controls (models WSLCEV, PILCEV, 823LM and 825LM)
Chamberlain and LiftMaster Internet Gateway (MyQ Home Bridge is a replacement for this device and adds HomeKit compatibility)
If you want to be able to check on the status of your garage door when you're away from home (did you remember to close it?), control your garage door with the Home app for iOS and your voice (Hey Siri, open my garage door), and create schedules for MyQ lighting, you should snag the new MyQ Home Bridge while it's on sale for $49.99.
July 12, 2017 - Apple adds HomeKit experience to select Apple retail locations
Apple has added an interactive HomeKit experience to 46 of its retail locations around the world. Visitors to these locations can get an idea of what it's like to use Apple's HomeKit technology to control HomeKit-enabled accessories using Siri, the Home app on iOS, and HomeKit apps.
The retail locations reportedly feature HomeKit-enabled shades, lighting, and fans. Someone wanting to learn a little more about HomeKit can discover how easy it is to turn on a fan, draw the shades, and warm up the color of the lights in a room. It's an excellent way to get people excited about home automation and get them purchasing HomeKit-enabled accessories within retail stores.
It's a smart move by Apple; I've seen the word "HomeKit" met with too many blank stares to believe that the technology is well known enough to not need experiences like this. The best way for someone to understand the power (and fun) of a smart home is to give it a go. Hopefully Apple considers bringing the HomeKit experience to more of its retail stores. According to TechCrunch, a non-interactive version of the new HomeKit experience will be offered at all of the company's retail locations.
June 29, 2017 - Koogeek's new E26 HomeKit-enabled bulb is here — and it's kind of groovy!
Koogeek just announced a new HomeKit-enabled Wi-Fi smart bulb and let me tell ya, folks, this thing is unique. It's sort of shaped like a candelabra bulb, but don't let that fool you — this is a bulb for your run-of-the-mill socket (E26 in the U.S. and E27 in the E.U.). It connects directly to your Wi-Fi network so you won't have to use a hub or bridge (like Philips Hue or Lutron Caséta).
Its unique shape and design are neat, but what really makes this bulb stand out is its price. It retails for $37, making it one of the least-expensive Wi-Fi-connected HomeKit-enabled multicolor bulbs on the market. At that price it gets a little more reasonable to consider an all-out upgrade to HomeKit-enabled lights. The only thing that stands out as a potential con is the light's brightness. At 500 lumens it's far dimmer than the 800-lumen multicolor bulb offered by Philips Hue.
I'm going to be reviewing a few of these new Koogeek bulbs soon, so be on the lookout for a little more info! Until then, here's a spec chart with the what-you-need-to-knows:
Swipe to scroll horizontally
| Category | Features |
| --- | --- |
| Base type | E26 (Medium screw base) |
| Rated power | 8 watts |
| Bulb equivalent | 60 watts |
| Number of colors | 16 million colors |
| Color temperature | 2700K-6000K |
| Lumens | 500 lumens |
| CRI | > 80 |
| Bulb lifetime | 25,000 hours |
| Beam angle | 199.9° |
| Material | Plastic and Polybutylene terephthalate (PBT) |
| Input | 120V AC, 60Hz 0.2A (Max.) |
New automation features and accessories are coming to HomeKit in iOS 11!
When iOS 11 hits devices this fall, smart home dabblers will be able to tinker with some new automations and a couple new accessories.
Location-based automations: Location-based automations are going to be a whole lot more powerful, come iOS 11. Automations can trigger based on the location of people you've invited to control your HomeKit home. That means scenes and accessories can be controlled when a certain person arrives home, when multiple people arrive home, when a certain person leaves home, or when multiple leave home. Automations can also be tied to a generalized value: "Only trigger this automation when no one is home," "only trigger this automation when someone is home," or "only trigger this automation when everyone is home."
New time-based automations: There are several new time-based automation options that offer more than just date and sunrise/sunset triggers. You can set a specific time, you can trigger automations at a certain time before or after sunrise or sunset, and you can trigger automations for a specified period of time ("turn on this light for ten minutes when I arrive home and turn it off after the timer has elapsed").
New accessories: HomeKit-enabled sprinklers and faucets have been added to the HomeKit framework. While you can't currently purchase any HomeKit-enabled faucets or sprinklers, it's likely there will be products available when iOS 11 ships this fall.
May 31, 2017 - Elgato announces HomeKit-enabled Eve Degree temperature and humidity sensor
Elgato today announced its brand new Eve Degree temperature and humidity sensor. The device, which works with Apple HomeKit, is an impressive update to the Elgato Eve Weather. Featuring on-board temperature and humidity sensors and IPX3 certification, the Eve Degree is as much at home outside as it is inside.
Its design is reminiscent of Apple in that it features a beautiful aluminum enclosure and glossy black front. It's certainly not something you'll feel the need to hide behind the sofa or behind a lawn ornament.
May 25, 2017 - Wemo will gain HomeKit support via a HomeKit-enabled Wemo bridge
Smart home accessory maker Belkin has announced its Wemo line of smart home products will work with Apple's HomeKit. The company plans to release a HomeKit-enabled bridge that'll connect to a home network.
The company's plugs and light switches will be controllable via both Siri and Apple's Home app for iOS. The products will also work with any apps that make use of Apple's HomeKit framework.
You can pick up the bridge for $39.99 from Belkin.
May 23, 2017 - IKEA's Trådfri smart lighting system to work with Apple HomeKit
IKEA's smart lighting range, which offers smart bulbs, lighting panels, and lighted doors for IKEA cabinetry, will be getting Apple HomeKit support sometime in the summer or fall. The smart lighting system works a little like Philips Hue in that the lighting products take their cues from a central bridge that connects to your home network.
Here's a crude translation (thank you, Google Translate) of an excerpt from the press release:
It's unclear whether IKEA will release an updated bridge in the summer or fall or if the current bridge can be updated to support Apple HomeKit. IKEA's smart lighting range features some of the least-expensive smart devices on the market. With wireless dimmers, motion sensors, wireless remotes, and more, IKEA's system is a worthy competitor for the über popular Philips Hue line.
May 17, 2017 - Logitech POP Smart Button now available in Apple Stores and online
Logitech's new HomeKit-enabled smart button, the Logitech POP, is now available for purchase in Apple retail stores. The Logitech POP Smart Button Kit includes an updated HomeKit-enabled bridge that enables both Siri voice control and interactions via the Home app for iOS.
If you're eager to get your hands on the new POP and can't get to an Apple store, keep checking Apple's online store — Logitech says it plans to sell the POP in Apple's online store before it comes to other stores later this year.
You can also check Logitech's site where the updated POP kit is currently out of stock. You should be able to purchase the device when stock returns!
You can read more about the HomeKit enabled Logitech POP button here:
Everything you need to know about Logitech's new HomeKit-enabled POP Smart Button
May 9, 2017 - Quadriplegic man uses HomeKit and Apple's accessibility integrations to improve his independence
NBC News published an empowering story about an IT consultant named Todd Stabelfeldt who uses Apple's HomeKit framework to live a more independent life. Stabelfeldt is a 38-year-old quadriplegic man who, as the result of an injury when he was eight years old, has had no movement below his shoulders for more than 30 years.
Using the HomeKit-enabled accessories in his self-titled, "Quadthedral" smart home, Stabelfeldt is able to leverage both Siri and Apple's Home app to go about his day:
When he's not using his voice to control his smart home technology, Stabelfeldt makes use of Apple's Switch Control software which allows him to use special hardware for controlling iOS without the use of his hands.
It's really incredible seeing how Stabelfeldt has taken this technology and used it to not only increase his independence, but improve the way he works in his home. I encourage you to read the feature over on NBC News — it's a touching example of how tech can improve our lives and a reminder of what we sometimes take for granted. I think that sentiment is captured perfectly in what Apple's Sarah Herrlinger told NBC News:
May 3, 2017 - ecobee announces Alexa- and HomeKit-enabled ecobee4 smart thermostat
The cat's out of the bag, folks, and the Alexa-enabled ecobee4 smart thermostat is very real and very awesome!
The ecobee4 comes with embedded microphones that feature far-field voice recognition (the same technology that makes the Amazon Echo hear you from across the room) and a speaker that makes Alexa sound loud and clear, despite coming from a thermostat fastened to your wall.
That means, on top of having all the same great features as the ecobee3 (HomeKit-enabled, satellite room sensors, energy-saving benefits), you can use the ecobee4 in the same way you'd use an Echo, Echo Dot, or Tap. Ask Alexa to set a timer, adjust the lighting, give you the steps to a recipe, play some jazz — you can do it all right from your smart thermostat.
Ecobee4 is available for pre-order at the moment; the Alexa-enabled smart thermostat will run you $249.
Ecobee teases HomeKit-enabled, Alexa-enabled ecobee4 smart thermostat
I just got an email this morning from Ecobee that's hinting at something big coming from the company on May 3. Here's an excerpt from the email along with an animated GIF that reveals something awfully familiar:
Ecobee says it'll be making an announcement on its Facebook page via Facebook Live. You can keep an eye on Ecobee's Facebook page by Liking it. I'll update this post on May 3 with any details the company shares!
Alleged Ecobee 4 marketing materials leak
The Verge has just made my morning. The site shared a glorious discovery from Dave Zatz of Zatz Not Funny that suggests Ecobee's next smart thermostat is about to get a whole lot smarter. According to product marketing materials discovered by Zatz, the ecobee4 smart thermostat will feature Amazon's Alexa smart assistant.
Let me be clear: We're not talking Amazon Alexa support — the ecobee3 already features Alexa support — we're talking full-on, built-in Alexa. Zatz Not Funny recently shared FCC documents that show a speaker on the back of the device. The new marketing materials show an LED light strip across the top of the device that's reminiscent of other Alexa-Enabled devices. And lest ye think it'll just be a fancy way to adjust the temperature in your home, the marketing materials seem to suggest otherwise. From Zatz Not Funny:
I may or may not have cursed excitedly when I came across this leak (I definitely did). My love for the ecobee3 Smart Thermostat is well-documented: It's a superior thermostat to the popular Nest Learning Thermostat, it's a HomeKit-enabled device, it features remote room sensors (that are also HomeKit-enabled), and it integrates with almost every smart home platform. That Ecobee might build Alexa into the device makes my love grow 10 sizes. I'm going to enjoy having Alexa in yet another place in my home, but I think there's something more important here: Folks who have yet to add an always-on smart assistant to their smart home setup can kill two smart birds with one smart stone. Thermostats are typically installed in centralized locations within the home; adding smart thermostat functionality and a voice-controlled assistant in a central location, all in one purchase is a fan-friggin'-tastic deal.
While we're on the subject of leaks and rumors, our friends at Thrifter have unearthed a nearly $60 discount on the ecobee3 smart thermostat. Could these ongoing discounts from ecobee be a sign that it's trying to clear out stock of the ecobee3 before launching ecobee4? 🤷‍♀️ I'm not sayin' … I'm just sayin'.
Snag the excellent Ecobee3 smart thermostat at one of the best prices we've seen
May 3, 2017 - Brookfield Residential will offer HomeKit compatibility as a standard in new builds
Homebuilding company Brookfield Residential says it will offer HomeKit compatibility in all new community builds as a standard. The Delano neighborhood in Irvine's Eastwood Village will be the first neighborhood to get HomeKit-enabled homes. Brookfield Residential will also offer HomeKit compatibility in the following neighborhoods:
The Collection in Playa Vista
Flora, Prado, and Haciendas at Escaya in Chula Vista
Vientos, Candela, and Terracina at Rancho Tesoro in San Marcos
Beverly at Eastwood in Irvine
Citrus in Palm at Rosedale in Azusa
Shutters at Edenglen in Ontario Ranch
While home owners will be able to add any HomeKit-enabled accessories to their home and count on compatibility with their system, Brookfield Residential will include the following accessories in new builds:
Lutron Caseta lighting
Honeywell Lyric T6 Smart WiFi Thermostat
Schlage Sense Smart Deadbolt
The homebuilder will also include Ubiquiti Wireless Access Points in the home to improve Wi-Fi performance for the HomeKit-enabled accessories and internet access.
Brookfield Residential says security is a huge advantage of Apple's HomeKit framework and third-party HomeKit-enabled accessories:
You can read more about Brookfield Residential's connected home efforts here.
April 25, 2017 - Hubbell Inc. acquires iDevices
Hubbell Incorporated, which manufactures electrical and electronic products, has acquired iDevices, LLC. Why? Here's iDevices' explanation:
iDevices makes my all-time favorite Wi-Fi smart switch and I couldn't help but panic when I heard the company had been acquired; I don't want anything to happen to the most reliable, most user-friendly, most aesthetically pleasing smart switch one could ask for!
Still, from the press release, it sounds like Hubbell is a good fit for the company:
In other words, Hubbell wants a little of the internet of things action in return for better distribution to customers both residential and commercial/industrial. Heck, as long as Hubbell's doing the IoT learning, I think iDevices is in good hands.
April 18, 2017 - Logitech announces the first HomeKit-enabled programmable button
Logitech just announced the first ever HomeKit-enabled programmable button, as an upgrade to the company's Logitech POP Smart Button.
A programmable button, in HomeKit terms, is a device that can trigger different scenes and actions for your various HomeKit-enabled accessories. Depending on the button, different gestures can trigger different actions. Put in physical terms, you hit the button and stuff happens in your house: You might have it set up to turn on all the lights in your kitchen, turn down the thermostat, or lock the front door — the possibilities are endless! The Logitech POP Smart Button is only the first HomeKit-enabled programmable button; you can bet more companies will create programmable buttons of their own.
The POP Smart Button is a tiny (2.36 in x 2.36 in) programmable button that comes in four colors: white, coral, teal, and alloy. To get things going you'll buy the POP Smart Button Starter Kit — that includes a white POP, a tiny white bridge device (same size as the POP), and mounting tape for stickin' your Smart Button wherever you'd like! After you've got a POP bridge, you can buy as many extra buttons you want in any of the colors I mentioned before. You won't have to buy a load of POPs to control a room, because each POP supports three separate actions: pressing once, pressing twice, and pressing and holding will all trigger different actions. You also won't have to buy a load of batteries to keep POP running. Logitech says the button's replaceable battery lasts about five years.
The HomeKit-enabled POP will support any HomeKit-enabled accessories. The POP also natively supports the following devices:
Philips Hue bulbs
Insteon bulbs
LIFX bulbs
Lutron lighting and shades
Hunter-Douglas shades
August Smart Lock
Sonos speakers
SmartThings hub
Belkin WeMo
IFTTT integrations
Several Harmony remotes and hubs
So when and where can you get one? When? Logitech says soon. Where? The POP Smart Button Kit and POP Add-on Smart Buttons will, for a time, be exclusive to Apple stores and on Apple's site. The Kit and Buttons will hit other retailers later this year. As for price, the POP is actually one of the least-expensive HomeKit-enabled products I've come across!
POP Smart Button Kit: $59.99
Add-on POP Buttons: $39.99
You can check out this video for a demonstration of the Logitech POP Smart Button.
March 16, 2017 - HomeKit-enabled, WiFi-connected iLuv Rainbow8 bulbs now available
Underneath the Lights section on Apple's new HomeKit page several bulbs claim to be coming soon. The iLuv Rainbow8 bulb just beat the others to the punch. The Rainbow8 is a WiFi-connected, HomeKit-enabled bulb that's a lot like the Philips Hue White and Color bulb.
The iLuv Rainbow8 bulb is a 60W equivalent lightbulb — that means you're looking at a light output of 800 Lumens. And, just like any other LED bulb, you can count on upwards of 20,000 hours of bulb life. The bulbs can dim and change color. iLuv says there are more than 16 million possible colors to choose from.
I'm kind of in love with iLuv's method for communicating status. Here are a couple status messages and the way they're communicated with bulb colors:
Searching for WiFi network: pulsating white color
Reset WiFi router info: flashing five colors (red, yellow, green, blue and purple) then change to white color
OTA firmware upgrade success: flashing green color
OTA firmware upgrade failed: flashing red color
One of the things that sets this bulb apart (and one of the things iLuv keeps mentioning in its promotional copy) is its WiFi connectivity. Most smart bulbs use either Bluetooth LE or a bridge to send and receive communications. When you issue a command to your Philips Hue bulbs, you're actually issuing a command to the Philips Hue bridge. The bridge then tells the bulbs what they need to do. For Bluetooth LE, you're using a potentially less-reliable Bluetooth connection to control your bulbs — WiFi seems to handle interference and distance far better than Bluetooth LE.
The Rainbow8 bulb costs $49.99. That's comparable to a Philips Hue White and Color bulb, but there's something important to consider in comparing prices: A single Philips Hue White and Color bulb costs $49.99 but you still have to buy the Philips Hue bridge to control said light. When you buy the $49.99 Rainbow8 bulb, that's all you need to buy — it's one complete package — bulb and connectivity — per bulb.
March 10, 2017 - WeberHaus pre-fab homes to feature HomeKit control
Apple's been tackling HomeKit saturation on two fronts: product integration and home construction. As more and more HomeKit-enabled accessories hit the market, more and more home builders are offering HomeKit integration as part of the construction package.
WeberHaus, a European home manufacturer, is the latest home builder to offer HomeKit control. The company has been making pre-fabricated homes with connected home technology for some time, but later this year it'll offer pre-fab homes with built-in HomeKit control.
I have to say, I'm a little (a lot) jealous of the possibilities that a fully HomeKit-enabled home offers. Get a load of this line from the WeberHaus press release:
In case that didn't quite sink in, you can control your doggone underfloor heating with your doggone iPhone and your doggone voice! Now that's the doggone future.
I've always held that the biggest hurdle for home automation is complete and total permeation within the home. You truly can't grasp the awesomeness that is the connected home until you've got all your lights, heating, locks, doors, windows, fans, etc. working together to offer you your personalized living experience. Turning on a single light bulb in your home with your phone is cool the first five or six times, but the real power is having an entire room activate as you enter it.
If I had a choice between slowly building out my connected home over time with individual products or buying an already outfitted connected home, I'd choose the latter. I haven't figured out a way (yet) to HomeKit enable my underfloor heating. With a pre-fab WeberHaus home, I wouldn't have to.
WeberHaus will be showing a demo house with HomeKit control at the "World of Living" exhibit in Rheinau-Linx. If you live anywhere nearby, I expect photos!
March 3, 2017 - Apple launches mini site devoted to HomeKit and the Home app
I've been waiting for Apple create its latest mini site since I first heard the word "HomeKit" way back in 2014. The site, lovingly nestled within the iOS section of Apple's site features a fun film that shows off some of the cool stuff you can do with HomeKit-enabled accessories, Siri, and the iOS Home app. Personally, I think the gal in the video has way too many HomeKit scenes, but that's neither here nor there.
If you're curious, you can check out the page at the following link. If you wanna know what you're getting yourself into first, read on!
The mini site is all about HomeKit, the Home app, and HomeKit-enabled accessories. It's dedicated to not only explaining what the heck that little orange, house-shaped tile on your iPhone is for, it's dedicated to explaining the benefits and possibilities of home automation with HomeKit and the Home app.
You can get a brief overview of the Home app, learn about HomeKit scenes, Siri voice control, HomeKit automations, HomeKit-enabled accessories, and home hubs. You can also get help with setup. Apple's linked to a support article with loads of information about setting up your various gadgets in the Home app.
Most importantly, there's now a page that shows all the HomeKit-enabled accessories approved by Apple. The page is beautifully designed and split into accessory type, so you can tap (or click) to jump to a specific section.
The list has links to the various accessories (YESSSS!) and offers up information about their availability. The availability tags include Announced and Coming Soon. It's not entirely clear what they mean, but we can use context clues to decipher:
Announced: Either the product has been announced for the first time or HomeKit compatibility has been announced. I get the impression this means it'll be awhile before we see the product available for purchase.
Coming soon: I take it this is a step above "Announced". The product (or HomeKit compatibility) is right around the corner. I wish I knew the exact timeframe, 'cause there are a few accessories on the list I'm eyeballing.
Apple's list of HomeKit-enabled accessories used to be buried in its vast Apple Support database. The page was a long, bulleted list (without links!) of available HomeKit-enabled accessories — upcoming accessories weren't listed. It also wasn't updated as often as HomeKit-enabled gadgetry was hitting the market.
This dedicated mini site coupled with Tim Cook describing his personal HomeKit setup in the last Apple earnings call gives me hope and loads of excitement for the future of HomeKit and Apple's Home app. I love having a connected home and it's clear Apple is committed to making the smart home all the more awesome.
February 15, 2017 - D-Link announces Omna 180 Cam, the first HomeKit-enabled security camera
This is not a drill! The first HomeKit-enabled camera has hit Apple's online store. D-Link's Omna 180 Cam is now available for purchase online and will soon be sold in Apple stores around the world.
The D-Link Omna 180 Cam HD is a HomeKit-enabled, 1080p HD camera that offers a unique 180º field of view.
The device features motion detection, two-way audio (i.e. a speaker and a microphone), a MicroSD card slot for local recording, IR LEDs for viewing in low-light conditions, and a very svelte metallic frame.
The D-Link Omna is your pretty standard package when it comes to in-home cameras, save for one detail: HomeKit support! D-Link has successfully taken the lead on the HomeKit-enabled security camera market.
I hope D-Link's win inspires more companies to get their cameras ship-shape and out on the market soon.
The D-Link Omna 180 Cam retails for $199.99 in the U.S.
January 12, 2017 - Ecobee makes Ecobee3's smart sensors HomeKit compatible
Ecobee is rolling out an update for its ecobee3 smart Wi-Fi thermostat that enables HomeKit compatibility for its motion and temperature sensors. Now you can use the individual sensors as HomeKit-enabled accessories of their own, increasing your home automation possibilities!
When it comes to smart thermostats, I'll say this time and time again: Ecobee's ecobee3 Smart Wi-Fi Thermostat is the best money can buy. Not only is it HomeKit-enabled (a must for me), but it also features a handy trick that many other thermostats don't: remote room sensors that keep track of temperature and motion in different locations within your home. Why is this important? Because not all rooms are heated (or cooled) equally — the sensor helps your thermostat understand the actual temperature throughout your home, not just the area around your thermostat.
One thing that disappointed me about the ecobee3, though, was that the temperature and motion sensing capabilities were walled off from HomeKit and the iOS Home app. Ecobee must've heard me crying myself to sleep at night over it, 'cause they've updated their firmware to give users access to the motion and temperature sensors!
If you have an ecobee3, keep your eyes peeled for firmware update 3.7.0.969 (it's rolling out). In the meantime, you can plan some nifty new tricks for your smart home by checking out my piece on adding Automations with the iOS Home app. Think of the possibilities!
By the way, if you're still on the fence about which smart thermostat makes the most sense for your home, take it from me: You honestly cannot go wrong with the ecobee3.
Between the HomeKit compatibility and the remote sensors, it slides right on past the competition. It was incredibly easy to set up, too, which can be a bit of an issue for other smart thermostats out there.
If you're running iOS and you're looking to go smart with your HVAC, it's a no-brainer.
November 18, 2016 - KB Home announces HomeKit-enabled San Jose properties
Homebuilding company KB Home just announced they're building my dream home, so I guess I'm packing up and moving to California!
The company is building a set of properties in San Jose, California that will sport a smart home package filled to the brim with HomeKit-enabled accessories.
From the press release:
It's unclear which accessories will be available in the new homes, but KB Home has a model home set up with all the included goodies! It's already open for tours, so if you're anywhere near 307 Adeline Street in San Jose, you should definitely check it out.
The announcement from KB Home comes after Tim Cook's WWDC keynote where he revealed Apple would be working with homebuilders to build HomeKit-enabled homes from the outset.
Home automation's single greatest hurdle is lifestyle integration. Early adopters and enthusiasts (like myself) are fine grafting these accessories onto and into our homes and lifestyles, but for most people there's a steep learning curve and an even steeper accessory-saturation curve.
An "accessory-saturation" what now‽
What I mean by "accessory-saturation curve" is it often takes a long time for a person to build out a HomeKit-enabled house. They buy a couple lights, add a smart lock, install an internet-connected fan, get a camera, etc., but that can be a multi-year process.
The power and convenience (and utter awesomeness) of home automation, I'd argue, isn't realized until you've got accessory-saturation. When a HomeKit-enabled motion sensor can trigger the lights, start the fan, and turn up the heat all at once — that is the power of home automation. Flipping on and off a single light with your voice is fun at first, but it loses its novelty after awhile. It's not as powerful as a whole-home home-automation setup.
That, I think, is why getting homebuilders involved in the process is going to be a boon for home automation: We will have accessory-saturation from the get go, giving us the opportunity to see the true power of this stuff.
October 26, 2016 - Elgato launches HomeKit-enabled Eve Light Switch
One of the peskiest hurdles in home automation is replacing your current home setup and re-learning habits. You go from flipping switches on walls to commanding virtual assistants with your voice or poking at a phone with your finger. And while you eventually do pick up the new habits, it can be a struggle instructing guests on how to control the lighting, heating and cooling, fans, blinds, etc. in your home.
Elgato's new Eve Light Switch solves this problem by combining the familiarity of a light switch with the convenience and — I'll admit it — coolness of home automation.
Elgato isn't the first company to offer a HomeKit-enabled light switch. Lutron's Caséta Wireless line has HomeKit-enabled switches and dimmers. The difference, however, is that Lutron's line requires a centralized hub — one you have to purchase separately. The Eve Light Switch uses Bluetooth LE that's built right into the switch, so you don't need a separate hub.
Also, thanks to Apple's HomeKit and the new Home app in iOS 10, you can control the light switch when you're away from home — you just need an iPad or Apple TV to serve as a Home Hub.
You can learn more about the Eve Light Switch on Elgato's site.
Master your iPhone in minutes
iMore offers spot-on advice and guidance from our team of experts, with decades of Apple device experience to lean on. Learn more with iMore!
Tory Foulk is a writer at Mobile Nations. She lives at the intersection of technology and sorcery and enjoys radio, bees, and houses in small towns. When she isn't working on articles, you'll likely find her listening to her favorite podcasts in a carefully curated blanket nest. You can follow her on Twitter at @tsfoulk.