What you can use with Apple HomeKit in the UK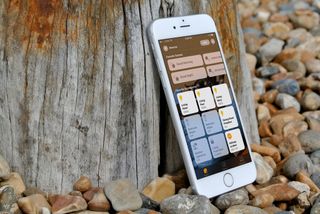 (Image credit: iMore)
It's not always easy being outside the U.S., since most of the hot new products seem to debut there first without much mention of the rest of the world. Apple is pretty solid at supporting its newest features in as many non-American places as it can, but in the case of HomeKit, it's not just on Apple.
It's down to the companies making the hardware to support it, and that means regional issues. What you can get in the U.S. isn't necessarily what you can get in the UK. And that's where we come in.
If you're looking to automate your home with Apple HomeKit in the UK, these are the products you'll be looking for.
Lighting
When it comes to smart lighting, the first name you think of is Philips Hue. It's been around for some time now and established itself as the de facto choice in the market.
With the latest revision to the Hue Bridge, your home lighting can now be hooked into your HomeKit setup. And the choice of products keeps on growing. Bulbs, LED strips, wireless lights, dimmer switches, Hue is the easiest system to use to rig up your whole house.
See at Amazon (opens in new tab)
KooGeek WiFi Smart Socket
Smart lightbulbs are super fancy, but they're not for everyone. An alternative to something like Hue is this smart adapter for regular light bulbs from KooGeek. Hue is best used as a full system throughout the home, but this is perfect for folks wanting a little less coverage.
It's an E27 socket and all you need to do is screw it into your ceiling in place of the bulb. The light bulb then goes into the Smart Socket and voila! One WiFi connected light bulb that you can control with Apple HomeKit.
See at Amazon (opens in new tab)
If you're looking for something unusual in your lighting, then the Nanoleaf Aurora is just that. These modular, color changing light panels let you go wild and create a wall of light.
It's not necessarily the most practical lighting solution, but it can be used to great effect to really highlight certain areas in your home and add a bit of "wow" factor. And as it's modular, to grow your Aurora you can just buy more panels.
See at Amazon (opens in new tab)
Heating
There's a slight catch here. Tado isn't currently compatible with HomeKit, but it will be, and it's offering a free upgrade to it for its customers. The newest version of the Tado Internet Bridge will be HomeKit-enabled, and existing customers can swap out their old one for it when it's available.
That's great news because Tado is a really good smart heating system. There's a thermostat as well as individual radiator valves, allowing you to control your hot water tanks. Tado guarantees you'll save money by using it or get your money back. And while you wait for HomeKit there's at least a very well done app in the App Store to get up and running.
See at Amazon (opens in new tab)
Netatmo's smart thermostat was updated to include support for HomeKit and is a great option for those looking to keep their budget down. But while it might be available cheaper than some alternatives, it doesn't make it less functional.
Netatmo says it'll use 37% less energy over the course of a year and is compatible with gas, oil or wood-fired boilers, and heat pumps. It's also somewhat more stylish to look at than others; after all, it is going in your home!
See at Amazon (opens in new tab)
Interacting with the Honeywell Lyric without HomeKit is as easy as using a modern phone, thanks to the large touch display. You've also got a choice between wired and wireless thermostats depending on your particular home system.
It works with traditional OpenTherm and Combi boilers and supports geofencing when programming. You can program the thermostat directly or through the Lyric or Apple Home apps.
See at Amazon (opens in new tab)
Elgato Eve isn't just a heating controller, but that's one part of it. The system of products includes radiator valves, motion sensors, window and door sensors, plug sockets, and even a weather station for outdoors.
With all of these products, you can really create a full-featured HomeKit setup that integrates heating, lighting, even security. They're all well-priced, too, and, as is normally the case with Elgato hardware, well-made.
See at Amazon (opens in new tab)
Security
Connected security cameras aren't uncommon, but the D-Link Omna is the first in the UK to support HomeKit. It's quite pricey, but you do get a 180-degree wide angle lens and full HD 1080p video recording for your money.
It'll record clips and send you an alert whenever it detects movement and save its recordings to a microSD card. You can also talk to/yell at the people in your home with the built-in microphone and speaker, as well as see up to 5 meters in front at night. It also looks pretty smart, too, which is important for anything you're displaying in your home.
See at Apple (opens in new tab)
Health
While it looks like a camera, it's nothing of the sort. The Healthy Home Coach is there to keep tabs on air quality, noise, temperature, and humidity in your household, scoring it as "healthy" or not. Connect multiple coaches up throughout the home to monitor more rooms.
The built-in profiles cater to things like asthma and for your baby and will give you real-time notifications, as well as advice on how to make your home healthier.
See at Amazon (opens in new tab)
Sockets
A British company offering HomeKit products for British people. Or it will be when they're on general sale. WiFiPlug is exactly as it sounds: a plug socket that's connected through Wi-Fi to Apple Homekit.
They're currently available to pre-order, with release scheduled right now for some time in Q2 2017. These little sockets will allow you to turn on any of your home appliances through the power of HomeKit. And that's alright with us.
The future
The choice in the UK may be somewhat limited compared to the U.S., but it's still possible to have a great HomeKit-enabled household thanks to the support of the manufacturers we do have launching products over here.
The only way is up, right? We'd expect to see more HomeKit friendly products down the line. Canary is supposed to be a launching a new HomeKit enabled camera at some point, and Ring may well bring its new external camera to the UK alongside the products it already sells here.
It's sad that the likes of Belkin and Withings have cancelled any plans they may have had at some point, but that's just how it goes sometimes. As folks who do love Britain and HomeKit announce new products we'll endeavour to keep this guide up to date.
Likewise if there's something that slipped under our radar, drop it into the comments below and we can get it added to the list!
Get the best of iMore in in your inbox, every day!
I would still kill for a Homekit baseboard thermostat! We're the big forgotten!

I've got my lights and heating sorted (Philips Hue and Lyric) but I'm not sure there's much more within HomeKit that appeals. I've also got eve sensors but they don't actively do anything, just track temps. I don't have any good uses for plugs, as most devices don't suddenly come on when the mains is powered. They're only good for lamps and I've already got that covered with Hue.

Hi,
You missed out the Elgato Eve power plugs and motion sensor, which work really well with HomeKit. They are good for turning on desk lamps, etc. Just hope someone can do proper light switches here in the UK soon.
Thank you for signing up to iMore. You will receive a verification email shortly.
There was a problem. Please refresh the page and try again.