HomePod: This is Apple's Siri Speaker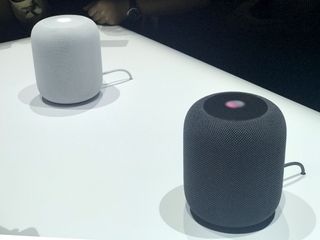 Apple's HomePod looks… well, like a pod. It's textured like a speaker should be, and available in white and black. Snaking from the bottom is a simple power cord; on the top, a display that shows just one thing — the familiar Siri wave interface.
January 26, 2018: HomePod now available for order in U.S., U.K., Australia
Apple's HomePod is now live on Apple.com and select third-party resellers, like Best Buy. You can pre-order now in white or space gray.
See HomePod at Apple (opens in new tab)
Making the speaker smarter
The market today offers several of "smart" speakers, but they're either music-focused, like Sonos, or assistant-focused, like Amazon's Echo and Google Home. There's no option that truly covers both areas — and that's what Apple is trying to change. With HomePod, Apple is aiming to cover the home assistant market and the smart speaker in one go.
Apple's focus and history with music is a lengthy one, and it makes sense that the company would target both music and smarts in its first intelligent speaker go — Apple isn't interested in making a $40 connected smart gadget that provides a terrible music experience. It wants to deliver high-end, high-quality sound along with a high-end, high-quality assistant.
Last year, Apple introduced AirPods with the W1 chip, a bevy of sensors, Siri control, and a pretty good amount of smarts. Designed for mobility, the AirPods found quick success — but they weren't designed to please a whole household or family.
HomePod is the equal and opposite part of that equation. It's designed not just to fill your ear — it wants to fill your rooms. But the speaker is more than just tweeters and woofers; it has an Apple A8 chipset. That's the same chipset that powers iPhone 6 and Apple TV, and it makes HomePod a fully-featured computational audio device.
Computational audio
Siri for HomePod wasn't been shown off at WWDC. That'll no doubt come closer to release. But I did get the chance to hear HomePod's music chops. And it was was impressive — especially when compared with a Sonos Play:3 and an Amazon Echo.
Sonos makes great speakers, but listening to the HomePod is like the experience of moving to a Retina screen — you don't realize what you've been missing until you see it. (Or, in this case, hear it.) The HomePod has much better sound separation than Sonos: It's cleaner, brighter, and more robust, with clear vocals and booming background ambiance. Amazon Echo can't hold a candle to either: It just sounds like a tiny, tinny toy speaker.
The HomePod reminds me of Portrait Mode on iPhone 7 Plus. There, the power of the A-Series processor allows the Camera app to do far more than what the camera itself is otherwise capable of. Apple's speaker works similarly, taking in your music (from Apple Music or another device via the AirPlay 2 protocol) and computing the hell out of it. The A8 chip analyzes your music in milliseconds to provide the best EQ, balance, and projection for your exact room layout.
It's like it takes apart audio, separates and analyzes all its aspects and layers, then fills the room with crisp, clear, distinct vocals and full, rich, almost-luscious sound.
As a result, it sounds like a layer of muddiness and dullness has been wiped away, leaving music that is suddenly sharp and defined.
(Siri + HomeKit) * Privacy
There's still a lot we don't know about HomePod. Apple was providing a preview at WWDC, not a full on product release. There are also a lot of limitations, though none that are unusual for a first generation product — especially one from Apple.
For example, HomeHub can play your Apple Music directly from the cloud, but everything else has to be streamed from your iPhone or iPad (and/or presumably Mac). If you want to play Spotify, Pandora, Amazon (including Audible), Tidal, or anything else, you have to AirPlay it using Apple's new, multi-room AirPlay 2 protocol. And only AirPlay 2. There's no support for standard Bluetooth streaming.
HomePod will also support Siri and HomeKit upon its release later this year, allowing you to ask questions, give commands, and control all your existing home automation accessories, like lights and plugs.
It's so much that I feel likely to replace at least a few of my existing Sonos speakers. I'd rather use them as a complement to the HomePod, of course, but they don't support AirPlay or HomeKit — and that's table stakes for me right now.
Apple being Apple, the company has also built the HomePod to prioritize privacy: The device listens for "Hey Siri," yes, but that command word is processed entirely locally on the device — no data is sent to Apple unless and until you speak the magic words. Even then, HomePod only sends anonymized data; it's one of the benefits of a company that doesn't make data harvesting its central business model.
HomePod will be available later this year for $349. I'll be getting a couple for my living room and a few for my house. I just have to decide between white and black.
January 23, 2018: HomePod arrives February 9, available to order this Friday
From Apple (opens in new tab):
January 22, 2018: Rumors of multi-personal and muted Siri as HomePod launch approaches
First up, a feature that could come in handy when you just want to control your HomePod but don't want any backchat from it, especially when you have guests.
According to the Home app assets, users with HomePod will be able to create "scenes" that disable Siri temporarily. It will probably be very useful for parties. pic.twitter.com/k2gPc50KmrAccording to the Home app assets, users with HomePod will be able to create "scenes" that disable Siri temporarily. It will probably be very useful for parties. pic.twitter.com/k2gPc50Kmr— Filipe Espósito  (@filipekids) January 21, 2018January 21, 2018
In terms of Siri on HomePod being Apple's first multi-personal assistant, Espósito hedges:
There's some strings that suggest that. I'll be looking for more references.There's some strings that suggest that. I'll be looking for more references.— Filipe Espósito  (@filipekids) January 21, 2018January 21, 2018
The HomePod that launches this quarter will be version 1.0. Apple will iterate on it. Looking back now, it's incredible to see how far iPhone, iPad, Apple Watch, and Apple TV have come, especially in the last few years.
I still think what we have now will give way to mesh voice networks in the future, but HomePod will help get us to that future faster.
January 19, 2018: Apple receives FCC approval for HomePod
One more step towards the road to release: Apple has received FCC approval for HomePod. That means Apple is now legally allowed to start selling its smart Siri speaker in the U.S. just as soon as the company is willing and able.
So, don't start lining up until Apple announces a specific date... but maybe start thinking about what you'll wear.
January 17, 2017: HomePod supply building, still expected for Q1 2018
HomePod is being assembled for Apple by both Inventec and Foxconn. The former has reportedly completed an initial production run of roughly one million units. That means Apple is starting to build up supply before its expected release in the next couple of month.
According to the Taipei Times:
Not major news but good news for those watching for signs of HomePods upcomming release.
November 17, 2017: Apple pushes HomePod to early 2018, 'needs a little more time'
While Apple originally announced it would ship HomePod in late 2017, the company has just issued a statement saying it's pushing it's smart speaker to early 2018.
Apple hasn't said why HomePod is being delayed. The product has been in internal testing for a while and has had firmware both pushed and updated. The company has also made SiriKit for HomePod (opens in new tab) available to developers.
AirPlay 2, the next-generation streaming protocol that's supposed to provide multi-room functionality to the device, however, still hasn't shipped. It has appeared in beta, but not release, and not in any way that would final enough for HomePod right now. And that's just one piece of the larger experience puzzle that Apple wants to make sure is rock-solid before shipping.
Last year, Apple pushed AirPods back from September to December and, despite critical shortages that lasted for months, it still became an acclaimed, breakthrough product for the company.
Certainly, this must be massively disappointing to everyone involved. Given early issues with Google and Sonos products recording information they shouldn't have been, a speaker in the home is something you really, really want to make sure you get absolutely right.
Get the best of iMore in in your inbox, every day!
Rene Ritchie is one of the most respected Apple analysts in the business, reaching a combined audience of over 40 million readers a month. His YouTube channel, Vector, has over 90 thousand subscribers and 14 million views and his podcasts, including Debug, have been downloaded over 20 million times. He also regularly co-hosts MacBreak Weekly for the TWiT network and co-hosted CES Live! and Talk Mobile. Based in Montreal, Rene is a former director of product marketing, web developer, and graphic designer. He's authored several books and appeared on numerous television and radio segments to discuss Apple and the technology industry. When not working, he likes to cook, grapple, and spend time with his friends and family.
I'm still not sold on it. I have an Echo, and that's enough for now. Not crazy about the price tag, either. Even if it is crazy good, just don't want to be locked in any more than I already am. Can this be used as a normal Bluetooth speaker from something non-Apple? Sounds like it's strictly airplay.

No. The article says it does not support bluetooth.

"HomeHub doesn't support Bluetooth connections — only AirPlay 2 and local Apple Music streaming."

Everybody is so sold on that thing. But do you realise that it is limited to a few major languages? I can buy one. It can speak English and German. So that is a no-go. Siri seems to be criticised for her limited capabilities but her flip side of being able to speak a fairly large number of languages seems to escape English speaking journalists almost every time.

Strictly Airplay is a non-starter for me. I will not be that beholden.

There are apps available for Android and the like, to stream to an AirPlay device

Even so, too few options. For a $350 device?
Don't get me wrong, I like Airplay, I only use it with Apple devices, the Android Apps fall far short of working well.

Ok, don't get me wrong. I love my iPhone and iPad. However, I'm not sure I understand why this exists. Apple tried this once before without Siri and it failed bad. At 349, this will fail too. It's a non starter. Next!

I can already see my cat sharpen its claws on the HomePod's cloth...

Trying to understand why this took so long to come to market. It's still a "Siri Speaker" that they could have come up with two years ago. I feel that Apple has enjoyed playing it safe for so long now it's afraid to take any risk with new products. It's not that this will be a bad product, just boring.

Interesting that a $40 Chromecast audio plugged into my existing much higher end speaker system already is a much better deal than this. Also many of the true hardcore Apple fans already have a high end speaker set up in their home which makes this toy redundant. Coupled with a half baked assistant in Siri and I don't see this being competitive. It will sell for sure because fans don't care but it will not hold a candle to the existing ecosystems already in play. Will take a couple of years to gain traction and the existing platforms are already expanding to screens (with Google's far better implementation than the echo show).
Am looking forward to a non-biased review of the speaker quality though. I'm guessing it's probably a 'good enough' ala Beats style speaker.

There's plenty of "non-biased" reviews of the speaker quality. And sure, you may already have an equally or better system in your house, but don't say that Siri is half-baked. Siri works great for me and many others, and now it's had various improvements

Why do you feel the need to keep defending apple any time someone says something a wee bit against apple or an apple product ? If siri works well for you then thats great but for others it doesn't work well.

Siri isn't half-baked though? It still doesn't make that statement valid. Also for the record, I only defend Apple when they should be defended, not when they make mistakes

Sonos offers more than just great sound and a flexible speaker setup. It has an excellent sound bar and a module that allows you to connect to your analog hi-fi. I would like them to add a headphone module that I could easily take from room to room.

How many are you going to buy total? 5 @ $349 each. Maybe I should be a tech writer : ) If you do get 5 could all 5 play the same music from one device?

From what I divined in the keynote, you can have them all over your house all playing the same music.

What about if you have a 5.1 Sonos system already? Are we just kind of hosed?

You aren't hosed, Sonos is a great sound solution though it did take me awhile as I didn't buy all at once

You mean like Apple's computers...?
Oh wait... you have to buy them right in day 1.

If you think Apple are going to add a headphone module then you haven't kept up with the headphone jack news

The news that some phone companies are keeping the headphone jack and that some aren't ?

The news that an increasing amount of phone companies are dropping the headphone jack. Google now, Samsung next

You said that about the S8 but anyhow yes the headphone jack will disappear although I dont want it to. In my opinion at the moment there isn't a good replacement, in time there will be but not at the moment. Again only my opinion.

Really if we listened to that opinion, there would never be a good time, and we'd still have headphone jacks when we're 6 feet under the ground. Might as well start changing them now, then the transition is done sooner rather than later, and we'll be glad when everything has fully moved over

I want Sonos to add a headphone module.

My guess is that the Sonos comparison wasn't exactly apples to apples, as it were. Sonos has Trueplay, which uses microphones and algorithms to adjust the sound of a speaker to the space it is in. It can make a large different in the audio quality and how clean it sounds. I would bet that HomePod got to use its processing capabilities, while the Sonos did not. It would also be interesting to see how the HomePod stacks up against two Sonos Play 1s in stereo mode, instead of a single Play 3. Two Play 1s normally will run you $399, but they have sales from time to time to drop a pair to $349. Impressive nonetheless, but I'll be interested to see Cnet or some other site do a proper showdown between the products.

Another good test would be to take two Play 1's and Two HomePods and try them in spearate rooms using the same music. Do the HomePods have a delay from one room to another? I can tell you the Sonos won't.

I'm impressed, but if you have already gone down the Sonos road, it's kind of hard to justify switching to this. It sounds like the echo dot might be the best experience with Google as a possible runner up if the rumors are true that Sonos is integrating either one. Either way, I'm locked in to Sonos. I only hope Apple doesn't run Sonos out of business. Apple probably should have bought Sonos instead of Beats, anyway.

Looks like many people, as always, are defending previous purchases and crowning them the victor before even hearing the new product. Others are saying they can use Chromcast with their much higher end speaker system. Great for you. What about those that don't already have a "higher end" speaker system, this then would be a viable option for new home buyers, college graduates moving into their first apartment, newly-wed couples etc. I have a couple of six grand speakers sitting in my study which took me years to purchase and I for one think this beautiful little object would be great in my family room, kitchen, upstairs family room, and outdoor living area. I don't have speakers in those areas and when I am not listening to music in my study, it would be great to share music with the whole family else where. I am looking forward to seeing what these little gems can deliver. I will make my mind up then. Either way, thanks for the report Rene.

"college graduates moving into their first apartment," I think it would be hard to buy an first apartment or buying a 350$ speaker for a college graduate :)

I think a lot of us are a little puzzled. From what I have read, people are really surprised Apple is trying to reinvent Sonos instead of simply buying Sonos. That seemed like a match made in heaven.

I didn't understand this part
The device listens for "Hey Siri," yes, but that command word is processed entirely locally on the device — no data is sent to Apple unless and until you speak the magic words. If we have to use "Hey Siri" command then what is the magic word ? Does it recognize our voice or can we set any other magic word ?

The magic words are "Hey" and "Siri", I don't believe you can set it to anything else

"It takes apart sound, separates it, delays and deconstructs it, then fills the room with crisp, clear, distinct vocals and full, rich, almost-luscious sound." Delays it by what factor and why?

What does sound studios do. They build music and this new speaker could bring out the tracks they have layered into music. You need a great speaker to allow all instruments to be herd plus a great source of where this music is played from. Lorde for example builds her sound and if you listen you'll pick up different affects every time you listen.

I understand how music is recorded and how a decent hi fi system will properly fill a room, with a delay speaker where appropriate. However I don't understand how Apple are going to successfully add delay in a room where a properly positioned delay speaker would without causing all manner of weird acoustic distortions from the rest of the sound the speakers within the HomePod.

This seems too little too late to me. The competitors have already got a good foothold and offer a wide variety of speakers for different uses. Amazon's openness means that you can buy cheap Echo Dots or expensive Harmon Kardon versions. Or use existing speakers via a Dot. I'm sure that a series of HomePods is appealing if you don't have any existing music systems in the house (and have loads of money), but most people already have setups that they want to continue to use. For example I have several old Sonos amps around the house and have been using an Echo Dot connected to one of them. Once you have voice control over your music then it's hard to go back, so I have been itching to get more Dots for the rest of the house. However I was waiting to see what Apple came up with before fully committing to Amazon. I was expecting the decision to be hard but it's a no-brainer. I can buy several Dots and pay for a couple of years of Amazon Music Unlimited, and get voice controlled music throughout the house for less than the price of one HomePod (let alone paying for Apple Music). And I can get it now rather than wait until December. Apple's control over hardware and software is great in a lot of situations, but this is one where their closed approach is a definite disadvantage against the competition. I'm sure the sound quality of the HomePod is great, but it's too limited, too expensive and too late.

can we have a comparison to devialet?

Sonos Play:3 is rubbish they have no depth when playing music. If you are going to require good sound then spend the money and if you don't have the money then save.
Before you start running a product down just because of cost try the product first or are you so stereo typed to cost savings. A lot of us have the money to buy what we like.

Thank you for one of the most logical and intelligent replies I've read so far :) I rarely come here anymore because the comments section seems to be filled with keyboard "experts" who somehow have the jump on the rest of us by being armed with first hand knowledge of the products being discussed....and yet this thing has not even hit the shelves yet. Personally I need to scale down the size of my current speaker system due to new living constraints.
My subwoofer alone cost me just over $2000 and the left/right speakers were $1200 each.
And they are physically Big which takes up a lot more room than I have available now.
It will be great to replace them with something that may just sound great in the area I need to cover. I'm looking forward to future reviews, and opinions from actual owners of the HomePod instead of the ignorant ramblings of all these self absorbed "experts"... p.s. my background is professional sound engineer with 30+ years experience in the music industry.

Only buy this if you use Apple Music exclusively. Doesn't even say it'll play your music library on it, only if you subscribe to Apple Music. Might sound good, but doesn't matter!

And these are ugly. Apple has really lost it's design chops. Airpods, watch, iPhone and homepod. Nothing attractive about any of them. They can tell me a million times about timeless, elegant, meticulous, beautiful designs in the keynotes. But how much effort really went into this thing?

Looking at my Sonos Play 1 sitting on my kitchen countertop, I'd say it's a wash on which speaker wins the design awards. If anything, the Sonos 1 looks dated and decidedly "electronic" with the plastic top and metal grill.

Play:1's aren't very pretty, but neither is the homepod. The HomePod looks pretty cheap.

So like a few others I already have the SONOS system in my house so I won't be replacing it. But, it seems to me that if Apple is entering the Home Speaker world, they need to offer more than the Apple Music option. I listen to Apple music but sometimes I listen to Pandora still or Prime Music. Also there are other music services besides Apple Music. Call me Mr. Pessimist, but Apple is really late to the game, charging a lot for the speaker, and lacking the flexibility to use the services I want to use. I am seeing iPod HiFi 2 here.

Apple didn't make it clear but it appears it will only play Apple Music on-board (Siri, play xxx) whereas you can Airplay anything you want to it from a remote device (iPhone, iPad, Mac)? I'm seeing so many comments of "it ONLY supports Apple Music" which wasn't my impression?

One question the article didn't address for me: Can it play music from my old school itunes library, or just from Apple's streaming service?

Apple is positioning the HomePod as a high end audio speaker first and a smart speaker second. I'm more interested in the "smart" aspects. For example, will Apple open up the HomePod to third party developers so "skills" can be created like the Echo? I fall asleep every night listening to various nature sounds (rainfall, ocean waves, etc.) using an Echo. Will the HomePod be able to do the same?

Siri can integrate with apps on the iPhone, so I'd hope it can work the same, otherwise competition will be difficult

Will it support I Heart Radio, TuneIn, etc? Or are we talking strictly Apple Music here?

"And like every other smart speaker manufacturer, the default music service is the company's own: You won't be able to stream Spotify, Pandora, Amazon, or Tidal without sending it from another device first." That's not true. With Echo and Google Home you can set the default music player as Spotify as well.

"With Echo and Google Home you can set the default music player as Spotify as well." How do you do this on the Echo? I'm not aware of any way to play Spotify music on the Echo other than adding "on Spotify" to your Alexa request, otherwise it plays from Amazon Music.

Because it supports AirPlay 2, does that mean you can use it with your AppleTV?
Also, I can play any music app and even Audible from my phone to my 2 AirPlay speakers now. Will that work here with HomePod?

This sounds like the plan. I would have to know the mechanism for Airplay 2, though. Apple should have gone with a casting model from day 1.

No phone calls or FaceTime audio?

Hmmmm... Reading the comments there is a lot of backlash here. To be fair, I do think the story with this thing should have been more than about Apple Music. I get that the differentiator wants to be the sound quality. Honestly, I wish Apple had bought Bose rather than Beats ¯\_(ツ)_/¯ I also hope that the Siri improvements really impress me here. We haven't seen an onstage Siri demo in a long time so maybe even Apple lacks some confidence in Siri? Otherwise, lets wait and see. The price is a tough point until you remember the sound quality... If it lives up to the promises.

To the author, if Apple makes it, it has to be best thing ever! 😂 Specially to this one dude.

This one dude: "Benjamin Mendez", who is a troll

Thanks for write-up, Rene! I'm super excited to get a pair as well. I'm so glad that Apple chose NOT to support Bluetooth as that would only dumb-down sound quality. I don't see this competing much with Amazon or Google as they're focused more on the assistant stuff and not sound quality. Sonos is really the player that should be concerned.

I'm quite sure that apple will add the ability to make / receive phone calls via the speakers... if not in the first release, then in a later firmware update. Like Rene, I have a full Sonos setup in my home, including a home theater with a Playbar (soundbar) and subwoofer. Are the HomePods high quality speakers? Yes. But will Apple be introducing offerings to take on the home theater capabilities of Sonos, that's the real question for me, and probably many others. Until Apple answers this question, I'll sadly be handing on to my Sonos system and will see how the Alexa integration works out this summer.

I'm an apple user, I love my iPad pro and MacBook pro, but **** this site makes a lot of excuses for anything that apple does slightly wrong or delays a product... I'm not buying a homepod, period. Too limiting and my Google speakers do everything I need.

Then why do you come to this site? Also delaying a product is usually a good thing, not bad. Delaying is most likely because something wasn't working correctly, or they want to improve something before release. You don't want an unfinished product, do you?

I come to the site because many other things are useful, like the guides, etc.

Either way, delaying a product is usually done for a good reason, so there's not really anything bad to say on that subject. Sure if they were delaying it more than 6 months then that would be disappointing, but a minor delay is something everyone can deal with

Hey look it that, an other Knight in a white shining armor arrived...

Have you excepted from Monsieur Rene anything else?????

What does that even mean?

"taking in your music (from Apple Music or another device via the AirPlay 2 protocol) and computing the **** out of it. The A8 chip analyzes your music in milliseconds to provide the best EQ, balance, and projection for your exact room layout." Can this be turned off? No way will I buy any audio device that colors the sound, where that colorization cannot be controlled. There are times when I want just flat response. I want to hear what the musicians intended, not what Apple thinks sounds good.

Apple have always been music-enthusiasts, I'm sure that option will be there

naddy6969
Do you know how most modern music is recorded in the first place? Have you ever heard of Protools and Auto-Tune, just to name two of the many digital processing tools used in the capture, modification and manipulation of most music recordings? If you want to listen to (mostly) unadulterated music you'll need to limit your personal music listening experiences to live gigs because everything recorded is altered in some way..and it's mostly digitally altered.

I gave up on waiting for Apple to ship the HomePod and went with Alexa.

The best things come to those who wait

i am not sold on it either.
i dont even know what is the design, it looks super weird
my amazon echo served me preety much good

I would say the Echo looks weirder, but that's just me

Any idea when is it available in Canada?

I'm too have a large Apple echo system. But I went Sonos with Alexa. Begin 8 speakers strong, adding Alexa (1 so far) has been a good decision. But like HomeHub, the one speaker (using Alexa) only controls itself.

Just read that HomePod won't play iTunes content that wasn't purchased through Apple...so I can't play most of my library that I ripped from CDs. I'm out.

I was shocked to find that the HomePod only has a single Woofer. So it only provides a mono music experience! On the website, Apple audaciously suggests you purchase TWO HomePods (which will double the cost to $1000) if you want to listen to your music in stereo. Who wants to reduce the quality of their current sound system to play their music in mono only?

I've never seen a home sound system with more than ONE subwoofer connection point.
Does your current sound system have STEREO left and right connection points for SUBWOOFERS?
If it does then please educate me. I'm Always open to learning new stuff.

Most music systems have at least two speakers, one for the left channel, the other for the right channel. Taking my own system, for example, inside each of these speaker boxes is one tweeter, a mid-range speaker, and a woofer. This is not uncommon, in fact, a two speaker (or more) system has been the basis for home hi-fi systems for several decades. Almost all music recorded in the past 50 years or more has been recorded in stereo. Unfortunately, Apple's HomePod is not going to give you that intended stereo experience.

Can't play the iTunes Library on my Mac Mini? Screw you Apple. Just screw you, really.

Google Home is so much cheaper and can do more.

It can do more, for now. Also you're mostly paying for the speaker quality.
Thank you for signing up to iMore. You will receive a verification email shortly.
There was a problem. Please refresh the page and try again.