HomePod vs. Sonos: What's the difference?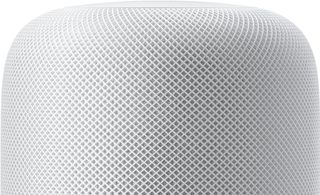 First things first … What's a HomePod?
It's Apple's long-rumored, Wi-Fi-connected smart speaker. Apple is positioning the HomePod as the quintessential in-home listening device. It also comes with Siri — use the wake phrase, "Hey, Siri," and it can do anything Siri can do!
You can control your HomeKit-enabled accessories (even when you're away from home, since the device acts as a HomeKit Home Hub), listen to music and other content with the device's excellent speakers, set timers and reminders, check your calendar, send messages, etc.
HomePod FAQ: Everything you need to know!
Gotcha, gotcha. And can you remind me about Sonos?
Sure thing. Sonos offers several Wi-Fi-connected, high-fidelity speakers that you can use to stream music throughout your home. The company says the Sonos system is a Home Sound System, meaning you can quickly and easily set up multiple speakers throughout your home and stream music (and other audio) all day.
Sonos offers multiple Wi-Fi-connected music streaming speakers and a couple devices (opens in new tab) you can use to turn your existing setup into a Sonos streaming setup.
Interesting. How many Wi-Fi speakers is Apple offering?
Just the one. Apple's touting its beam-forming, room analyzing, AirPlay-2-featuring HomePod as the one solution to rule them all.
So, I'm big into music. And I hear both Apple and Sonos are offering some pretty incredible listening experiences. But I'm curious, what am I going to be able to listen to?
Great question! Your answer follows:
Integrated music streaming services
Sonos: Apple Music, Pandora, Spotify, Amazon Music Unlimited, Google Play Music, SiriusXM, SoundCloud, Deezer, TuneIn, Napster, iHeartRadio, 7digital, AccuRadio, Anghami, Audiobooks.com, Bandcamp, Batanga, CalmRadio, Classical Archives, Concert Vault, CustomChannels, DAR.fm, DASII, Daytrotter, FIT Radio, Focus@will, Gaana.com, Groove, Hearts of Space, Hotelradio.fm, Hype Machine, Live Phish, Mixcloud, MLB.com Gameday Audio, Mood:Mix, Murfie, Nugs.net, Radionomy, RadioPup, Rockbot, Rusc, Saavn, Slacker Radio, Soundmachine, Spreaker, Stingray Music, Stitcher Radio, Tidal, Tribe of Noise, and your personal library
HomePod: Apple Music and audio streamed via AirPlay 2
Sonos: Wirelessly via the Sonos app
HomePod: Wirelessly via AirPlay and on-device Apple Music
Wow, quite a difference there. So, say I want a home assistant to control my lights and tell me when I need to leave for work … which is best?
Apple's HomePod. Sonos is not a smart speaker in the sense that it doesn't feature some sort of smart assistant you can talk to. Apple's HomePod has a speaker array capable of hearing — and responding to — your commands. Sonos is strictly music listening. With Apple's HomePod, you can listen to music and control your home all via one device.
Gotcha. I suppose now's the time to ask for some specs, eh?
Probably. Here's what you need to know!
HomePod: 7 beam-forming tweeter array, 1 4-inch, Apple-designed woofer, 6-microphone array, Siri support, 802.11a/b/g/n/ac Wi‑Fi with MIMO, multiroom speaker support with AirPlay 2, capacitive touch controls on top of the device
Sonos Play:3: three Class-D amplifiers, one tweeter, two mid-woofers, bass radiator, 802.11b/g Wi-Fi, multiroom speaker support over Wi-Fi
Thanks for that. Now here's a question for you … how do either of these devices compare to, say, hooking up some great speakers to an Amazon Echo Dot?
Well, it depends on what you're looking for. If you like Amazon's Alexa smart assistant and don't mind any audio degradation from Bluetooth streaming, you're probably better off with some great speakers hooked up to Amazon Echo Dot … that goes double if you decide to stream from the Dot itself. Sonos sounds great but it's expensive and each individual device is only that: an individual device. Same goes for HomePod: It's one speaker with a lot of impressive technology packed in, but you might be able to replicate much of that — sound-wise, at least — with a coupla good speakers and the Amazon Echo Dot.
I was afraid you were going to say that. So tell me, how much are these things going to set me back?
Lucky for you, HomePod is only gonna be calling for your wallet at one price. I can't say the same for Sonos. Here's what you need to know price-wise:
Hrm. OK, bottom line. What do I need to know (and be thinking about) regarding the HomePod and Sonos?
First thing's first: Sonos is going to give you more options for multi-device listening. If you want to build out a home theater surround sound system, Sonos has the woofer, the tiny tweeters, the mid-range, the big sounds, and everything in between. You can buy and sync up loads of differently sized Sonos speakers and get the sound you want.
HomePod is going to give you incredible sound in a single package. It's also going to give you smart assistant support with Siri. Sonos can't control your smart home accessories; Siri can. If you're in the market for a smart speaker with really friggin' great sound, HomePod is going to be great for you. If you don't really need Siri on board, Sonos is probably the best place to look.
If both seem a little too pricey and you're OK sacrificing sound quality for some great home assistants, check out Google Home or Amazon Echo.
HomePod vs Google Home vs Amazon Echo: What's the difference?
Further questions or unanswered comparisons?
Sound off in the comments!
○ Everything about WWDC 2020
○ WWDC 2020 remote lineup
○ Download the Apple Developer app (opens in new tab)
○ iOS/iPadOS 14
○ macOS 10.16
○ watchOS 7
○ tvOS 14
○ Discussion forums

Mikah Sargent is Senior Editor at Mobile Nations. When he's not bothering his chihuahuas, Mikah spends entirely too much time and money on HomeKit products. You can follow him on Twitter at @mikahsargent if you're so inclined.
Its just a dumb speaker, no Spotify or such! Siri needs to get smarter, I can't even get her to play Spotify music. 😂 Here's a speaker but you can only listen to Apple music but let's compare it Sonos 😂

It's nice. Ill probably buy two of them

The real question is will they both work together?

Will they work together well in the same room? No. In the same house? Sure. The thing that I don't like about Sonos is that they don't support AirPlay in the device (You need to hook up an Express or Apple TV to them). And AirPlay is amazing. I bought a Sony portable Bluetooth speakers with AirPlay a while ago because I love AirPlay so much. It's great to be able to just open up the music app and stream whatever is on my iPhone, Mac, or iPad to my speaker. If you're already into AirPlay the HomePod is for you. If you prefer to use an app on your phone to tell your speaker to start streaming music from a service, well then Sonos might be more up your alley. But most of the reviewers have been saying that HomePod's intelligent way it breaks down the sound and enhances it, is really unlike anything Sonos or any other speaker maker in this price range is doing.

The thing worth keeping in mind is, you can tell the speaker to get music from Apple's service. But if you love Spotify you can also stream to it from your iPhone through AirPlay. In many ways the HomePod is a lot like the AirPods, in the sense that if you're someone who has a windows PC, and a Samsung phone, there's not nearly as much of a reason to get the HomePod. Sure it'll work well on it's own ... I think. Actually they said you configure it by holding your iPhone nearby. So you might legit need to own an iPhone in order to set it up. Especially since voice recognition probably largely requires an internet connection to process the voice stuff on the back end. Either way, for someone not invested in Apple hardware, this would be a weird first product. But if you want to walk into your study, set your iPhone down to charge, and then sit down to draw with your iPad Pro and Pencil, then this is going to be the speaker you buy, period. All the hands on stuff I've heard about it says that it sounds better than the major competitors. Is it pricer than an Echo? Sure. But a steak is more expensive than a McDouble, but you're still gonna buy a steak sometimes. There's currently 20 million people paying for Apple Music. So there are a minimum of 20 people who don't care about Spotify, Pandora or any other service (Which again the speaker can play music from, it'll just be routed from your iPhone). This is a device that is designed to show off how much better things can be if you have the speaker and the service made by the same company. This is also a device that if you get you're going to stay subscribed to Apple Music for, because switching to Spotify afterward would be a hassle.

You can use airpods to make and receive phone calls. I haven't seen anything to indicate you can do that with homepod. There will be no way I would get one of these things if I cant make phone calls on it. If it served as a high quality speaker phone and it sounded good for music, I would buy one, even if Siri functioning remains inferior to the competition.

Sonos also integrates with analog systems and offers several types of versatile speakers including their excellent, beautiful PlayBar.

HomePod is a day late and many dollars too expensive. It's limited capabilities are a joke compared to Sonos (dumb speaker) or Echo or Google Home (smart speakers). Nope. Epic fail on this one, although I'm certain many true believers will opt to pay nearly $400 US for the privilege of owning a "cutting edge" AirPlay speaker.