How AirPods work with Handoff on iPhone, iPad, and Mac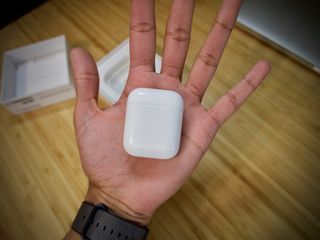 AirPods are just about as magical as Apple claims. The glossy-white earphones not only connect to your various Apple devices in an instant, they stay connected. They know when you're listening and pause when you pull them from your ears; they filter out noise when you use the built-in microphone, and they can trigger Siri or play and pause music. Put simply, they're a delight to use and they're far more feature packed than their subtle design would have you believe.
All that said, there's one thing that could take AirPod listening to the next level of delight: better hand-off between devices. I know I'm not the only one who pictured a seamless listening experience like this:
I'm listening to music with my AirPods on iPhone.
I get a Skype call on my Mac.
I head into the office and click to answer the call.
My Mac automagically switches to my AirPods for audio
I finish the call and pick up my iPhone
I click play and my iPhone automagically switches to my AirPods for audio
Maybe that sounds like a lot to ask, but I wasn't kidding when I said I wasn't the only one who pictured this experience (opens in new tab). This is arguably more important when it comes to phone calls; if I'm using my AirPods and get a phone call on my iPhone, but decide to answer the call using my Mac (via Handoff), it'd be great if my Mac automatically switched to my AirPods for audio.
How AirPods work with Handoff on iPhone, iPad, and Mac
So how do AirPods work with Handoff? Just short of automatically. By that I mean it requires interaction on your part to switch between devices. Swapping between iOS devices requires fiddling with Control Center, and swapping to and between macOS devices requires fiddling with System Preferences, keyboard shortcuts, and adjusting settings in the Mac menubar. It's not the seamless future I envisioned, but I won't lie: It'll take you no time at all to get the necessary interactions figured out. As long as your AirPods are out of their case or comfortably resting in your ears, you'll see them listed among the audio devices on your iOS, watchOS, and macOS devices — they're just a swipe, tap, and click away!
By the way, if you'd like to learn how to get into the swing of the audio swap, check out my how-to on switching between audio sources with your AirPods!
How to switch between audio sources with your AirPods
Thoughts or questions?
I'm curious to hear what you think about my proposed AirPods listening experience! Do you wish AirPods automatically switched devices when you started using them or do you prefer to control the whens and hows of your audio swapping? Gimme your thoughts, questions, and opinions in the comments below or over on Twitter!
Get the best of iMore in in your inbox, every day!
Mikah Sargent is Senior Editor at Mobile Nations. When he's not bothering his chihuahuas, Mikah spends entirely too much time and money on HomeKit products. You can follow him on Twitter at @mikahsargent if you're so inclined.
I definitely agree about your vision of the Air Pods and handoff I was hoping for the same but unfortunately that isn't the case

I agree, I was looking for this experience as well. My Jabra Revo do this well, but they are over the ear and Ido not want to walk with them all over the place. I also wish I could adjust the volume by sliding up or down on the airpod.

So the repairing to my iPad and Macbook is not needed. Granted I do have to select device I'm using in the Bluetooth setting but is much easier than having to repair all the time. I wish there was a better way of making things more fluid but for now it works for me. I change between by Beats X and Airpods. The one thing I wish the Airpods had is volume up and down by touch.

One step closer: found an app called Tooth Fairy that lives in the Mac menubar and makes connecting to AirPods a one-click deal instead of an Option key + two click affair.
I've been using it for a few weeks and seems to work really well. I found this app via MacStories: https://www.macstories.net/mac/switch-your-airpods-connection-easily-wit...
Thank you for signing up to iMore. You will receive a verification email shortly.
There was a problem. Please refresh the page and try again.