How to apply a Nintendo Switch screen protector without getting any bubbles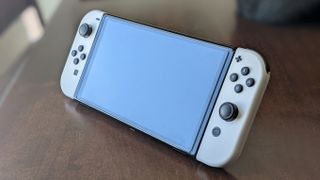 (Image credit: Rebecca Spear / iMore)
Sometimes applying the best Nintendo Switch screen protectors can be the most stressful part of setting your tech up, because honestly, who wants those ugly little bubbles staring back at you every time your screen turns on? Fortunately, there are a couple of basic steps you can take to make sure your Switch isn't basking in its bubble-y glory! Here's how to put a screen protector on your Switch, Switch Lite, or Switch OLED.
Make it easy
(opens in new tab)
iVoler Tempered Glass Screen Protector for Switch OLED (4-Pack with Alignment Frame)
Apply the screen protector with ease

This pack comes with four tempered glass screen protectors and a plastic alignment frame to ensure that the protectors go on correctly the first time you use them. The extras make for perfect backups if you accidentally mess up.
1. Purchase a multipack of screen protectors with alignment frames
We're all bound to make mistakes throughout our tech lives, so I always recommend people purchase a multipack of screen protectors so they can use another one if they somehow damage the first one or get unsightly fingerprints on the sticky side. Additionally, many screen protector packs come with alignment kits, plastic frames that you place around the Switch and make it easier to get the screen protector in the right position the first time around.
If possible, you'll want to get a multipack that comes with an alignment frame. We've included buy links to screen protectors that include alignment frames for the regular Switch, Switch Lite, and Switch OLED in this guide in case you want one.
2. Make sure everything is clean
The first step is relatively simple: Wash your hands and make sure they are clean, then make sure your Switch's screen is clean. This might mean wiping the console down with a cleaning solution or a bit of warm water while using a microfiber cloth. Many screen protectors also come with a cleaning solution and stickers, which you can use to dab the screen and lift any dust particles from it.
Pro Tip: Keep dust out of the air with a hot shower. Run a super hot shower and get the bathroom nice and steamy and then install it in there. This helps keep dust out of the air and helps you with a clean, bubble-free installation. Just make sure the screen is dry before starting, and do not set your console down anywhere wet.
3. Be careful & use alignment frames
Your screen protector is a delicate tool, meaning that the second your drop it, touch the sticky side, or accidentally mess it up in any way, it will no longer be pristine to look at when applied. Place the alignment frame on the Switch, and then get the screen protector ready to go.
4. Start at the edge
Carefully hold the screen protector so that your fingerprints don't get on the sticky side. Hover over the Switch screen, now start in the upper left corner by pressing down with your pointer finger.
PRO TIP: Take your time and peel back if needed to make sure you get a clean, straight fit. Slowly lower more of the protector into place, pressing down evenly to make sure all air escapes the screen.
5. Slide down and to the right
Now that the corner is in place, slide your finger down to the bottom and then along the bottom to the right. This will help the adhesive get a better grip on your Switch screen. When your Switch's screen protector is fully in place, you might have a few tiny bubbles here and there. This is typical and can be rectified as long as they're not massive and bumpy.
6. Guide the bubbles out
Remove the alignment frame and get ready to handle any bubbles. Many protectors come with a square of thick cardstock that you can press down on the screen to guide those bubbles to the edges. If your pack didn't come with one of these, a credit card edge will work perfectly. Just press down and evenly work out the bubbles to the edge of the protector, and you're good to go!
How do you go bubble-less?
Are you an anti-bubble pro? Do you have a special technique that you use to get rid of any bubbles in your screen protector?
Let me know your top tips in the comments below, and I'll be sure to try 'em out!
Regular Switch application
(opens in new tab)
KIWIHOME Switch Screen Protector (2-Pack with Application Tray)
Guide the protector into position

Place the included frame on your regular Switch and then use it to guide the screen protector into position. You'll get a perfectly placed tempered glass layer. This is a two-pack, so you have another to fall back on if necessary.
Easiest Switch OLED installation
(opens in new tab)
iVoler Tempered Glass Screen Protector for Switch OLED (4-Pack with Alignment Frame)
Perfect alignment

Make it possible to perfectly align your screen protector in one shot using the included alignment frame. This pack comes with four tempered glass screen protectors, so you can try again if you want to.
For the little Switch
(opens in new tab)
Power Theory Screen Protector for Switch Lite (2-Pack with Install Kit)
Easily protect your Switch Lite

Using the included Easy Install Kit, you'll be able to quickly and correctly get your Switch Lite screen protector in place. It comes with two tempered glass screen protectors, so you have an extra if you need it.