How Catch Combos work in Pokemon Let's Go! Pikachu and Eevee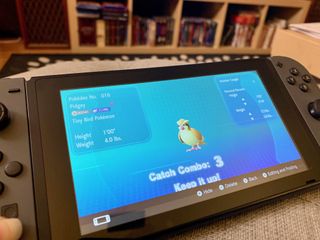 Unless you're being very particular about only capturing one of every Pokémon in Pokémon Let's Go! Pikachu and Eevee, you've probably already encountered the mechanic called Catch Combos. Catch Combos are a great element of the game for doing all sorts of thing, from leveling up your Pokémon team to finding new, rare additions to it. It can be a bit tricky to figure out exactly how they work, though, so here's everything we know so far about Catch Combos, how to avoid breaking them, and what you'll get from doing them.
What is a Catch Combo?
Catch Combos are what happens when you catch the same species of Pokémon multiple times in a row. They begin immediately when you catch the same species twice, and keep growing the more you capture in a row.
You'll know you have begun a Catch Combo because you'll see a message on the final screen after capturing a Pokémon that tells you you have a Catch Combo, the number you're on, and a "Keep it up!" message. You can also check what number you're on when you enter a new encounter with a Pokémon you're trying to Catch Combo with by looking at the top left of the screen.
Why do I want to get Catch Combos?
Catch Combos are fantastic if you want to level up your Pokémon, or encounter some incredibly rare ones. By achieving high Catch Combos, you can increase your chances of finding rare Pokémon in the wild, shiny Pokémon, or strong Pokémon.
As you reach certain thresholds of Catch Combos, you'll notice the Pokémon appearing around you on the map start to change. Pokémon that were previously rare will begin to spawn more often, and you may even see super-rare spawns, such as the three original starter Pokémon (Bulbasaur, Charmander, and Squirtle), or others such as Snorlax, Charizard, Hitmonlee, Hitmonchan, or even a Dragonite.
The majority of the benefits from Catch Combos cap out at a combo of 31 or higher, so once you reach that level you don't need to chain any further.
How do I break a Catch Combo?
Catch Combos are surprisingly hard to break. You don't have to worry about losing your streak by doing things such as going to town to buy more Poké Balls, battling trainers, or changing routes. There are only three activities that can cause you to lose a Catch Combo. They are:
Capturing a Pokémon that isn't part of your Catch Combo. For example, if you have a Catch Combo of 10 on a Spearow, catching a Rattata (or anything that isn't a Spearow) will break it
Encountering a Pokémon that is part of your Catch Combo, and either fleeing from it, or having it flee from you
Saving and quitting the game
Doing anything else is fair game, so feel free to hold onto a Catch Combo as you change routes, so long as you don't try to capture something else!
Tips for Catch Combos
At lower Catch Combos, it's not as big a deal if it gets broken. However, if you're aiming to search for shinies or rare Pokémon, you may want to use Razz Berries or stronger Poké Balls (such as Great or Ultra Balls) to ensure your Catch Combo isn't broken by a fleeing Pokémon
Once you reach a Catch Combo of 31 or higher, you can't raise your chances for shiny Pokémon anymore. If this is your goal, you can stop here!
If you're trying to get a shiny Pokémon, you'll only be able to increase your odds for the Pokémon you're working on a Catch Combo for, not every Pokémon you encounter.
However, you can "cheat" a bit if you're just hunting for rare Pokémon by Catch Comboing a common Pokémon on one route, then going to a route with rarer Pokémon and hunting until you find something powerful, like a Chansey!
If you're sitting on a high Combo and are just looking for a shiny or a rare, try hard not to get into any encounters. You can flee encounters with Pokémon not part of your Combo, but if you accidentally encounter one that is in your combo, you'd better catch it, or you'll lose all your hard work.
Any questions?
If you have more questions about how Catch Combos work, let me know in the comments and I'll try to help!
Master your iPhone in minutes
iMore offers spot-on advice and guidance from our team of experts, with decades of Apple device experience to lean on. Learn more with iMore!