How to configure Feedly or another RSS service with Reeder for iPhone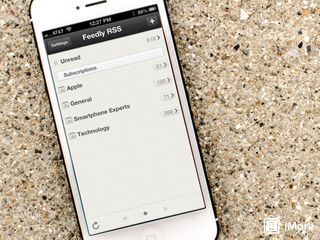 If you're a huge Reeder fan, you're in luck as it's just been updated with support for several new RSS services since Google Reader is now no longer accessible except to export your feeds.
Once you've exported your feeds to Feedly or another RSS service of your choice, you're ready to set up a new RSS service inside Reeder. Here's how:
Note, you'll have to export your feeds from Google Reader and into one of the newer RSS services before configuring it with Reeder. If you haven't done this already, make sure you check out our guide on how to export your Google Reader feeds first.
Once you've got that done, go ahead and continue on to get them set up within Reeder.
Launch Reeder from the Home screen of your iPhone or iPad.
Tap on the Settings icon in the upper left hand corner.
Now tap on Add Account... under the Accounts section.
You'll have the choice to use either Feedly, Feedbin, Feed Wrangler, or Fever. Tap on the one you're now using.
Now you'll be asked to sign in and verify that you'd like to give Reeder permission to access your feeds. Go ahead and accept.
Once your feeds are set up in Reeder from the new service you can go back and tweak settings such as how many articles to sync, image caching, etc.. just as you did before with Google Reader.
That's all there is to it. Reeder will now use your new RSS service of choice in order to sync your RSS feeds. Let us know what you're using and how you like it in the comments.
iMore senior editor from 2011 to 2015.
Not available on the iPad or Mac versions yet. I think they are waiting for a bigger update to add to the versions other than iPhone.

From Reederapp.com: Reeder for Mac and iPad
Unfortunately, it's not that easy to add other services to the current versions of these apps. It's probably best to use my time to work on the new versions, to get these out as soon as possible. This means that I'll remove the current versions of these apps from the App Store on July 1st, as they only work with Google Reader.

As we posted on Friday ;-) http://www.imore.com/reeder-iphone-now-free-will-soon-update-support-google-reader-alternatives If it's worth doing, it's worth doing right. If the iPhone is the most popular version of the app, which is likely is, then the developer is absolutely right to concentrate on one thing at once. Releasing three apps together but are all a bit sucky isn't the way to go :)

Yes I know, iPhone only for now. I accidentally slipped iPad into the title out of habit but it was changed right away.

I just uninstalled reeder and re-installed it to start clean with feedly.

Why use Reeder when the Feedly app is much better.. ?? ..and it has web access as well, i think feedly is 10x better than Google Reader actually, I am using it much more than i used to use google's reader! Feedly is the new RSS champ in town!!! They just need to add scrolling in their Magazine view and yes i selected scrolling in the settings and it does not scroll as it still moves the whole page!

I like the Feedly app too, but being able to use the old Reeder front end with the new Feedly backend as if nothing has changed gives me a warm tingly sensation. You wouldn't want to take that away from me, would you?

It's a matter of preference. Take me for instance - I really don't like Feedly. i just want to read my news not look at a story book of sorts. I'm not a fan of Feedly fonts (you can change title fonts but not body that i could find). I don't like the scroll options either. I much prefer Reeder. That's just me,

I'm with you, Ally. Reeder makes Feedly palatable like it did Reader. Reader was always very functional but like most Google offerings it was butt ugly. I used it daily because it was the best but Reeder really made reading the news a joyful experience for me.
Thank you for signing up to iMore. You will receive a verification email shortly.
There was a problem. Please refresh the page and try again.