How to disable sound on the Poké Ball Plus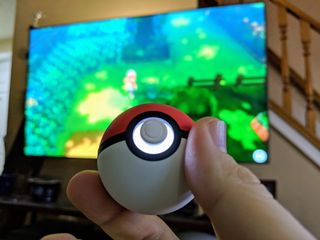 Your Poké Ball Plus comes with a superpower not found on the standard Nintendo Switch Joy-Con. As you play Pokemon Lets Go, many of the sounds from the game will come through right in you hand thanks to this handy little accessory. This is a fun way to really feel like you're part of the game, including the feeling of "throwing" the PokeBall, but you're not always in a place where extra sound is a good thing.
Fortunately, it's pretty easy to mute your PokeBall Plus so it doesn't get you into trouble when you're supposed to be working.
Hold the PokeBall Plus in your hand like you're about to play
Press down on the joystick and hold
Press down on the red button and hold
Wait for the confirmation vibration to let you know silent mode has been enabled
And that's it! In order to put the sound back, just repeat those exact same steps. It'll save you from getting the wrong kind of attention when you're playing Pokemon Lets Go somewhere other than home, and lets you keep using this handy little controller to be the very best (yeah, good luck getting that song out of your head again)!
Accessory
(opens in new tab)
A fun and intuitive way to play both Pokemon Go and Pokemon Lets Go on the go!
Get the best of iMore in in your inbox, every day!
this doesn't seem to work in "taking a stroll mode" no matter what i do, in taking a stroll it always makes noise. :(

I'm sorry to hear that the sound isn't turning off. I know that for my Poke Ball Plus, it can be a little bit hit or miss too! What worked for me was waking the Pokéball until you get the coloured light then pressing the two buttons simultaneously as above in the guide. That worked out for me. Hopefully, it might help you too. I popped up a little 18-second video on my twitter demonstrating how I got the noise to turn off if that helps you at all! https://twitter.com/mslaurafagan/status/1063785946750099458

Do you have to push both buttons down at the same time? This is kinda confusing.
Thank you for signing up to iMore. You will receive a verification email shortly.
There was a problem. Please refresh the page and try again.