Pokémon Let's Go for Nintendo Switch: Everything you need to know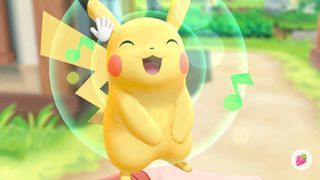 (Image credit: Game Freak Inc.)
Pokémon Let's Go is out there in the wild and if you are playing this awesome title, then you might have a bunch of questions that need answering. From questions about hardware all the way down to in game mechanics, we have you covered. Welcome to the Pokémon Let's Go ultimate guide!
Poké Ball Plus
If you decided to go all in on the Pokémon Let's Go experience, then you most likely chose to pick up a Poké Ball Plus. This amazing little bit of hardware brings your Pokémon Let's Go game to the next level and we can help answer any questions you may have about it.
Buying Guides
If you have yet to dive headlong into the world of Pokémon Let's Go and you have some questions about what you might need or want to buy, we can give you a hand there as well. Here's everything you might need to know about shopping for Pokémon Let's Go stuff.
Let's Go Console
Maybe you don't actually have a Nintendo Switch and you have been considering picking up the Pokémon Let's Go branded console. Here's what you need to know about it!
Gameplay tips and guides
Here's where the real action is! This is all the help you may need when you are actually playing Pokémon Let's Go. If you have any question about the actual in-game mechanics of Pokémon Let's Go, we have all the answers you need. Dive right into all of our gameplay guides and tips right here!
Get the best of iMore in your inbox, every day!
Good afternoon, I was wondering if you could take Pokemon from the switch and send it into your smartphone and catch it there?

No, you won't be able to move Pokemon you've caught in Let's Go from your Switch to Pokemon Go on your smartphone unless you haven't "caught" them after receiving them from your smartphone in the first place. You will be able to move Pokemon you caught in Pokemon Go from your smartphone to Let's Go on your Switch.

Will you be able to be a girl in Let's go Pikachu?

Yes. You will be able to pick your gender.

Has there been any talk of DLC? Seeing as how DLC has been so popular thus far on Switch, it seems like updates / additional content / DLC would be a given, but I'm kind of surprised it's not been hinted at yet.

It's possible, but I don't think it'll be offered right away. It's not common practice for Nintendo to put DLCs into Pokemon games, but it has been done with two previous Pokemon Switch titles, so it's definitely possible.

I can see that you don't know what you're talking about. You say they put DLC in two previous Pokemon Switch titles, but there has only been one Pokemon game on the switch before, Pokemon quest. In the article, you mention that Officer Jenny will probably be in the game, but she's never been in anything despite the anime. Not to be rude, but please only include facts and not false information/assumptions.

There were two: Pokémon Quest and Pokken Tournament DX. And now, with Pokémon Let's Go, there are three.