How do I stream Spotify in my house?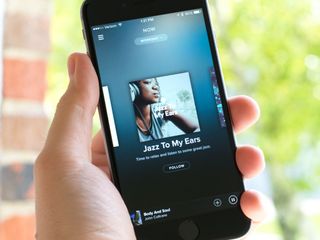 If you want to stream music in your home, you need three things: a device to stream music from, access to digital music, and a speaker to stream your music to. If you love using Spotify, you can use it as a primary player for your whole-home audio system.
Then all you need is Sonos, Bose, or another connected speaker system!
What is Spotify?
Spotify is a music streaming service offering free and paid subscriptions with a catalogue of about 30 million songs. With a free subscription, you're able to access the complete catalogue (with ads) on your mobile device, computer, or video game console. If you upgrade to a paid subscription you can enjoy that music catalogue ad-free, skip tracks, and listen offline.
Students get 50 percent off a Spotify account and you get a 50 percent discount for any family members you add to a Spotify subscription.
What devices can I use Spotify on?
Spotify is accessible through many smart devices.
The Spotify web player allows you to log in to your account and stream music through your Mac or PC. The Spotify app is available for iOS, Android, and Windows devices. Additionally, Playstation offers Spotify support and Amazon Fire TV products have Spotify app support.
What speakers can I use to stream Spotify in my house?
There's a short answer and a long answer to this. Short answer: if you have a Bluetooth speaker you can use Spotify with any Bluetooth-enabled device. Long answer: if you want to listen to Spotify in every room of your house, you'll need a decent speaker system.
If you have an old stereo kicking around, you can modernize it with a Bluetooth upgrade kit or you can pick up just about any Bluetooth speaker, depending on your budget and the quality you're looking for.
There are also Wi-Fi speaker options, which you will have better range than Bluetooth speakers, though, depending on the size of your home, this may not matter.
The above options are great if you want to stream music from one speaker in one room. But, what if you want to stream music to every room in your house? If that's the case, you'll want to look at speakers that connect to form a whole-home sound solution.
The Bose Soundtouch speaker system was designed to work with Spotify right out of the box. Using the Spotify app, you can control your music on your Bose system, which might not sound like a big deal, but with other wireless speaker systems, you can't do this.
If you download the Bose Soundtouch app, you can control which speakers throughout your home that Spotify streams to, allowing you to navigate through spotify tracks using the physical buttons on your speaker, which is pretty handy if you're streaming spotify from a computer in your office but want to change the track while you're in the kitchen.
Note: you need to have Spotify Premium (AKA a paid subscription) to integrate with the Soundtouch app.
The Sonos family of speakers also offer great support for Spotify as a whole-home music system. Sonos speakers use your home's existing Wi-Fi to create the SonosNet, an independent wireless network through which Sonos speakers communicate and share audio.
The Sonos Controller app integrates with Spotify so you can add music and create playlists, and also control which music is played in which rooms. You can control Sonos with the physical buttons on each Sonos device, so you can navigate through tracks even if your device is in a different room than the speaker.
Note: you need to have Spotify Premium (AKA paid subscription) to integrate with the Soundtouch app.
Spotify in your home
Depending on how immersive of a system you want to create, you have a lot of options for enjoying Spotify. If you want a cost-effective system and only need to stream in one room of your home, there are a lot of inexpensive Bluetooth speaker options.
If you want to connect every room in your home and control it all from an app on your phone, consider starting with one or two Sonos speakers and adding new ones as you'd like to expand.
Upgrading to Spotify Premium will give you the most control over your music if you're looking for an integrated whole-home audio experience; however, if you're primarily planning on controlling your music with Spotify on your phone, and you keep your phone in your pocket most of the time anyway, you may find you don't need to pay for the upgrade.
To figure out whether or not Spotify works for your whole-home music needs, start out by testing the basic version of Spotify on your audio system, then sign up for a free Spotify Premium Trial. Let us know which works best for your home audio, and make sure to tell us which speakers you're using!
Master your iPhone in minutes
iMore offers spot-on advice and guidance from our team of experts, with decades of Apple device experience to lean on. Learn more with iMore!
"Siri, write a really funny bio for me to use for Mobile Nations" "Okay, Drew, here's your really funny bio: How-to writer, fiddle player, retro gamer."