How to download Bitdefender on Mac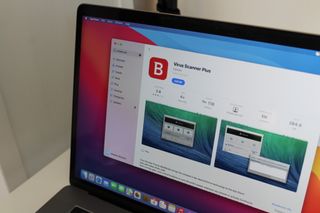 (Image credit: Stephen Warwick / iMore)
If you're looking to protect your computer with one of the best antivirus software for Mac solutions, Bitdefender is one of the best apps out there and it's available in two different ways — one free and one for only $20 for one device or $30 if you'd prefer to protect up to three devices.
Read on while we guide you through what you need to do to download either version of Bitdefender.
What's the difference between Bitdefender Virus Scanner and Bitdefender Antivirus for Mac?
Bitdefender Virus Scanner is the free alternative from Bitdefender. You can use it to scan your entire system or opt to target specific files that you think could be an issue. The antivirus software spots Mac malware as well as Windows viruses and other threats and it does so quickly thanks to Bitdefender virus signatures being updated every hour. If it spots a dangerous file, it's simple to quarantine it via the app so it can't damage any of your other files.
Bitdefender Antivirus for Mac offers all those features and more too. Besides the extensive virus scanning functionality, it also provides adware blocking and removal, a VPN so you can browse anonymously and securely, along with protection for all your browsing, and Time Machine protection too in case you suffer from a ransomware attack.
Both apps are good solutions. It mostly comes down to how much additional protection you want as to which one is right for you.
Here's how to download both versions of Bitdefender.
How to download Bitdefender Virus Scanner for Mac
Looking to use the free version of the Bitdefender Virus Scanner? Here's how to download it and begin using it.
First, go to Bitdefender's site

(opens in new tab)

for Virus Scanner for Mac.
Click Free Download.
Wait for the App Store to open.
Click Get.
Wait for the app to finish downloading.
Click Open to open the app.
Check the box to confirm you have read and agree with the Terms of Use, then click Continue.
Click Scan Critical Locations for a quick overview of any potential issues or click Deep System Scan for a full virus check.
How to download Bitdefender Antivirus for Mac
If you'd prefer the benefits of Bitdefender Antivirus for Mac and are willing to pay for it, here's how to download and use it.
First, go to Bitdefender's site

(opens in new tab)

for Antivirus for Mac.
Choose how many devices you wish to protect and for how long.
Click Buy Now.
Click Billing and Payment Details.
Enter your payment details and click Confirm Order.
Check your email and click Sign up free to create a login and activate your license.
Click Use it on a device.
Click This device if this is the device you wish to use it with or Other devices if not.
Open the download file and follow on-screen instructions to install the app.
Follow the instructions to allow full disk access.
Perform a quick scan by clicking Start Scan to check you're protected.
Once either software is installed, make sure to update it regularly and run regular system checks to ensure you're virus and malware-free.
Get the best of iMore in your inbox, every day!