How to download watchOS 4.3.2 beta 3 to your Apple Watch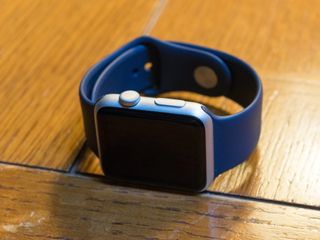 There's yet to be a public beta for watchOS the way there has been for iOS and macOS, and that's okay — the process of installing the software is more complicated, and really meant for developers only. You need to install a certificate on your Apple Watch, then download the software to your iPhone running iOS 11.4.1 beta, transfer it across, and get it up and running. It's not hard, but it does take patience and you may have to troubleshoot.
How to install the watchOS 4.3.2 beta certificate
Note: Make sure you're running the developer beta for iOS 11.4.1 on your iPhone before trying to install watchOS 4.3.2.
Log into developer.apple.com

(opens in new tab)

on the iPhone paired with your Apple Watch.
Go to the watchOS 4.3.2 download page

(opens in new tab)

.
Tap on Download watchOS 4.3.2 beta Configuration Profile.
Tap on Apple Watch from the Choose a Device popup.
Tap on Install begin.
Enter your Passcode
Tap on Install to confirm.
Tap on Restart to reboot your Apple Watch.
Once your Apple Watch has rebooted the installation process goes back to normal.
How to install watchOS 4.3.2 on your Apple Watch
The certificate is what tells the Watch app on your iPhone that watchOS 4.3.2 is available. Once the Watch app detects it, the process for installing it is the same as any other watchOS update, detailed below. (If the beta doesn't show up, reboot again.)
Connect your iPhone to Wi-Fi and launch the Apple Watch app.
Tap on the My Watch tab.
Tap on General.
Tap on Software Update.
Tap on Download and Install.
Enter your iPhone Passcode.
Tap Agree to the Terms and Conditions.
Make sure your Apple Watch is charged to at least 50% and connect it to the magnetic charger.
Tap Install on your iPhone and/or your Apple Watch.
The Watch OS update will download and transfer to your Apple Watch and Apple Watch will reboot to apply the update. You can follow the progress on the Apple Watch screen, and once it's done, you'll be all set.
If the watchOS 4.3.2 update fails at the verification stage, try again. If it fails repeatedly, un-pair and re-pair your Apple Watch and try again. (That un-pairing and re-pairing process takes a while so make sure verification really isn't working for you before you go through it.)
How to downgrade watchOS
Instructions for reverting back to watchOS are behind the developer center log in, so we can't replicate them here. Suffice it to say you can't do it on your own. Your Watch will have to go back to Apple. That alone should give anyone who doesn't absolutely need the developer beta pause to reconsider installing it in the first place.
For developers who, for whatever reason, really do need to revert, you can find instructions for contacting Apple at the bottom of this document:
Update June 26, 2018: Apple has just released watchOS 4.3.2 beta 2 for developers. If you already have a previous watchOS 4 beta installed, proceed to the Watch app on your iPhone running iOS 11 and download away. If you were waiting to begin watchOS testing with version 4.3.2, now's the time to download and get started.
Get the best of iMore in in your inbox, every day!
Joseph Keller is the former Editor in Chief of iMore. An Apple user for almost 20 years, he spends his time learning the ins and outs of iOS and macOS, always finding ways of getting the most out of his iPhone, iPad, Apple Watch, and Mac.
So not much on the watch faces. Only stuff for children really.

The only reason I want the new update right now is the Toy Story faces lol, Pixar is not just for children. It does appear though that Apple missed my 100 some odd radars asking for a fuzzy clock face.

My Toy Story watch faces won't show it's just a black screen any options on what to do ??

Don't do it! The new OS ruined the watch for me. I can no longer see the playlists on my phone and control them on my watch. It was the ONLY reason I purchased the watch! The new "now playing" function is not the same. I can't see the playlist and choose a song. As a dance instructor this is crucial. How could they eliminate a vital function with no warning! Now I have no reason to own this watch. Nor do any of the other instructors have any reason to purchase one. I want to scream! This will really effect my ability as an instructor!

I feel the same exact way. I use this everyday of the year in my gym classes to pick different songs that pair with our class activities. Totally gone. They need it back because I just dropped all this money on the new watch and still have to wear my series 1 all day at work.

Good news on the horizon! Like you, I was ticked off when they ripped this feature out of my Series 2 (basically to try to force us into a Series 3 w/ cellular). Just saw today that Watch OS4.3 Beta 1 RESTORES the Watch's ability to access and control the music on your iPhone! I want "new" features as much as the next person, but I'll gladly take back what we previously had taken from us.

I hope Nike update their app. It's probably the worst app I use, always freezing, sometimes crashing, and sometimes not recording my route. I bought the Nike+ watch, but now realise I could have just bought the ordinary version, and used the superior Apple exercise app.

Keep getting the Could Not Connect to Apple Watch dialog box. Suggestions? Anyone else experiencing this?

Found the answer: Install the watch profile on the iPhone as well as the Watch and the iPhone will connect with your paired watch. Cool beans.

I never end up installing the Watch betas, it ends up being too much faff, heck even the normal public updates are sometimes difficult to install. Maybe I will when they start handling them solely through the Watch
Thank you for signing up to iMore. You will receive a verification email shortly.
There was a problem. Please refresh the page and try again.