How to exchange or repair your Apple product if you don't have an Apple store near you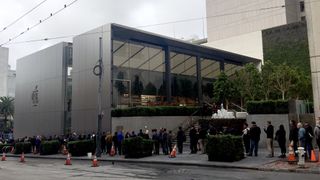 In some countries, cities, and towns, there are no Apple stores. I know. What fresh hell is that? Many, however, have authorized resellers, but these resellers often can't perform the same services Apple can. For example, exchanging a defective device may not be possible through a reseller, or if you need a repair, you might have to send it to an authorized repair center.
If that sounds like your case, then here's what you can do to exchange, repair, or return your Apple product.
How to exchange your product
Let's get this out of the way first: The only way to exchange your Apple product is to do so in-store, whether that's at an Apple store or at the authorized reseller you bought from. Whether or not you can exchange via the reseller is completely dependent on that reseller's policies, which are totally separate from Apple's.
How to return your Apple product for refund if you ordered online through Apple
In order to return something you ordered online through Apple, you'll have to ship it back to Apple directly, but if you follow the online instructions, it's not too difficult. You have 14 days from the day you received the item to return it for a refund.
Sign into Apple's online Order Status.
View your most recent order.
Click the Return Items link.
Select the item(s) you want to return.
Click Continue.
Verify the item you're returning and your address on the prepaid return label.
Print the label and any hazmat labels.
Be sure to affix your labels to the same panel on your box and print out multiple labels if you're sending multiple boxes. Depending on the carrier, you can schedule a pickup or drop it off at that any of that carrier's locations.
How to return/repair your Apple product if you bought it from an authorized reseller
Authorized resellers have their own return and refund policies, and may even have authorized services centers, so you have to abide by those. However, if you have a legitimate need to return the item and the reseller won't take it back (because it's open, used, whatever), then you can return it to Apple directly in some cases.
First, you can try contacting Apple within 14 days of your purchase. Email Apple at AC_RightofReturn@apple.com to request the return. The customer service will tell you what you need to do from there.
Make sure to include the following information:
That you purchased the product from an authorized reseller in the U.S. or Canada and it refused to accept the return
The reseller's name and address, the product and version you bought, the purchase price, and a receipt
Make sure the name on the receipt matches the name on the return
The completed Return and Affidavit form
Be sure to get tracking for the item and to insure it or declare the full value; otherwise, you're liable for any loss or damage during shipping.
If you're looking to get your product repaired, use your AppleCare+ first. The ways to contact AppleCare and to send them your product will be outlined in your policy.
If you don't have AppleCare+, you can search for authorized service centers in your area. Oftentimes, authorized resellers are also authorized service centers.
Find Apple authorized service centers
If you live outside the U.S. or Canada and bought from a reseller, your best course of action is to contact Apple directly, either via email, online chat, or by phone. The ways in which you can contact Apple will vary based on your region, so use Apple's support site to select your region in order to get the help you need.
Because Apple lets authorized resellers set their own return and refund policies, your reseller may not let you return your product for a number of reasons. So your best bet in that case is always to contact Apple directly. In some cases, you will have to resort to using the standard warranty that comes with all Apple products; otherwise, you'll need to resort to the methods outlined in your AppleCare+ policy.
You can also try to find an authorized Apple service center if the reseller you bought from does not also operate as an authorized service center.
Find Apple authorized service centre
If all else fails, you can attempt to make the repair yourself. Depending on the repair needed, you may be able to find YouTube tutorials or Reddit threads outlining the repair process. This is only for the experienced and will definitely result in a voided warranty if you're still within the warranty period. Always contact Apple first.
Master your iPhone in minutes
iMore offers spot-on advice and guidance from our team of experts, with decades of Apple device experience to lean on. Learn more with iMore!
Mick is a staff writer who's as frugal as they come, so he always does extensive research (much to the exhaustion of his wife) before making a purchase. If it's not worth the price, Mick ain't buying.