How to find out what time it is anywhere in the world with Siri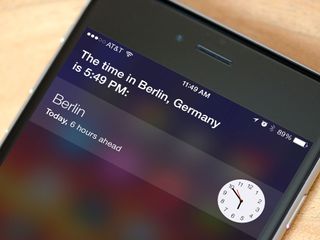 Time zones can be confusing. While the Clock app for iPhone and iPad lets you add all the locations you want to monitor current times, it's way easier to just ask Siri. As long as you know the location, Siri can tell you the current time and how far ahead or behind they are from your current location.
How to check times in other parts of the world with Siri
Press and hold your Home button to activate Siri.
Say something like "What time is it in Berlin, Germany?" — just substitute the location you want to know about.
Siri will quickly tell you what the local time and how much of a different it is from your current location.
iMore senior editor from 2011 to 2015.
I survived the story that should have been an email!

I survived the comment that should have gone un-typed.

I have a family member that goes to Guam and other locations that siri can't find.

Okay Google... What time is it in Guam? Posted via the Android iMore App!
Thank you for signing up to iMore. You will receive a verification email shortly.
There was a problem. Please refresh the page and try again.