How to look up sports scores and schedules, team rosters, and player stats using Siri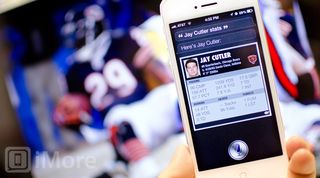 Complete guide to Siri commands for sports
Siri has become a full blown sports fan with iOS 6. Whether you're on the road and desperate for the latest news, or at a bar and just as desperate to win a bet, Siri now has you covered. From current game scores to upcoming schedules, player stats to team rosters and standings, you can query and compare to your soccer, football, baseball, and hockey from the following leagues:
Soccer: Italian Seria A, English Premier League, Dutch Eredivisie, Major League Soccer, French Ligue 1, Spanish La Liga, and German Bundesliga
Baseball: Major League Baseball
Football: NCAA Football, NFL
Basketball: NCAA Basketball, NBA, WNBA
Hockey: NHL
How to look up current scores and game information with Siri
Siri makes it easy to keep up with games or to check in on a score for a game you may have missed. By default Siri will pull the score for the game currently going on or the last game a certain team played.
Press and hold down the Home button to activate Siri.
Ask Siri for the score to a game. For example: "What's the score for the Chicago Bears game?" or "What was the score for last night's Chicago Bears game?"
How to look up game schedules with Siri
Siri can give you a list of scheduled games if you just ask her for them. While some sports may show a few upcoming games, many sports, like football, will only show the next upcoming game for either a league or specific team.
Press and hold down the Home button to activate Siri.
Ask Siri for a team schedule. For example: "When do the Chicago bears play next?" or "Tell me when the next Chicago Bears game is" or "When is the next NFL game scheduled for?"
How to look up player statistics with Siri
If you're interested in who's playing and how well, Siri can tell you that too. Siri can even compare multiple players for you.
Press and hold down the Home button to activate Siri.
Ask Siri for specific player stats, or comparison. For example: "Does Matt Ryan or Jay Cutler have more touchdowns?" or "Show me stats for Jay Cutler."
How to look up league standings with Siri
Press and hold down the Home button to activate Siri.
Ask Siri about the league you want rankings for. For example: "Show me current NFL standings." or "Show me the standings for the MLB."
How to get more help with Siri
If you still need help with setting up or using Siri with your iPhone Contacts, or any other Siri feature, head on over to our Siri Forum and ask away!
Get the best of iMore in in your inbox, every day!
iMore senior editor from 2011 to 2015.
"Siri - who is the most overrated and overpaid MLB player?" "Easy question. A-Rod. $137.5 million over the 5 years remaining on his contract."

i tried this the day i installed ios 6 and had issues. I was looking for Champions League Soccer scores. Didn't get them. I think it struggles with club names and nicknames. It simply didn't find a game or a score.

I don't think it works with Champions League. Just scores from the countries top league. (Premier League, La Liga, Serie A etc...)

Must have asked for loser, that's how Cutler came up!!!

You must be thinking about the loser announcers who follow him on the sidelines every game. Some records Siri didn't show - Jay is 5-1 on MNF, 5-1 against the Lions (Monday night foes) and more impressive Jay Cutler is 9-1 in his last 10 starts, the highest winning percentage (.900) by an NFL starting QB during that time.
Thank you for signing up to iMore. You will receive a verification email shortly.
There was a problem. Please refresh the page and try again.