How to fix the message app crash bug on iPhone and iPad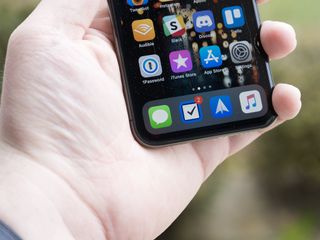 (Image credit: Joseph Keller/iMore)
There's a nasty exploit in early versions of iOS 11 that can cause an iPhone or iPad to crash when sent a specific character from the Telugu language of India in Messages or several popular third-party apps like WhatsApp, Outlook, and Facebook Messenger. This bug not only causes a Springboard crash (reboots your Home screen), but prevents you from opening the app that received a message with that character again because the app is continually trying to load the message.
The good news is that you're not helpless when dealing with this bug.
Update your operating system
Apple has a software update to fix this issue: You'll just need to update your phone to iOS 11.2.6 and later.
How to download the latest version of iOS
How to fix the Telugu character bug on iPhone and iPad
If you've been struck by this bug and can't update your phone for whatever reason, you can still fix it by having a friend send you a sort of "rescue message" in a different thread and tapping on that notification.
Tap on the notification for the "rescue message" you received.
Hit the back button in your messaging app to get back to your list of chat threads.
Delete the thread we the Telugu character in it.
This should fix the problem. If you're trying to fix this bug in a third-party app on your iPhone or iPad, you can also just uninstall the app, then reinstall it. After doing that, delete the offending thread when it appears in your list of conversations.
Questions
If you've got any questions about fixing the Telugu character bug, let us know in the comments.
Get the best of iMore in your inbox, every day!
Joseph Keller is the former Editor in Chief of iMore. An Apple user for almost 20 years, he spends his time learning the ins and outs of iOS and macOS, always finding ways of getting the most out of his iPhone, iPad, Apple Watch, and Mac.
What if the phone is stuck in a boot loop from receiving it in an email? Is there a way to fix that?

Hitting the back arrow closes iMessage. So basically the fix doesn't work. The mac iMessage app is also crashing constantly. So I am out of luck. However it was me who tried sending the text with the character to my friend..

Did you find a solution to your problem? I have faced the same issue. Its stuck in a boot loop.

My Apple Watch keeps on rebooting how do I get it to work

Enable DND on your iPhone and make sure it's set to mirror on your watch.

This always cracks me up... Too funny

Bugs happen, at least when Apple puts the update out, it's available for all supported iOS devices.

My iPhone wont allow me to even enter to the main screen, it keeps loading or with the White screen, it can receive calls and allows me to set it as lost, but when I stop lost mode and try to enter my code it loops again on loading.

You fix it by spam hitting the iMessage button. If your friends send you messages those will end up higher so if you hit the right one you will have opened messages. Now you press back to go to list of messages but it might close after a few seconds once you hit it so you have to quickly find it and delete it. That's how I did it. Just keep spamming messages I have mine near the top so it wasn't too hard.

That's not a fix,
My phone is stuck on Apple logo,
Apple has lost its honesty and quality
This would never happen before 5-10 years

Just update to iOS 11.2.6 http://www.iphonemode.com/apple-releases-emergency-fix-ios-messaging-bug/
it's now fixed

My phone is stuck on Apple logo and it vibrates as if it were to show the main screen as in a normal situation but then nothing happens and it keeps showing the f*cking logo. I can't update to the new ios version or do anything from there...

hey i am haaving the same problem and everybody is telling me that the only solution is to reaformat.....