How to get fast Windows 10 Insider Preview builds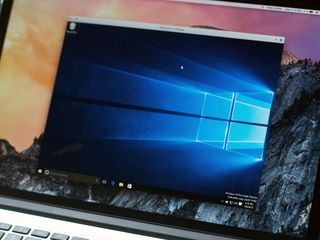 I must say that I really like what Microsoft is doing with Windows 10. It's already pretty solid, and it gets better with each build. I've been running a virtual machine with Microsoft's Windows 10 Insider Preview for months. By "virtual machine" I mean it's running inside Parallels Desktop (opens in new tab).
Parallels and VMware (with its Fusion (opens in new tab) software) both make commercial software that enables you to run Windows at the same time as you're running OS X, so you don't have to do the reboot and partition-change shuffle forced by Boot Camp, Apple's own method of installing Windows on Macs.
Anyway, Microsoft periodically updates Windows 10 Insider Preview with new builds, and mine weren't coming. I'd check Windows Update in Settings periodically but it didn't find them.
I turned to Twitter for help and a helpful reader pointed out to me that under Advanced options, you can specify fast or slow Insider builds. Turns out I was on the slow track. I changed it to Fast, restarted Windows, and checked for updates. The latest build came through right away!
Running the latest "fast" build means you're opening yourself up to more potential problems because the code hasn't been tested as thoroughly, but if you want to see what everyone else is using, this is the best way.
How to change to the fast track for Windows Insider preview builds
Click the Start menu.
Click Settings.


Click Updates & Security.
With Windows Update selected, click on Advanced options.


Under "Choose how you get Insider builds," change it from "Slow" to "Fast."
Click the X in the upper right to close the Settings window after making the change.


Again, I had to quit Windows and restart my virtual machine in Parallels Desktop before it'd work right, but once I did it was all set.
Get the best of iMore in your inbox, every day!
What happens when windows 10 is officially released? Will we have to pay and if yes how much? Sent from the iMore App

You will have to pay yes, unless they keep the preview going then I guess one could use that. Also, from a quick Google Microsoft has released its official operating system prices and confirmed that Windows 10 Pro would sell at $199 and Windows 10 Home would cost $119. After running the system and the user needs to upgrade from the Home edition to the Pro edition, customers will be shelling out$99 to upgrade to Windows 10 Pro pack. Don't know if you get the free upgrade if you're running Windows 7 or 8 on a Mac, but if not that's the prices for the licences. Posted via the iMore App for Android

As long as you are running an activated copy of Windows 7 or Windows 8.1 (not Windows 8), you are eligible for a free upgrade to Windows 10 as long as you do so within the first year of its availability. It shouldn't matter if you're running it in a VM or not. If you have an older version of Windows or no version at all, you can become a member of the Insider Preview program, install a beta build of Windows 10, and keep that copy of Windows installed for no cost at all. As long as you keep it updated, it won't expire. The catch is that you will never get to be on a stable build- it really is meant to be a beta testing program for future Windows updates. So as long as you're okay running a beta version of Windows in perpetuity, you can theoretically get Windows for free using this method. Technically Microsoft doesn't permit that, but they're also not likely to do anything to stop you. Sent from the iMore App

Windows 8 upgrades to 8.1 for free, it'll just push you to that and then 10. Easier to say the base version since it still works. Posted via the iMore App for Android

Version 10130 has been fairly stable on my older SSD setup for EFI (MTP format) I really only screw around and play GTAV, but that runs better than on my 8.1 SSD (Not EFI; didn't know what I was doing at the time, no point in reinstalling now). I have had some issues with the start menu, the store, and Metro apps, but at least file Explorer doesn't crash a few times a week like 8.1... But I have some programs like SVN, GIT, AutoCAD, etc that add contextual menu plugins... Likely the culprits.
I haven't really screwed around with Kortana, but I like that the metro apps can run in regular floating resizable windows. The are also supposed to be major improvements with domain / share point authentication, helps me out with work. Sent from the iMore App

I've been running the latest fast ring build 10166 and i have to say it runs faster on my macbook pro than Yosemite does. It has been a very stable build for me. I was testing El Capitan and it seems faster than Yosemite so that is good, but i can't use it right now because bootcamp doesn't work :/

I've been running this on the free VM software VirtualBox. Works well, but it is a little bit sluggish. Can't blame Windows for that...