How to get your Mac ready to upgrade to Yosemite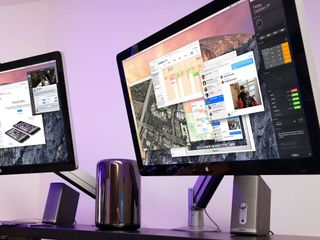 OS X Yosemite is now available for download. Before you pull the trigger on the upgrade, you should probably make sure that you're ready for it. I've jumped the gun enough times to know where the big landmines are, so learn from my mistakes and read on for details.
Make sure your Mac can run it
If your Mac is already running OS X Mavericks, chances are you're not going to have any trouble running Yosemite. You may not get all the same features as everyone else — some of Yosemite's Handoff features depend on having a later-model machine, for example — but you can still run it to get the benefit of the new Yosemite interface and many other under-the-hood improvements.
Here's Apple's official list of supported Mac models for Yosemite:
iMac (Mid 2007 or newer)
MacBook (Late 2008 Aluminum, or Early 2009 or newer)
MacBook Pro (Mid/Late 2007 or newer)
MacBook Air (Late 2008 or newer)
Mac mini (Early 2009 or newer)
Mac Pro (Early 2008 or newer)
Xserve (Early 2009)
If you have an older Mac, make sure you can live with limitations
Yosemite introduces some really cool technology that we've been reading about for months, that people are really excited to try out: Handoff features and Instant Hotspot tethering, for example.
But some of these new features don't work on every Mac that can run Yosemite. So you need to calibrate your expectations accordingly; if you're running older hardware, you may have to brace for a bit of disappointment. According to Apple, here are the Mac models that support Handoff and Instant Hotspot features:
MacBook Air (2012 or newer)
MacBook Pro (2012 or newer)
iMac (2012 or newer)
Mac mini (2012 or newer)
Mac Pro (Late 2013)
AirDrop between Macs and iOS devices has the same restriction, too. Mac to Mac AirDrop will continue to work in Yosemite, the same way it has before, but if you want Mac to iOS AirDrop or vice versa, you'll need to have one of those newer Macs.
(All these caveats and restrictions are due to the Bluetooth controllers used in each Mac model.)
Check with application developers for Yosemite upgrades before you upgrade
Developers have had months to get ready for Yosemite, and many developers have pushed out Yosemite updates just since Yosemite launched. but that doesn't mean everyone is good to go on day one. I'd strongly encourage you to check with the developers of the software you rely on the most to make sure that the apps you use are all ready to go for Yosemite.
If they are, then great. If not, you'll either need to find substitutes or you'll need to go without until they get their act together.
Back up your Mac
Before you do anything else, back up your Mac. Whether you use Time Machine, clone your hard drive, use an Internet-based backup service, or just copy stuff off to a flash drive or external hard disk isn't important. What is important is that you have a secure, reliable way to recover and restore files that don't make it through the transition.
Ideally you should be backing up regularly anyway. But doing something as significant as a new operating system install on your Mac without making sure your files are safe? That's sheer madness. Don't do it.
Make sure you have enough space
You're going to need about 5.1 GB of space to download Yosemite, and Apple says you'll need about 8 GB of space to run it. So plan accordingly, and back up or move files to another volume if you need to free up hard drive space to manage the download and install.
Need to check space? The easiest way to do it in Mavericks is the following:
To check available hard drive space
Select the  menu.
Select About this Mac.
Click the Storage tab.
OS X will show you how much of your hard drive is being used.
The bottom line
Yosemite is here, and if you've taken the steps to make sure your Mac's data is secure and you're going to get the most out of the software you can, then feel free to step up to the plate. Welcome to the future!
And at the risk of completely contradicting myself, here's a cautionary warning for anyone who hasn't thought this upgrade through:
Planning to upgrade to OS X Yosemite? Wait!
If you run into any problems or you have any other questions, let me know in the comments.
Master your iPhone in minutes
iMore offers spot-on advice and guidance from our team of experts, with decades of Apple device experience to lean on. Learn more with iMore!