How to get your Mac ready to upgrade to Yosemite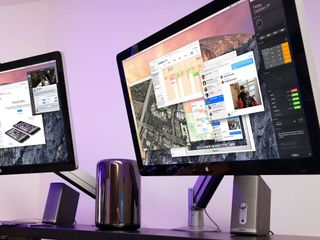 OS X Yosemite is now available for download. Before you pull the trigger on the upgrade, you should probably make sure that you're ready for it. I've jumped the gun enough times to know where the big landmines are, so learn from my mistakes and read on for details.
Make sure your Mac can run it
If your Mac is already running OS X Mavericks, chances are you're not going to have any trouble running Yosemite. You may not get all the same features as everyone else — some of Yosemite's Handoff features depend on having a later-model machine, for example — but you can still run it to get the benefit of the new Yosemite interface and many other under-the-hood improvements.
Here's Apple's official list of supported Mac models for Yosemite:
iMac (Mid 2007 or newer)
MacBook (Late 2008 Aluminum, or Early 2009 or newer)
MacBook Pro (Mid/Late 2007 or newer)
MacBook Air (Late 2008 or newer)
Mac mini (Early 2009 or newer)
Mac Pro (Early 2008 or newer)
Xserve (Early 2009)
If you have an older Mac, make sure you can live with limitations
Yosemite introduces some really cool technology that we've been reading about for months, that people are really excited to try out: Handoff features and Instant Hotspot tethering, for example.
But some of these new features don't work on every Mac that can run Yosemite. So you need to calibrate your expectations accordingly; if you're running older hardware, you may have to brace for a bit of disappointment. According to Apple, here are the Mac models that support Handoff and Instant Hotspot features:
MacBook Air (2012 or newer)
MacBook Pro (2012 or newer)
iMac (2012 or newer)
Mac mini (2012 or newer)
Mac Pro (Late 2013)
AirDrop between Macs and iOS devices has the same restriction, too. Mac to Mac AirDrop will continue to work in Yosemite, the same way it has before, but if you want Mac to iOS AirDrop or vice versa, you'll need to have one of those newer Macs.
(All these caveats and restrictions are due to the Bluetooth controllers used in each Mac model.)
Check with application developers for Yosemite upgrades before you upgrade
Developers have had months to get ready for Yosemite, and many developers have pushed out Yosemite updates just since Yosemite launched. but that doesn't mean everyone is good to go on day one. I'd strongly encourage you to check with the developers of the software you rely on the most to make sure that the apps you use are all ready to go for Yosemite.
If they are, then great. If not, you'll either need to find substitutes or you'll need to go without until they get their act together.
Back up your Mac
Before you do anything else, back up your Mac. Whether you use Time Machine, clone your hard drive, use an Internet-based backup service, or just copy stuff off to a flash drive or external hard disk isn't important. What is important is that you have a secure, reliable way to recover and restore files that don't make it through the transition.
Ideally you should be backing up regularly anyway. But doing something as significant as a new operating system install on your Mac without making sure your files are safe? That's sheer madness. Don't do it.
Make sure you have enough space
You're going to need about 5.1 GB of space to download Yosemite, and Apple says you'll need about 8 GB of space to run it. So plan accordingly, and back up or move files to another volume if you need to free up hard drive space to manage the download and install.
Need to check space? The easiest way to do it in Mavericks is the following:
To check available hard drive space
Select the  menu.
Select About this Mac.
Click the Storage tab.
OS X will show you how much of your hard drive is being used.
The bottom line
Yosemite is here, and if you've taken the steps to make sure your Mac's data is secure and you're going to get the most out of the software you can, then feel free to step up to the plate. Welcome to the future!
And at the risk of completely contradicting myself, here's a cautionary warning for anyone who hasn't thought this upgrade through:
Planning to upgrade to OS X Yosemite? Wait!
If you run into any problems or you have any other questions, let me know in the comments.
Get the best of iMore in in your inbox, every day!
Thanks for the info! Is it better to do a clean install and to put the files back on your Mac after the update?

Clean Installs are better over all, but they can introduce problems too, since you have to reinstall software and extensions to get everything the way that it was. What I usually suggest is to just go ahead and do the upgrade, but if you get a lot of really unexpected, weird problems, a clean install is usually the best next step.

I would also recommend using roaringapps.com to check compatibility of your apps. The list is user submitted but a pretty good point of reference for those looking to upgrade to Yosemite.

Well there goes that upgrade plan...Handoff won't work on this machine.

Got a 2012 Mini, and yikes is Yosemite slow. Was slow already, and the upgrade is so far, um, problematic.

What are the current specs on your Mac Mini (2012)?

Are you sure Airdrop doesn't work with iOS 8 and pre-2012 Macs? Sent from the iMore App

With 3rd party apps, I found that my VPN app would crash when I tried to open it. Their website had stated that the app was Yosemite ready and I'm sure that it had been updated recently. A quick download and reinstallation has solved this now.

My upgrade process did take a long time, however I found out why. I use Homebrew on the Mac and the /usr/local directory path which is populated with apps from homebrew takes a longer time to copy. This results in a lengthy install process, it will get there but it can be tedious. There are way around it https://jimlindley.com/blog/yosemite-upgrade-homebrew-tips/ Thanks for the tips Peter, your workstation setup looks impressive.

Thanks! I wish that were mine, though. IIRC, it's Kevin Michaluk's. :)

Absolutely gorgeous! I'm thinking about getting some ambient LED lights myself, but I have to take care of some cable management first.

Clean install was definitely the way to go on this one. I bought a new MacBook Pro last year and reloaded it from a back up from my old Mac. This year is major wow on the speed and the amount of junk it cleaned out with the clean install. I got back over 100GB of drive space running all the same stuff.

I definitely should've done a clean install. Lol I ended up finally sitting down and deleting and removing apps that I haven't used in a year AFTER the fact.

WIsh I had seen this article BEFORE I upgraded:) I have had to clear out old programs that I don't use to make more room and it is working faster now, but I still can't get Excel (xls and xlsx) to open. Any suggestions?

On an iMac 27 inch model and no network connections work after updating to Yosemite

I'm really happy with Mavericks so I'm going to get more popcorn and watch from the sidelines for a few more days...keep comments coming. Thanks to all for sharing your experiences.

Yosemite is good :) so far no major problems... I've had problems with inky ( an email app) crashing here and there, but other than that no severe issues.... I'm really enjoying the sms feature on my imac. So glad I can now send messages to people in my contacts with non apple products.
Thank you for signing up to iMore. You will receive a verification email shortly.
There was a problem. Please refresh the page and try again.