How to have a remote Halloween party 2020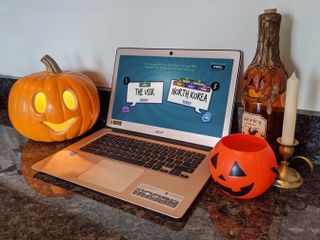 (Image credit: Rebecca Spear / iMore)
October 31, 2020 is probably going to be the weirdest Halloween for many of us since we are all still isolating in our homes instead of getting together to celebrate. Fortunately, we're living in a time where you can still host a virtual party and play hilarious games with all of your family and friends while safely nestled in your own homes this Hallow's Eve. Here are our best picks for Halloween games as well as a brief description of how to play them.
Jackbox Party Pack
What you need
The host needs a Jackbox Party Pack downloaded on their computer
Each additional player needs a smartphone & access to a computer screen
What is it?
Each of the Jackbox Party Packs include a bundle of various games that you can play remotely with others as long as everyone playing has a computer and a smartphone handy. The games might have you use your phone to draw something for a Pictionary-esque game or answer a question for trivia games before putting everyone's contributions on screen for everyone to see.
Every time I've hosted a Jackbox Party, my friends and I have cried from laughing so hard. I highly recommend the original Jackbox Party Pack, Jackbox Party Pack 3 and Jackbox Party Pack 5 as I think these bundles include the best games.
To give an example, Jackbox Party 3 and Jackbox Party 5's Trivia Murder Party is kind of like a hilarious version of Saw. Each player gets represented by a doll. Then the game asks players trivia or gives a challenge for them to complete. Players use their phones to interact with the game. If you fail the challenge or answer a question incorrectly, your doll dies and becomes a ghost.
In the final round, players race to be the first ones to escape the torture room. Each time you answer a question correctly you make your way closer to the door. If you've previously died, this is your chance to steal someone else's body and make it out alive. This is a hilarious "horror" game that's sure to get your group hooting and howling in laughter.
How do you play?
Jackbox Party Packs allow you and your friends to interact with a game using your smartphone. One person purchases the game and then jumps on a Google Hangouts or Zoom meeting on a computer while sharing their screen for everyone else to see. The game instructs everyone playing to go to jackbox.tv on their phones and then everyone needs to enter a special room code to enter the party room. Then you and your friends are ready to start playing.
Among Us
What you need
Each player needs a PC or smartphone with Among Us installed on it
What is it?
It's a popular online multiplayer social deduction game somewhat similar to Avalon or Werewolf. Up to 10 players take on the role of explorers trying to repair their spaceship within a time limit. However, one of you is an imposter out to kill the entire crew without getting caught.
If a player discovers a dead body, they can report it and then everyone immediately gets to vote on who they think the killer is. If everyone guesses correctly, the imposter is launched into space and everyone else wins. However, if everyone votes on the wrong person, that innocent is launched into the stars and the game continues on.
How to play
Among Us offers crossplay, meaning that as long as you have a PC, Android phone, or iPhone that's compatible with the game you can all play together on your preferred device.
If you need help setting up this game, check out our how to play Among Us guide.
Roll20
What you need
A free account at roll20.net
Each player needs access to a computer screen
What is it?
Roll20 is a program that lets you play tabletop games online. It provides a dice roller that can be used not just for Dungeons & Dragons, Pathfinder, and other games that rely on d20s but for pretty much all major TTRPGs. You can also use it to create maps for tactical combats, share pictures of characters or monsters, send secret notes, and keep track of character sheets and other information you need to play or run a game.
While all of these features are available for free, plenty of games publishers sell modules through Roll20 that make it easier to run games since you'll have access to custom art, maps, and other tools. If you're looking for something to get your players in a Halloween mood, I recommend the D&D adventure Curse of Strahd, where players face the machinations of a vampire lord, or running a cosmic horror game with Call of Cthulhu. If you're new to GMing or just don't have much time to prepare, you can opt for Kids on Bikes, which has pretty simple rules and relies on collobarative storytelling to build a mystery in the spirit of Stranger Things.
How to play
Rules vary based on the game, so if you're going for something more complex, you should make sure all your players take a look at the rules before they sit down for the gathering. The game master will need to create the game and send invitations to everyone to join it though their own computers. Roll20 has a voice chat function but it's not especially stable so I recommend using Discord or Skype to talk and ideally share video so you can see everyone's faces when a bad roll puts a player in mortal danger.
Have a tabletop Zoom party
What you need
Every household needs a computer or phone with access to the internet
Every household needs the same tabletop game
Phone tripod stand (Optional)
How to play
Of course, you can go a little more old school and actually play a physical tabletop game together. This requires that everyone you play with already has the game in their homes and then you just hop into a Zoom meeting or Google Hangout and play together. Plus, this set up allows you to all get dressed up and show off your costumes.
If you've got a spare phone handy, you can use a tripod to angle the camera at the board and then have that camera feed be the main sceen on your online hangout. I personally love using the Ubeesize Cell Phone Tripod. For instance, in a game like Yahtzee, everyone can roll at home and then the host can keep track of the score sheet and even have a phone pointed at it so everyone on the Zoom call can see how the game is going.
In this set up, it's also possible for everyone to play certain games off of the host's board without requiring everyone else to have the game in their homes. Hosts will need to pull and read cards for their guests or might need to read questions and answers for everyone. Additionally, you might have to get a little creative or apply some adapted house rules while playing this way, but it can definitely be done and provide plenty of fun for everyone.
Here are some aweome games that work well in this scenario.
Halloween Party ideas
Even though we can't physically get together this Halloween, you can still host an exciting Halloween party online. Have fun during this spooky time of year and stay safe!
Master your iPhone in minutes
iMore offers spot-on advice and guidance from our team of experts, with decades of Apple device experience to lean on. Learn more with iMore!
Samantha Nelson writes about gaming and electronics for iMore, Windows Central and Android Central while also covering nerd culture for publications including IGN and Polygon. She loves superheroes, RPGs, cooking, and spending time outside with her dog. You can follow her on Twitter @samanthanelson1.