iPadOS 15 has made it much easier for me to work from my iPad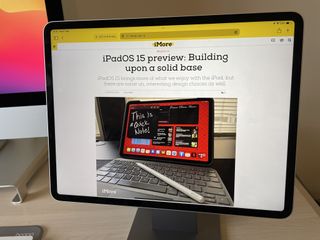 (Image credit: Adam Oram / iMore)
Working from an iPad full-time is not a new idea. It's been possible for years now, and with advancements in iPadOS 15, it's about to get much easier for a lot of folks.
Even if you don't have the absolute best iPad hardware, you can still benefit from iPadOS 15 when it launches this fall. Since it supports all of the same devices that iPadOS 13 and iPadOS 14 did, you'll be able to upgrade on devices from as far back as the first-gen iPad Pro and iPad Air 2.
Though the bulk of my work is still done at my desktop Mac, I've been trying to work from my iPad Pro a lot more when on the move and whenever I need a change of scenery. My MacBook Pro from 2013 is very much long-in-the-tooth at this point and its battery life isn't what it used to be, so the iPad Pro certainly blows it out of the water in terms of longevity and speed. With the iPadOS 15 beta loaded up, it's also got some really helpful new features that make it a joy to work from.
New Multitasking design and shelf
I've been a fan of the iPad since the first model was introduced, though I've got to admit that I never really took to the Multitasking UI when it first came along in iOS 9. As more features were added to it over the following couple of years, it became a complicated mess that was hidden behind unnatural gestures, so I just avoided using it for the most part.
With iPadOS 15, Multitasking is much more discoverable with the new multitasking menu that makes it easier to initiate Split View and Slide Over. Now, you can simply tap to choose your desired Multitasking layout and get easy access to your Home Screen to select the apps you want to use side by side.
It's also easier to create Split View spaces from the App Switcher just by dragging one app on top of another.
On top of an improved Multitasking UI, iPadOS 15 has brought a new 'shelf' view in supported apps. This is really useful for apps like Pages where you might have multiple windows open that you need to refer to. For me, I have found it incredibly useful in Notes where I can quickly reference notes from various folders without having to tap through layers of menus. It's still a little hidden away, but it's easy enough to use once you get into the habit and it makes it really straightforward to open up a Split View instance.
Safari tab groups
A neat addition to Safari in iPadOS 15 (and other platforms) is tab groups. The feature allows you to keep your tabs organized in a new way by gathering them into named groups and enables the ability to switch between different views. On the iPad, the sidebar makes it really simple to go between different tab groups.
In my job, the first thing I do each day is open the same selection of sites. With tab groups, I can have a named group for work which makes this process quicker and also keep those separate from my other open tabs. It's also great if I am researching something in Safari and want to quickly gather up the open tabs into a group to save for reference later, as this can be done quickly from the sidebar.
My main Mac isn't on the macOS Monterey beta but I'm looking forward to these tab groups syncing across all of my devices, too.
Focus
Focus is basically a beefed-up Do Not Disturb, but it's now hugely useful if you want to try and stay productive on your iPad and other devices. While Focus also encompasses previously available features like Do Not Disturb While Driving and Sleep modes, it's now much more customizable than Do Not Disturb ever was.
You can create your own Focus modes to suit your needs in different places or at different times of day. It can be used to silence notifications for specific apps or contacts and even change up your Home Screen. If you want to, you can use the turning on of a particular Focus mode as a trigger for Shortcuts.
For me, I've set up a Focus for work that is automatically activated during my regular working hours with notifications silenced for everything other than my calendar and Slack. It's pretty simple, but it happens without any input from me after setting it up and stops me from being distracted by other alerts.
Quick Note
When I first saw the Quick Note feature — the ability to swipe up from the bottom right corner of your iPad screen in order to jot something down quickly — I didn't think I would use it a great deal, but I have actually found it pretty handy for just dropping text or links I need to be able to find again later.
You can have a few Quick Notes and swipe between them so you have a place to note things down that are specifically for one task or another. With the research I have to do for my writing here at iMore, it's a pretty useful addition for a heavy Notes user like myself.
Home Screen improvements
The Home Screen also gets some love in iPadOS 15. The most obvious change is the ability to place widgets anywhere on the screen, rather than just on the left-most edge. This should have been available in iPadOS 14, but better late than never.
I don't use widgets that much, but having a glanceable Fantastical widget is super useful and the News app's regularly updating widget showing only Apple news is a nice-to-have for my work. If you utilize a lot of widgets, the Home Screen is about to get much more useful in iPadOS 15.
A better addition, and one that was sorely missing in iPadOS 14, in my opinion, is the App Library. This allows you to have your Home Screen be a curated space of your most-used apps and widgets while keeping all the occasionally-used stuff hidden away in organized folders.
Spotlight search is also much nicer to use with a refreshed look. Its richer results make it more reliable for finding apps, web results, files, text in photos, and more. It looks and feels more like Spotlight on the Mac which is a huge positive for the way I work.
Still more to look forward to
One of the most exciting iPadOS 15 features, Universal Control, has not been available for testing in the beta period and it's unclear when this feature will actually launch. The feature, which allows users to seamlessly move between their Mac and iPad using the same keyboard and mouse, looks perfect for my cross-platform workflow and should enable me to use my iPad in even more circumstances.
Another feature that I am anticipating being very helpful is Safari extensions. While the feature is present in the current iPadOS 15 beta, developers can't yet submit their apps that take advantage of it. With apps like Grammarly and various productivity apps likely to get on board quickly, I'm excited to see how much of my job I can get done from the iPad alone.
What are your favorite iPadOS 15 features?
Have you been running the iPadOS 15 beta? Is the iPad your main work device? Let us know your thoughts in the comments below.
Get the best of iMore in in your inbox, every day!
Adam Oram is a Senior Writer at iMore. He studied Media at Newcastle University and has been writing about technology since 2013. He previously worked as an Apple Genius and as a Deals Editor at Thrifter. His spare time is spent watching football (both kinds), playing Pokémon games, and eating vegan food. Follow him on Twitter at @adamoram.
Thank you for signing up to iMore. You will receive a verification email shortly.
There was a problem. Please refresh the page and try again.