How to keep your Nintendo Switch safe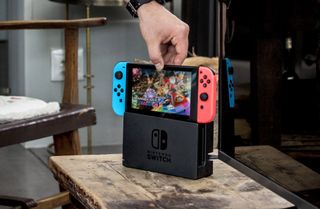 Like any portable gadget, everything is great until something terrible happens. Maybe the console is knocked out of your hand while you're walking, or because you are one of those people who walks and plays at the same time you took a turn too early and clipped a stop sign with the controller. The point is there are a lot of things that can go wrong when your console is as portable as a Switch.
Want to keep yours safe? Here's what we recommend!
Screen Protector
I'm sure you know all about the possible scratching due to docking and undocking. The screen on the Switch is extremely fragile, so there are many ways to scratch it. In order to keep the screen looking it's best, you should purchase a screen protector for the console.
If you purchased your Switch in store, then you probably already saw the screen protectors hanging by the games. If it was an online purchase, you can buy them in store or online as well. You can pick up a screen protector in store or online at Target, Walmart, and Best Buy, or just online on Amazon.com for around $10.
Padded Dock Cover
If you would rather spend money on a cover for the dock than a screen protector, these padded dock covers are becoming incredibly popular! These covers just slip over the side of the switch in which the screen would be facing in order to have a soft, padded surface, which will prevent scratches.
These typically run from $13- $16, and they are currently only available on Etsy.com and Amazon.com. They are a bit more expensive than a screen protector, but you would never have to buy it multiple times (unless you decide you're feeling Zelda over Mario one day).
Joy Con Removal
You would assume that removing the Joy Cons from the Switch itself or just the straps would be easy, but they tend to be pretty tough to take off. There is a little black button on the back of the Joy Cons you have to press in order to remove them. Pulling them off with the button pressed also takes a bit of force.
Be careful not to break them once you try to remove them, however. Forgetting to press that button could easily snap the lock mechanism, and you would be out $79.
Carrying Cases
Stores that are carrying Switches also have quite a few options for carrying cases. This is a great way to store your cartridges and a safe way to transport your Switch. If you're carrying your switch to and from work or school, a carrying case will keep it safe, and it's a neat way to transport everything you need.
From the plain black case to a Mario or Zelda case, you can pack all your favorite games in the safety of a hard case. You can find these in store or online at Walmart, Target, Best Buy, or Gamestop, or just online at Amazon.com. You can grab an official one for around $20.
How do you keep your switch safe?
How do you keep your Switch from total destruction? Let us know in the comments below!
Master your iPhone in minutes
iMore offers spot-on advice and guidance from our team of experts, with decades of Apple device experience to lean on. Learn more with iMore!