How to comment on a post using the iMore 2.0 for iPhone app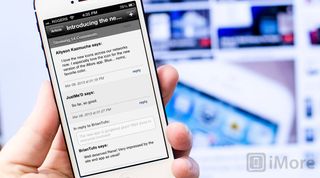 With the release of the all new iMore 2.0 app, we've added a ton of new features to make using iMore on your iPhone and iPod touch even better. One of these new features is the ability to leave comments on articles directly within the app.
Here's how to start leaving comments in-app on your favorite iMore articles.
Register for a Mobile Nations Passport account
Before leaving comments, you'll need to make sure you're registered for a free Mobile Nations Passport account. It's super easy to set up and the best part is you'll be ready to go across any of our sites including iMore, Android Central, Crackberry, wpCentral, and WebOS Nation. You can utilize your existing social media logins or make your own. Whichever you prefer.
Once you've got your username and password, go ahead and continue on.
How to leave a comment in the iMore app
Launch the iMore app from the Home screen of your iPhone or iPod touch.
Find the article you'd like to leave a comment on and tap into it.
Scroll all the way to the bottom and you'll see a section labeled Comments. Tap on it.
Here you can read existing comments, create a new one, or reply to someone else's comment. Choose to either create a new comment by tapping on the + sign in the upper right hand corner, or hit the reply button on any comment you'd like to reply to.
You'll be asked to sign in, so go ahead and enter your Mobile Nations login info.
You can now type your comment. Once you're done, hit send and that's it. You'll now see your comment appear in the thread as well.
Now what are you waiting for? Get to commenting!
iMore senior editor from 2011 to 2015.
It really truly does! So good!

It does also look much better than the old one.…or am I hallucinating?

Awesome! I'll probably comment more with the app. Nice.

I get an error on mine that says "Comments are not allowed on this content"

I deleted the app and reinstalled it and now it works flawlessly. Awesome

This is an excellent update Renee! Keep up the good work!

Anyone else having issues pulling up article comments or signing in on a jailbroken device? I get the "It looks like something went wrong. Please try again." pop up.

Are you signing in with an iMore account? Sadly, signing in with Twitter/Facebook/etc. won't be possible until a future update.

I was Rene...happy to report that now I can get signed in, however, I'm now receiving the same "Error: Comments are not allowed on this content" message that @RagedUSMC reported above when I tried to reply to your message from my phone.

This seems like the right place to test this.

This is great! Sure makes it a lot easier to post. Keep it up iMore !

Finally, this update has made the iMore app 100% better.

Awesome, glad to hear it!

i'm getting an error message when i log in and try to post comments via the app?

Deleted and reinstalled wks now

i'm still getting "error comments are not allowed on this content" when i try to comment through app?

I'm getting the same error. I've tried deleting and reinstalling the app with no luck

Looking good, I signed in via More - Account

Excellent finally works. Was getting the error message at first so I deleted app

Deleting the app and reinstalling it seems to fix error.

This update is freaking awesome :-)

So happy to have comment power now!

I really like the video cast. You see a good one, and its been several weeks, it is so easy to find it. Yea I can youtube it also, but works great in the app. This is a lot of app for a free program. Again, nice work to all.

I've been using the iMore app for a couple days now and it's 100% better. As evidence: I'm actually using it and commenting. It's pretty tough to drag me away from Reeder but the app has done it for the time being.

Can you check on previous comments.
Get the best of iMore in in your inbox, every day!
Thank you for signing up to iMore. You will receive a verification email shortly.
There was a problem. Please refresh the page and try again.