How to listen to Beats 1 shows you've missed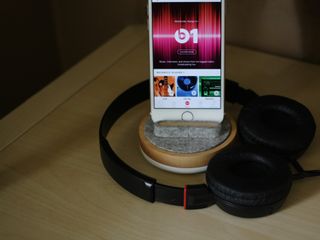 Beats 1 has been live just over 24 hours now, and there's been a ton of great content played already—my personal favorite of the bunch being St. Vincent's Mixtape Delivery Service, wherein the eponymous host made a 80s-inspired dance mixtape for an eleven-year old girl. If you missed a show you really wish you hadn't, there are a couple ways that you can catch up.
If you're not an Apple Music subscriber: Tune in 12 hours later
All three of Beats 1's cornerstone DJs—Zane Lowe, Julie Adenuga, and Ebro Darden—broadcast live at 12PM, 3PM, and 6PM ET, respectively. But if you miss their shows, don't panic: Beats 1 will replay their programming twelve hours later for the other half of the world, at 12AM, 3AM, and 6AM ET.
It looks like other pre-recorded shows will be doing something similar: St Vincent's premiered on June 30 at 10PM ET, and replayed again at 9AM ET this morning.
If you are an Apple Music subscriber: Follow the show's DJ on Connect (or visit the Beats 1 Radio page on iOS)
While it doesn't quite provide the experience of listening to the show live, it looks like almost every DJ will post a set playlist for their show a few hours after it ends. You can access that one of two ways:
1. Follow the DJ on Connect
Each artist's Connect profile has a section for playlists; this is also where you can find playlists from a DJ's past shows.
2. Visit Beats 1 Radio page on iOS
Open the Music app and tap the Radio tab.
Tap on the Beats 1 Radio banner, not the Listen Now button.
Scroll down past Upcoming Shows to Featured Shows, and tap on the show you'd like to hear. You'll then be brought to the show/DJ's playlist page as part of Connect.
From here, you can listen to the playlists, add them to your music, and even make them available for offline listening later. If any song was played that Apple Music doesn't have the rights to, it'll display in the playlist, but be grayed out.
Serenity was formerly the Managing Editor at iMore, and now works for Apple. She's been talking, writing about, and tinkering with Apple products since she was old enough to double-click. In her spare time, she sketches, sings, and in her secret superhero life, plays roller derby. Follow her on Twitter @settern.
Thank you for the info. Still a bit buggy for me. No set list from St. Vincent on Connect, but was glad to get a chance to hear the whole thing this morning again. On iOS its working well but on iTunes, I'm really having trouble. Stopped streaming again and I had to go to Account in iTunes menu bar and sign up for the Apple Music service again, even though I already had. Then it began to stream again and Connect didn't give me a error anymore. I've had to do this 4 times since yesterday in iTunes just to get Beats1 radio or Connect to work, but then stops working after a while.

Or... get the for-purchase version of TuneIn radio, record up to 8 hours at a time of your favorite stations from all over the world. Then you can skip through tracks, listening to what you like and discovering new tracks to purchase. Apple Music, just like all the other streaming services, doesn't get the Downtempo genre right -- mixing in a lot of bland elevator-music. The best I've found is Chilltrax: http://tunein.com/radio/Chilltrax-s122126/

Hello Serenity: How detailed is the Apple Music for Android app information? Will it include iTunes? Or will it merely be a streaming app that integrates with/uploads any MP3 files that you have on your device? Which makes me wonder ... if it includes iTunes, will it be a full-fledged version that will allow you to purchase and download your non-music content (i.e. books, podcasts, TV shows, movies) to your Android device? If so, talk about a dream come true! (Especially if it means that I will no longer have to use the terrible iTunes for Windows application). If that information is not known right now, that is fine. But when that information does become available, it would mean excellent fodder for a future column!

No word yet, but we'll definitely let you know when it comes out!

"Tune in to Beats 1, broadcast live from cities around the globe. Zane Lowe and his handpicked team of renowned DJs create an eclectic mix of the latest and best in music." Sounds like along with understandably pre-recorded music, the DJ's aren't even live at least "half" the time... Sent from the iMore App

will this work for zane lows interview with Eminem?

We'll see! For sure it'll be rebroadcast at 12AM ET, not sure if paid subscribers will see a track or not.

Thanks for the extra images about Connect and how to find the playlists. I couldn't figure it out yesterday but I see now nothing was added yet yesterday so it will take time to fill in. I do wish for more diversity though. Loved St. Vincent but seems like she's the odd one out in their lineup. This is disappointing so far.

Does anyone know why I can't stream Beats 1 to my Apple TV or my Airport Express? Sent from the iMore App

Beats 1 and Apple Music are coming to the Apple TV later this year.

It would be really cool if I could replay the actual shows instead of just their playlists. Sent from the iMore App

Hi - I'd like to know if there are any plans to provide a catchup service, a bit like Zane used to have on his radio1 show via BBC iplayer. that way you can listen back to the whole show. I found the chat and interviews just as compelling as the music. the playlists are good - but the live show is on at a really bad time for me in the UK

Thanks for clarifying. I've been waking up early to catch Ebro's show, because it's fantastic, and then I've been listening in the evening. But after a few days I began to have feelings of Deja Vu in the morning. I really wanted to know which show was actually live, because I gotta say, that's one of the coolest things about it. Thanks for the tip on which show is actually live for each of the really awesome DJ's. I learn so much from them.

I'm an Apple Music subscriber. I'm not able to replay a specific show that appears as the first on St. Vincent's Connect page. July 4. I can listen to other mixtapes as playlists, but not the show. Why is that? The July 4 show begins then stops in the middle of the first track every time.

Sounds like it's a bug, unfortunately. :(

You're not alone. The same thing has happened to me. Once I signed up with Apple Music, I was apparently banished from access to Beats One live shows. I'm not speculating here; that's what Apple Support told me! This sort of horrific customer experience is something I would have expected from Microsoft in the '90's.

Perhaps Apple should just make many of those live shows available as podcasts after the fact? The only time I can listen to radio anymore is while driving, which is infrequently.

Visit the artist's Connect page, and you may get your wish!

That's a good trick. Truncation, though, continues to hide (ugh) the most important info in the title: the date. I took a screenshot of this fine example: https://flic.kr/p/wZsReE
Get the best of iMore in in your inbox, every day!
Thank you for signing up to iMore. You will receive a verification email shortly.
There was a problem. Please refresh the page and try again.