How macOS Sierra helped me organize my desktop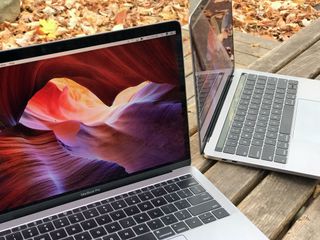 (Image credit: Rene Ritchie/iMore)
I've never been particularly messy with my desktop. I might have had one column of folders that contain things I want access to quickly and easily. Maybe one or two of those folders became a dumping ground for files and documents I didn't know what to do with and was afraid of losing in my system. But, for the most part, I tried to keep things organized – trash unnecessary junk immediately, find a better home for a file I dragged from a folder – the usual.
Since I downloaded macOS Sierra, however, it's become easier than ever to stay organized, and I've even managed to clean up those unsightly dumping ground folders that I never knew what to do with before.
Siri makes searching easier
As I mentioned, I used to have one or two (or maybe three) folders on my desktop with such things inside as comic book files that a friend gave me, practice sessions of my band with songs we never play anymore, or short films that were shared with me via some cloud-based service.
A lot of these files are items I don't want to lose, but can't think of where to store them so I always remember where they are. With Siri, that's not much of a problem anymore. I can have Siri "Show me my band files," and a list of all of them will appear in the query results.
This make me feel more at ease when dragging files into backend folders. Even if do forget where I put them, Siri can find them for me. Those extraneous folders are no longer taunting me from my desktop. They've been cleared and their contents distributed to various folders.
I can rearrange all my Menu bar widgets
This may not seem like a big deal to some, but I tend to use a lot of Menu bar widgets, so much so that I'm probably bogging down my processor unnecessarily. I can't help it. I love them.
I love them in a specific order, though. I use 1Password and Dropbox multiple times per day, but iStats Menus significantly less often. I want to be able to find and open 1 Password quickly, but it can get lost in the many, many widgets on my Menu bar (#firstworldproblems, I know).
Since macOS Sierra, I can actually drag-and-drop third-party widgets, as well as Apple's built-in widgets, from one place to another, making organization much easier. Now, 1Password is settled in nicely to the far right of my Menu bar, on the other side of my search widget and Siri. It is really easy to find it over there, and I love that.
How do you move Menu bar widgets, you ask? Hold down the Command key while clicking and dragging the widget icon in the Menu bar. You can also remove built-in Menu bar widgets, like Wi-Fi or battery status, by dragging them outside of the Menu bar.
Desktop & Documents Folders sync forces me to clean up regularly
I know it's far from perfect, but one of my most-used new features in macOS Sierra is Desktop & Documents Folders iCloud syncing. It is invaluable to have files that I temporarily store on my desktop immediately available on all my connected computers.
If I'm not careful, though, my desktop can get out of hand. If I'm saving screenshots, receipts, documents, and music files on my iMac, it may not look like much on the 27-inch screen, but when I jump over to my 13-inch MacBook Pro, it looks painfully cluttered. I've made a habit of regularly cleaning my desktop of unnecessary files and folders in order to make sure both computer screens are tidy.
Not to mention, I don't want to use up all of my iCloud Drive storage on temporary files on my desktop. What a waste! Yes, tidying up my desktop has become an important part of my daily habits.
Organization encourages productivity
When my office is messy, I tend to feel disorganized In my work life. Sometimes, I avoid my office completely, working instead in the living room, until I've had a chance to clean up.
I feel the same way when my desktop is messy. If I've got files and folders spread all over the place, I don't want to work, or finishing a project is more time consuming.
The new features in macOS Sierra that I mentioned, plus the tried and true ones that have been a part of Mac desktop organization for a while, make it really easy to keep my desktop tidy, which helps me stay productive, and that's worth a lot in my book.
Get the best of iMore in in your inbox, every day!
Lory is a renaissance woman, writing news, reviews, and how-to guides for iMore. She also fancies herself a bit of a rock star in her town and spends too much time reading comic books. If she's not typing away at her keyboard, you can probably find her at Disneyland or watching Star Wars (or both).
Thank you for signing up to iMore. You will receive a verification email shortly.
There was a problem. Please refresh the page and try again.