How to make your iPhone or iPad choose the right Wi-Fi network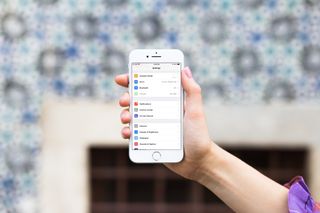 Automatically connecting to local Wi-Fi can be a fickle business. How does your iPhone choose which network it automatically latches onto, and why?
If you're constantly connecting to a network you'd rather not, there is something you can do about it, but it'll take a little bit of time.
How does the iPhone choose a Wi-Fi network
Your iPhone or iPad already has a built-in, preprogrammed hierarchy when it comes to choosing a Wi-Fi network to connect to. It evaluates "service set identifiers" (SSIDs), and then chooses which network to join in the following order:
Your "most preferred" network
The private network you joined most recently
Any other private network
A public network
How does iOS determine where Wi-Fi networks rank?
According to Apple (opens in new tab), iOS gives a "score" to your known networks. So if you manually switch to a specific SSID, its score goes up. If you manually disconnect from an SSID, its score goes down.
If iOS finds a few suitable networks after scoring the options, then it prioritizes them based on security level and orders them by the type of network security in place.
If it determines that multiple networks have the exact same security level, then priority is given to the network(s) with the strongest signal.
How to make your iPhone or iPad choose the right Wi-Fi network
At the end of the day, all you can do is continue to manually join the Wi-Fi network you most want to connect to wherever you are. And always be sure to immediately manually disconnect from the networks you don't want to join.
How to manually join a Wi-Fi network
Launch Settings from your Home screen.
Tap Wi-Fi.
Tap the network you'd like to join.
Enter the password if one is required.
If you've joined the network before, your iPhone or iPad will likely already have the password stored and automatically connect.
How to manually disconnect from a Wi-Fi network
Launch Settings from your Home screen.
Tap Wi-Fi.
Tap the info button next to network from which you'd like to disconnect. The button is a blue 'i' in a blue circle.
Tap Forget This Network.
Alternatively, if you manually connect to another network, you'll automatically disconnect from that one.\
Questions?
Let us know in the comments below.
Get the best of iMore in in your inbox, every day!
Mick is a staff writer who's as frugal as they come, so he always does extensive research (much to the exhaustion of his wife) before making a purchase. If it's not worth the price, Mick ain't buying.
There is also an app on the app store called "WiFi Priority" which lets you disable the networks you don't want to get connected to. Just a hack but it works and you can always switch back to the disabled networks with just one tap.
Thank you for signing up to iMore. You will receive a verification email shortly.
There was a problem. Please refresh the page and try again.