How to make your own custom color filters in Snapchat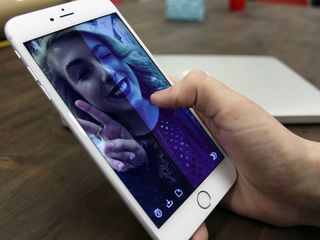 Updated on 1/28/17 to add information about the new Snapchat update.
Last year, Snapchat rolled out the feature that allowed people to add filters to their photos and videos. Different from the lense feature that allows Snapchat addicts to add real-time special effects, sounds, and funky features, Snapchat filters are a simple way to tint your picture or video like an Instagram filter tints an image.
The selection of filters was limited up until a few months ago, when Snapchat added a more airbrushed-looking filter to the rotation. It joined the ranks of a blue-tinted filter, a green/darker tinted filter, and a black and white filter for your snaps.
But what if you're looking to get your own custom-colored filter in Snapchat? We'll show you how you can tint your photos and videos to take your Snapchat game to the next level
How to make your own custom color filters in Snapchat
Launch Snapchat from your Home screen.
Take a snap of whatever you want (it can be a photo or a video).
Tap the T button in the upper righthand corner (it looks like a white, uppercase T).
Type a single letter– it can be any letter you want.
Tap the T button again to turn the small text into large floating text.
Tap a color (a color menu bar should appear on the upper right-hand corner of the screen).
Tap Done.
Pinch out your letter to start expanding it.
Drag your letter to the edge of the screen when it becomes blurry.
Adjust the tint until you're happy with it.
Post it to your Snapchat story.
Try and play around with different colors and opacities to turn your Snapchat story into something exciting and flashy. Happy snapping!
○ Download Snapchat (opens in new tab)
○ How to use Snapchat for iPhone
○ How to delete your Snapchat account
○ Snapchat help
○ Shapchat news

Get the best of iMore in your inbox, every day!
Mikah Sargent is Senior Editor at Mobile Nations. When he's not bothering his chihuahuas, Mikah spends entirely too much time and money on HomeKit products. You can follow him on Twitter at @mikahsargent if you're so inclined.
Wow that's a cool idea ! Great thinking.