How to open links in the background with Safari for iPhone and iPad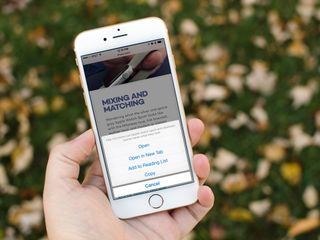 You're reading a lengthy article on Safari for iPhone or iPad and you've found a link that you want to check out later. If you tap it, you'll load it and navigate away from the current page, even if you aren't finished reading. To get around this, you can open a new tab by pressing and holding on the link. You can even set this as a default behavior in Safari's preferences to make it easy for next time. Here's how!
How to open links in the background of Safari for iOS by default
Launch the Settings app on your iPhone or iPad.
Tap on Safari.
Tap on Open Links.


Tap on In Background.


If you'd rather not have your default be opening links in the background, but still want to open the link in a new tab, you can press and hold the text in Safari and choose the Open in New Tab option from the pop-up menu. This way, your current page is saved, and you'll load the next one.
iMore senior editor from 2011 to 2015.
Wish we could do this in the Mail App. Thats how I work on my Mac, open links in Mail and then pop over to Safari with a bunch of links waiting for me.

FWIW: this doesn't seem true for the iPad: mine doesn't have "Open Links," just "an Open New Tabs in Background" toggle.

Thanks! I never saw that setting! Sent from the iMore App

Ally thank you for the tip and shortcut. I changed my default behavior as you suggested to "Open in background" and it works great. I did it on my iPad Air because I use that more than my iPhone to read news articles or just simply sitting at Starbucks waking up in the morning... :) - My iPhone not so much so I left it alone. Thank you as always for all your tips you provide to the reader of the staff articles on iMore. :)
Thank you for signing up to iMore. You will receive a verification email shortly.
There was a problem. Please refresh the page and try again.