How to record your iPhone or iPad's screen in iOS 11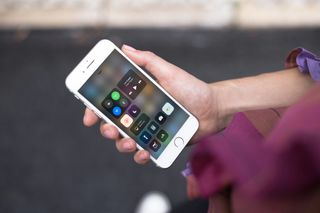 If you've got a Mac handy, you can connect your iPhone or iPad with a cable and record your device's screen that way:
iOS 11, however, lets you record the screen directly on your device, keeping your Mac out of the equation entirely. Here's how it works.
How to enable screen recording in iOS 11
You'll start and stop your recordings from Control Center. First we'll enable the button, then explain what happens when you press it.
Launch the Settings app in iOS 11.
Tap Control Center.
Tap the plus sign next to Screen Recording to add it to your Include list if it's not there already.
How to record your iPhone or iPad's screen in iOS 11
Now that it's set up, anytime you want to record your screen, it's just a swipe and a tap away.
Open Control Center by swiping up from the bottom of the Home screen.
Tap the Screen Recording button. It looks like a big dot within a circle and changes from white to red when recording.
Exit Control Center by swiping it back down or just tapping the down-facing arrow at the top of the screen.
Swipe up to open Control Center when you're finished recording.
Tap the Screen Recording button.
Pro tip: You can also press the Home button on iPhones that have one to stop recording immediately.
A banner notification will tell you the screen recording was saved to Photos. You can tap that notification to open Photos and find it in your Camera Roll.
Can I edit the videos?
Of course. Tap the Edit button in the top-right corner, and the video appears on a timeline. You can grab the ends and drag them a few frames to eliminate video of you starting and stopping the video in Control Center, for example. When you tap Done, Photos will offer to save your edits as a new clip.
You're free to transfer the video to your Mac for editing in QuickTime or iMovie as well. Or you can upload it to iCloud Photo Library, your iCloud Drive, YouTube, Facebook, or send it anywhere else the Share Sheet can take you.
Can I record apps that play video?
That depends on the app. Screen Recording doesn't work at all when you have some apps running, like Netflix for example. (Obviously recording a video of Netflix or any other streaming service would violate its terms of use.)
YouTube, on the other hand, doesn't appear to have screen recording limitations on the videos I tested it with (this will probably change over time).
Questions?
Let us know in the comments below.
Susie is a tech-obsessed writer and mom, and former Executive Editor of Macworld and Mac|Life. Follow her on Twitter @sfsooz.
Including audio while screen recording?

Yes. Here is a detailed way for using ios 11 screen recording function.
https://showmore.com/ios-11-screen-recording.html

Hi I have done a screen recording on my iPad mini 4 of me playing a game for my YT channel.... when I play it in photos the audio is there but when I try to edit it in iMovie the audio disappears
Thank you for signing up to iMore. You will receive a verification email shortly.
There was a problem. Please refresh the page and try again.