How to sell your Nintendo Switch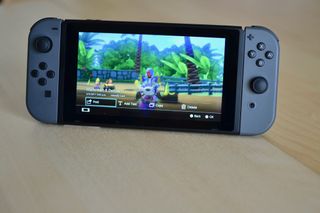 It's easy to get caught up in Nintendo hype, but if you've defeated Calamity Ganon and decided you'd rather have that $300 back in your pocket instead of waiting for the next big title to drop, you're going to want to sell that Switch. You've got a lot of options, but it's important to know if your goal is to get the most money back or if your goal is to make a quick sale and get it out of your house before you change your mind. Depending on what you want, there are different services available to suit your needs. Here are our favorites!
Swappa
The folks at Swappa do third-party smartphone and tablet sales better than anyone else. One of the things that makes Swappa so valuable to sellers is the ability to thoroughly document the condition of your hardware and communicate with buyers before and after the transaction happens. This ensures both sides are happy by the time everything is finished, which means you're way more likely to get the most money from your sale. Everybody wins!
Check out Swappa for more information!
eBay
Everyone knows about eBay, and love it or hate it, there are a lot of Switch consoles sold through this site every day. If your goal is to guarantee a sale without a lot of extra work on your part, eBay is likely to get the job done within a week or so. You could get lucky with a bidding war and get more than you paid for a Switch, or you could set your sale up as a cheaper-than-usual Buy it Now and be sure to get a sale quickly. There's a lot of flexibility here, so you get what you want out of the experience.
Check out eBay for more information!
Jaybrokers
If you've never used Jaybrokers before, here's the one thing you need to know: This service prides itself on being able to sell your thing fast. Promises of offers in minutes is not hyperbole; there are people constantly looking to make you an offer. If you want to sell fast and you're not overly picky about price, this is where you should head.
Check out Jaybrokers for more information!
Gamestop
For the uninitiated, Gamestop's trade-in program is unique because it offers a higher dollar amount if you agree to accept Gamestop currency instead of actual cash. This is great for gamers who know they want another game or another console, so if that describes you, this is where you want to be. If you're looking for cash, however, Gamestop is rarely the highest payer for hardware or games.
Check out Gamestop for more information!
One other thing to keep in mind if you are planning on selling your Switch is that you are going to want to prep the device properly. You don't want to sell you Switch with any of your data still in there. If you need some guidance on how to reset your Switch in order to sell it, it just so happens that we have a handy-dandy guide right here!
Updated July 2018: Added more info about selling your Switch!.
Master your iPhone in minutes
iMore offers spot-on advice and guidance from our team of experts, with decades of Apple device experience to lean on. Learn more with iMore!