How to set up Microsoft Outlook mail, calendar, contacts on iPhone and iPad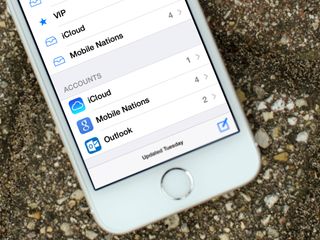 If Microsoft Outlook.com — Live or Hotmail if you're retro — is your mail, contacts, and calendar provider of choice, it's easy to set up and access it right on your iPhone or iPad. Microsoft might have taken a while, and gone through a lot of names and iterations, to get their online consumer services into the modern age, but what they've finally settled on is impressive. There's Exchange if you need ActiveSync. If you don't, there's Outlook.
How to add Outlook mail, calendar, contacts to your iPhone or iPad's Mail app
Launch the Settings app on your iPhone or iPad.
Tap on Mail, Contacts, Calendars.
Tap on Add Account.
Tap on Outlook.com.
Enter your Outlook.com username and password and then tap Next in the upper right hand corner.
Choose the services you'd like to enable and sync with Outlook and then tap Save in the upper right hand corner.
And you're done! You will miss out on any web-specific features, which are what Microsoft is working to make all shiny and revolutionary, but you will get all your mail in the unified inbox, right beside iCloud and Gmail if you use those services as well. You can also set up Outlook.com as an Exchange account. Just follow the same steps above but choose the Exchange option for account type and use m.hotmail.com as your server.
How to access Outlook.com on your iPhone or iPad via the web
If you need to log in to your Outlook account on someone else's iPhone or iPad, or you just don't need to access it enough to set it up in the built-in Mail app, you can access your Outlook account from Safari the way you would in any web browser.
Launch Safari on your iPhone or iPad
Go to Outlook.com
Log in to your Outlook account.
Choose whether or not you want Safari to remember your Outlook username and password.
That's it, you can use a slimmed down mobile version of Outlook webmail anytime, anywhere.
Note: Originally published, July 2012. Updated, June 2014.
Get the best of iMore in in your inbox, every day!
"Siri, write a really funny bio for me to use for Mobile Nations" "Okay, Drew, here's your really funny bio: How-to writer, fiddle player, retro gamer."
I added mine by clicking on micrsoft exchange, what's the difference?

I was going to ask the same thing. Anybody know what's the difference between setting it up as an Exchange vs a Hotmail account?...

Active sync is much more reliable. Especially when it comes to syncing calendar and contacts..

Can't confirm this with Outlook.com yet, but I know (from working on support for our MailShot Pro group email app) that how you connect to Gmail makes a difference to how many contacts you can send a group email to- its 100 per email when you connect using a POP connection (the "Gmail" choice) and 500 a day when you connect to Gmail with "Exchange" instead. Peter
Soluble apps

why "PC Site" and not "Full Version"? They are still living in the PC-vs-Mac world!

The Mac is a PC, even Steve Jobs knew that when he mentioned a post PC world. He did not mention a post PC and Mac world, eh? On a world full of mobile devices, I think that "PC Site" is much clearer than "Full version", which is basically meaningless to the average user, that expect all versions to do everything. Its up to Apple fans to be upset and feel defensive by all mentions to PCs.

I'm trying to think of a reason why I might need another e-mail address other than Gmail, Hotmail, Yahoo, AIM and iCloud and I really can't think of any reason to start up an Outlook.com e-mail account. Why doesn't Microsoft just migrate all hotmail and MSN users to Outlook.com? That makes more sense to me than adding another e-mail address to keep up with. It's overkill for me.

Because you're not getting enough spam via hotmail.

I get more spam on my gmail than my two hotmail-accounts.

They are migrating! You dont need to get an outlook.com-account to use the new site, just sign in with your hotmail or live-account at outlook.com.

I agree. It seems that it would be easier to integrate Hotmail and other accounts to Outlook.com. Why not Microsoft?

It's the same place to get email. Just sign in at outlook.com with your .live.com Hotmail.com or even msn.com email and you'll have it.

I didn't have to set anything up since I've used live.com for some time now. I've never been on the Gmail train (can't stand Google for the most part).

Thanks for this article i just did this!

When I go to Settings/Email - Add Account, I have the choice of Microsoft Exchange, mobile me, Google Mail, Yahoo, Aol and other. I do not have the choice of Hotmail. I have an Apple iPhone 3G (yes, I know I am behind the times). Is this why Hotmail is not available, or do I need to do something to make it an option?

Right now, all the contacts on my IPHONE are connected to my GMAIL exchange account.
What if i set an outlook account? will all these contacts copy themseves to my outlook mailbox?

No, but if you go to outlook.com you can transfer your contacts. I had mine on outlook, and as a backup I added them to my Gmail that I don't use. I've never lost any contacts, but if I did I don't want to be the idiot that asks all his friends on Facebook for their numbers.

Thanks! It was super easy.

How to I set my Ipad to open up my outlook email rather than mac mail?

Still waiting for it to be this easy to add on OS X so I can get my contacts from there to sync to my Mac's contacts app. Sent from the iMore App

Just a quick note, when adding outlook account in iphone and/or ipad's mail app and you have turned two step verification "on" for outlook then you have to provide a special password in step 5 instead of your regular password which can be generated in deastop version of outlook at account.live.com > security.

Why is there not an Outlook app for iOS?

Either the native Mail app does not support two step authentication for Outlook, or I'm doing something wrong because I can't get it to add my hotmail/outlook account. Sent from the iMore App

I'm still using Office XP. Will I be able to sync my email/calendar from my PC to my IPad Air?

When they set up my computer I'm not aware of the password (if any) that was used to access my email. I simply click an icon to launch email. Now when I'm trying to sync my email to my IPad Air it prompts me for Email Address and Password. If there was a Password set up how can I determine the same?

I've found a new solution for syncing iPhone to Outlook, without the cloud. Check http://www.akruto.com/sync-iphone-with-outlook/
Thank you for signing up to iMore. You will receive a verification email shortly.
There was a problem. Please refresh the page and try again.