How to snap festive Canada Day photos with your iPhone!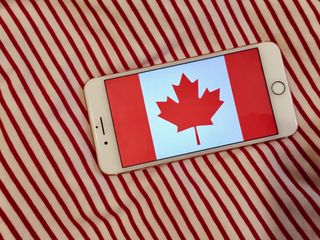 Canada Day is coming up around the corner, and what better way to show off how much you adore your Maple-syrup-lovin' country than with some patriotic, fun photography!
Here's how you can snap some Canadian masterpieces this Canada Day!
Edit in red and white!
After you snap your perfect Canadian-ified photo for Canada Day, you're probably going to be tempted to add a few fun filters –maybe a FaceTune tweak or two – and call it quits. In reality, playing around and getting creative with different edits and overlaps can really make your pictures stand out.
Whether you're editing your images with VSCO, Instagram, or Photoshop, there are different ways for you to add in specifically colored edits and appropriately-themed, non-tacky filters.
For example, you could take a shot of a street festival going on and isolate all the red in the image, making all the other color black and white. You could take a regular selfie with friends and then overlap a maple-leaf pattern to spice up your patriotism. You could snap a photo of a Canadian flag blowing in the wind and overlap a simple red filter to tint it a bit.
There are so many different, creative ways to edit your images, you just need to think outside the box!
PRO TIP: Find a frame or border online or in a photo editing app that's in the shape of a Canadian flag, and edit all of your images so little pieces are poking out from the maple leaf and two sides while the border is slightly faded to show off more of the image. You photos will instantly stand out and look more interesting across social media!
Boomerang your Canuck pride
I am a big supporter and advocate of all things Boomerang, which is why it probably won't surprise you that I suggest using this app for your Canada Day festivities!
Boomerang works by creating a GIF of sorts that saves as a video format. It records and repeats a couple of seconds of whatever movement you captured, making it not only insanely popular across social media, but one of the most interesting things to watch.
While there are plenty of 'meh' Boomerangs, a good one is a great one.
Whether you're snapping some photos of fireworks, capturing the hustle and bustle of a Canada Day street fair, want to show off your friend cannonballing into the pool with a Canadian flag as a cape, or whatever else your weird, Canadian self desires, Boomeranging a memory instead of simple photographing it can be worthwhile in the long-run.
Perspective and lenses, eh?
It's no surprise that when people are shooting with their iPhone, they normally stand at a standard distance, shoot at a regular height, and don't really experiment with angles or different points of view. While this is great for mediocre photography, it's not great for capturing some amazing photos at the Canada Day celebration you'll be partying at!
The next time you go to shoot an image of a Canada flag, try getting down low or standing above it. Try adding different lenses, like a macro or a fisheye to really change up the menotiney of your photography. Try shifting your perspective and taking multiple shots (and Boomerangs!) from different angles.
It'll surprise you how much more fun mobile photography can be when you're getting a hundred different shots of the same thing all from switching up how you look at it!
Dress to impress
One really simple way to ensure that you're getting the best, most festive, most patriotic Canada Day photos is by being your own subject and dressing to impress: that means pull out your favorite red party dress, put on your white wig, slap on that face paint, and become the ultimate Canadian that you know you are.
Not only will people be stopping to get photos of you if you're at an event or at a bar (or even at a family gathering!) but you'll have some incredibly fun memories and images to scroll through (and throwback to on social media!) for years to come.
Will they be the most artistic, beautiful images? Hell no! But you'll be able to show off your Canadian pride and make other people smile as you pose for selfies with a maple leaf in the middle of your grinning face.
All aboot the fireworks!
Let's say you were working all Canada Day and you finally make it out to the Forks in the evening for food, drink, pals, and fun. While the lighting might not be ideal for selfies and all the festivities have gotten too rowdy to shoot at, there is one saving grace:
Shooting firework photography can be a bit tricky and awful repetitive if you're not super careful, but there are a few things to keep in mind when you are shooting fireworks:
If you're ever taking shots of something that's constantly moving or changing direction (like a firework!) then holding down the shutter button for some quick-and-easy rapid-fire/burst mode action is a really good call!
Using your zoom function to capture intricate, crisp, firework details can be a really interesting way to shift the perspective of a typical fireworks photo.
If you're looking to really capture some attention on social media without putting in a ton of effort at your Canada Day or Fourth of July celebration, then I suggest snapping a Boomerang of your favorite fireworks display rather than a photo!
When it comes to fireworks photos, one of the biggest things I can suggest is that if you are going to snap a few pictures, that you get really, really picky about which ones you share online and on social media – alternatively, you could use 24-hour social media platforms like Snapchat, Instagram, and Facebook to share some of your fireworks images without totally flooding someone's timeline.
24-hour social media is your BFF
… Speaking of 24-hour social media, if you're someone who loves to post a lot and gets really excited about events and just wants to share everything you're seeing with everyone forever, then take advantage of 24-hour social media.
24-hour social media is great for a couple of reasons, but the main ones are that a) you don't bug people with constant updates and posts, therefore resulting in lost followers, and b) you're able to capture and show off things that normally wouldn't make the 'cut' for your social media and online aesthetic.
While it's super fun to capture all the hilarity and craziness of a family pool party and share it online, it's not always necessary or smart to post it as a permanent social media post. Why? Well, in all honesty, you probably aren't going to get a ton of engagement for a boring ol' pool party post…
But with 24-hour social media, you can post as much of whatever nonsense that you like without worrying about it sticking around forever. With apps like Instagram (Instagram Stories) you can even save an entire 24-hours of temporary posts in a video format so you can relive your Canada 150 over and over again!
How do you celebrate Canada Day?
Are you a big fan of snapping photos and a big street fair, or do you prefer to spend some time with the family around the BBQ? Are you someone who likes to go out into the crowds to catch the fireworks, or would you rather spend a lazy day at the beach having drinks and snapping Canada Day selfies with pals?
Let us know how you plan to celebrate and shoot your Canada Day in the comments below (and a very happy Canada Day to you!)
Master your iPhone in minutes
iMore offers spot-on advice and guidance from our team of experts, with decades of Apple device experience to lean on. Learn more with iMore!
Cella writes for iMore on social and photography. She's a true crime enthusiast, bestselling horror author, lipstick collector, buzzkill, and Sicilian. Follow her on Twitter and Instagram: @hellorousseau